Yo Miles!: Live At The Fillmore - Oct. 21, 1999
There's no definitive proof, but it seems safe assuming Henry Kaiser is the only professional musician to use the actual South Pole as a guitar slide.


Kaiser, part of the Yo Miles! ensemble seeking to capture the trumpeter's 1970s improvisational spirit, achieved the feat a few years ago while trying to become the first pro to compose and record an album entirely in Antarctica. Assemble a group of players like this and it's pretty clear even if they can't match the Davis legacy, there's no trouble delving into the unusual.
The 12-member ensemble recorded a handful of live shows and the 2004 double-CD Sky Garden: Yo Miles. Now their debut performance at the Fillmore during the San Francisco Jazz Festival on Oct. 21, 1999, is available as a free download from the Internet Archive.


(Full disclosure: I was working as a journalist on the Ice during Kaiser's time there, interviewed him and later played the custom landmark guitar he left behind. Lest anyone accuse me of fawning bias, I didn't find the Pole performance all that great musically. More impressive was a New Age improvisation utilizing the acoustics of a glacial volcanic cave at 10,000 feet.)


Kaiser and trumpeter Wadada Leo Smith lead the 95-minute Fillmore performance by a skilled and compatible group that constructs its generally lengthy fusion improvisations with plenty of energy. But the raw freeform also devotes itself more to bold concepts than harmonics and, like Davis' oft-criticized '70s work, its listenability can be very much a subjective and acquired taste.


Within that disclaimer, the performances are almost always good and sometimes exceptional. Nearly everyone contributes a distinct voice, a bit surprising given the group's size, but at the expense of some getting less time than they probably deserve, especially since there are some long group collages where little of distinction occurs.


Smith is an ideal sonic presence, a smooth modern tone that acts as a lubricant in the raucous machine. Kaiser's guitar squawks and talks more than it flows, and he plucks off some surprisingly convincing Davis-like high-tone snippets. But the best contributions throughout come from drummer Alex Cline's constant rock-the-boat turbulence and percussionist Zakir Hussein's tablas adding accents of everything from reggae to Indian to country.


The rock/fusion sprit sought comes through most distinctly on marathon tracks like "Black Satin" "Calypso Frelimo" and the closing "Hollywuud/Big Fun." A highlight ballad moment is Smith on "Great Ancestor Part 1," reviving memories of some of Davis' best late-era performances such as "Mr. Pastorius." Hussein's childlike percussion, backed by a whimsical horn collection, actually made me laugh on "Right Off Parts 4 And 5," something I've never done before (except derisively) on a freeform album.


The performance is available in various formats as either a single file or by the song. General listeners with a fast connection will likely find the single 142MB collection of MP3s the best size/quality combination. The recording quality is solid, with a few glitches and dropouts between songs. Those wondering if they want to devote the time and hard drive space to this collection might want to download or stream the most compact version of "Right Off" (a 4.2MB FM-radio quality MP3) before making the larger commitment.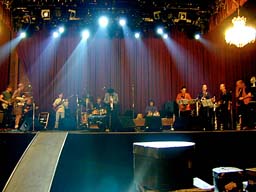 I stopped giving higher marks to free material long ago (but never credit and gratefulness for the artists' generosity, including a recommendation to in some way support them commercially). On that scale this would be a can't-miss avant-garde set for both fans of the genre and those just wanting a quality sampler as part of a broader collection. Against the field it still isn't far below that, delivering a strong performance that will stand out for listeners able to discern musicsmanship from mere jamming, although perhaps lacking quite enough distinction to put it on a mantle of its own.


Track listing: Yesternow Part 1; Right Off; Agharta Prelude; Black Satin; Great Ancestor Part 1; Calypso Frelimo; Ife; Great Expectations; Ife (second take); Right Off Parts 4 And 5; Encore - Hollywuud/Big Fun
Personnel: Henry Kaiser, guitar; Wadada Leo Smith, trumpet; Zakir Hussein tablas; Michael Manring, bass; Nels Cline, guitar; Chris Muir, guitar; Alex Cline, drums; Tom Coster, keyboards; ROVA Saxophone Quartet (Bruce Ackley, Steve Adams, Jon Raskin, Larry Ochs)
Visit Henry Kaiser on the web.
---