Ernesto Diaz-Infante & Chris Forsyth: Wires and Wooden Boxes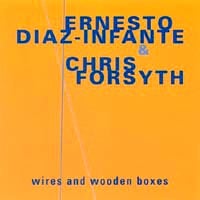 For pure sonic experimentation, string instruments offer some very attractive options. They bear complex higher-level overtones, which can be crafted and manipulated using various percussive and abrasive approaches. They're amenable to amplification, which can introduce another whole bag of tricks. And they're generally attached to resonant pieces of wood, which often work quite well as percussion instruments in and of themselves.
Ernesto Diaz-Infante and Chris Forsyth take this idea as their lead concept for their second collaboration, aptly named Wires and Wooden Boxes. The opener features Diaz-Infante playing reflective held piano chords while Forsyth pulls his amp cord in and out of the jack on his guitar. It's interesting, but the end result falls a bit short. More intriguing are the pieces where these two players coax higher-order melodic and harmonic structures out of their instruments—like the intensely interactive, clustral "Straight To It," or the neo-folk tune "Passing One Another." Music this wildly experimental always relies upon open ears to communicate its message. While I find much of it curious (and at times brilliant), there are also plenty of moments where I can only shake my head. If you're willing to take the plunge, this record offers an extremely—if sometimes indulgently—creative take on string music in all its rich variety. The ideas that work on Wires and Wooden Boxes are timelessly beautiful. You can always hit the fast forward button on the rest.
Visit Pax Recordings on the web.

Track Listing: NYC Journal Excerpt (2000) piano/guitar; Metallic Strands "acoustic/electric #14"; Sound Is Good All the Time; Straight to It; Pulled Wires "acoustic/electric #13"; Passing One Another "acoustic/electric #17"; Knock On Wood "acoustic/electric #11"; Cut and Dried "acoustic/electric #2"; To Place In "acoustic/electric #12"; Trace Out Motion.
Personnel: Ernesto Diaz-Infante: acoustic guitar, piano, tox piano, voice, small percussion; Chris Forsyth: electric guitar, piano soundboard, small percussion.
---