Deadbeat: Wild Life Documentaries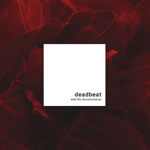 The electronic soundscapes on
Wild Life Documentaries
resemble a psychedelic dream. The deep bass rumbles of dub drive an echo-laden pulse rich with cracks, ripples, and bleeps. It's a little eerie, frankly. If it weren't for the regular insertion of drums (and multifarious drum-like sounds), these pieces would serve just fine as fuel for intergalactic travel. But Deadbeat (aka Scott Monteith) brings everything back down to earth by layering just enough beats on top of the soup to give it overt spine and structure. It's an interesting combination. This kind of music is not new: Stefan Betke more or less introduced the world to the dub/glitch hybrid with his debut record as Pole in 1998. (And doubtless there were plenty of rumbles going on before Pole broke through to the ears of the world.)
Monteith got started as Deadbeat in 1998, releasing a handful of 12"s and compilation tracks along the way before his first full-length (appropriately entitled Primordia) a year ago on Mitchell Akiyama's Intr_version label, out of Montreal. Wild Life Documentaries, his second record, continues along the same lines. Rather than presenting an extended soundscape, Deadbeat breaks things up into relatively encapsulated chapters that reveal different angles of his vision. The deliciously understated "Cause for Hope" runs through drone and echo, waves breaking on the shore while a light beat starts and falters. It's a nice little haven of peace. "For Israel (Jaffa Revisited)" gradually works its way into a bouncing dub groove, reinforced by changes of key and a steady beat. (And don't worry—the Palestinians get their own dedication one track earlier.) "Organ in the Attic Sings the Blues" emerges from a snap crackle and click introduction into a loose, hypnotic flow.


Listeners familiar with this hybrid style of electronica will find Wild Life Documentaries a fresh, invigorating outlook—and for those new to the sound, this record makes a fine introduction. While heavily reliant on reverberant sounds and ever-pulsating bass, this music is anything but plodding or dull. Deadbeat has clearly realized that intelligence and hypnosis make for an involving combination.


Visit ~scape on the web.

Track Listing: Open My Eyes That I May See; Organ in the Attic Sings the Blues; For Palestine; For Israel (Jaffa Revisited); Let It Rain; Cause for Hope; To Berlin With Love; A Dub For Akufen; When First You Gave Me Shivers...; Kezia.
Personnel: Written and produced by Scott Monteith.
---