Scott Henderson: Well to The Bone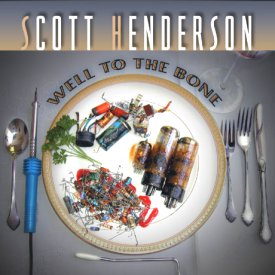 The latest rock-blues solo effort from guitar hero Scott Henderson features more of a fusion spin than some of his previous efforts, although the guitarist's fabled Tribal Tech aggregation is firmly rooted within the fusion arena. But Henderson is not merely content with rehashing tried and true formulas. With this release, he continues to explore just about every nook and cranny his instrument of choice has to offer. Sure, his jaw-dropping chops are intact, amid abundant doses of mildly discordant passages, machine-gun like flurries, slithery lines and ringing harmonics.
Henderson makes his guitar wail, shriek, and beg for forgiveness throughout these blistering works, consisting of subtle shifts in strategy and variations of four-bar blues motifs. Vocalist Wade Durham belts out the blues while occasionally harmonizing with Henderson on the opener, "Lady P." The fun factor kicks in on "Hillbilly in the Sand," which is a rousing piece that might seem like an imaginary summit between the power rock trio Cream and a sharp-shooting C&W band. On "Lola Fay," bassist John Humphrey and drummer Kirk Covington (Tribal Tech) lay down a bouncy medium-tempo swing vamp, accelerated by Henderson's clear-toned crunch chords and scathing licks. The band even churns out a North African vibe, complete with dreamy sound sculptures and chugging rhythms, during "Sultan's Boogie."


ADVERTISEMENT
Besides his superior technical acumen, Henderson's compositions are inherently witty. Thus Well To The Bone is a wonderfully entertaining affair, brought to us by one of the top guitarists in the biz, regardless of genre. Recommended...


Track Listing
1.Lady P 2.Hillbilly in the Sand 3.Devil Boy 4.Lola Fay 5.Well to the Bone 6.Ashes 7.Sultan's Boogie 8.Day's Da Way it go 9.That Hurts 10.Rituals
Personnel
Scott Henderson: guitar - Kirk Covington: drums - John Humphrey: bass - with special guests: Thelma Houston: vocals (selected tracks) - Wade Durham: vocals (selected tracks) - Scott Kinsey: electronic percussion
Additional information
Title: Well to The Bone | Year Released: 2002 | Record Label: Shrapnel Records