Matt Bauder: Weary Already Of The Way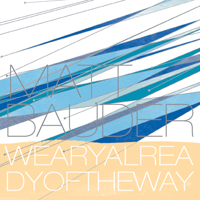 The "Document Chicago" music scene presents yet another direction that music can go through. For this recording Matt Bauder composed the pieces and then asked the musicians to play with the idea that their sounds were being electronically manipulated. The music was recorded in segments and very little of it was live with all the musicians together. For the most part, no musician heard what the others had played. And then Bauder went to work on their music.
Bauder manipulates the music with a stimulating insight. On the first tune, which clocks in at just over twenty minutes, he rides the music in on blips, filigrees of sound that create sparse, undulating waves that soon wash into lines from the reeds that weave in and mesh. The impact comes from the way in which they merge in tone and note, the spirit of the player evident even in the absence of the body.


The second track jumps from warped horn lines, skewered bowing from bassist Jason Roebke, the sharp counterpoint punctuation from the reeds and the soft shades of Fred Lonberg-Holm's cello. It is all put together in a manner that would suggest that all musicians were in the studio opening their minds to instant improvisation; but that wasn't so and gives the final output the stamp of great invention.


When the final tune rolls around it is washed in a discernable melody from Bauder on the tenor saxophone, but the free mode soon takes over. Splotches of sound, splashes and daubs of color, lines that float and notes that splinter, a swish of the blues and a sprinkle of swing may seem strange companions, but here they make for a dazzling spectrum.


Perhaps not so incidentally, none of the tunes has a name. Anonymity serves them well.


Visit www.482music.com
Track Listing
1; 2; 3; 4.
Personnel
Matt Bauder
Album information
Title: Weary Already Of The Way | Year Released: 2004 | Record Label: 482 Music
Post a comment about this album