Sonic Liberation Front: Water and Stone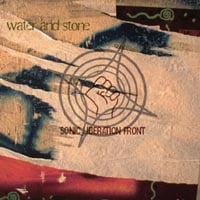 With its fist of power, the Sonic Liberation Front asserts freedom from authority. While the group's icon might suggest some kind of militant defiance, their approach is really much more positive and focused at heart. Drummer Kevin Diehl's group brings together a variety of approaches: from interlaced Afro-Cuban percussion, to African-American swing and free jazz traditions, to post-modern adaptations of electronica. While such an unusual combination of elements might suggest cacophony or hopelessly pithy density, it's remarkably successful. The key to making this comingling of styles work is vision, and that quality is present in abundance on
Water and Stone.
All of the compositions on Water and Stone rely upon a polyrhythmic foundation. The ever- shifting net of drums, shakers, and bells draws upon Santeria as well as subtle electronic looping effects. Laid atop this rhythmic fabric, organic melodies sing forth, in addition to the occasional traditional Cuban vocals. And then, when you least expect it, the mass explodes into polyphonic split-tone freedom. These bursts generate a higher level of energy, because the free jazz edge contrasts strongly with melodic anchors and interwoven rhythms. Hard to describe, hard to resist, and hard to put down: the underlying logic of the Sonic Liberation Front relies upon occupying common ground. Listeners who like their music less hard-edged would be advised to look elsewhere. But for the adventurous, Water and Stone can be an amazingly exhilarating experience in sound.

Track Listing: Ochun Loops; Uplink; Voices; Simple; Those Who Run; Water and Stone.
Personnel: Kevin Diehl: batá, drums, shekere, loops; Terry Lawson: tenor saxophone; Nick Rivera: bata, quinto, bell, coro; Adam Jenkins: alto saxophone; Joseph Toledo: vocals (lucumi), bata, shekere; Howard Cooper: bass; Chuckie Joseph: bata, congas, coro; Kimbal Brown: trumpet, flugelhorn; Frank "Squirrel" Williams: shekere, conga.
---