Warren Jones: Twice Blessed & Ohrwürm
I start this review with a small admission. Warren Jones and I were both students in the '70s at Arizona State University in the Jazz Performance department. Like most good college environments, creative folks were everywhere, some going on to rather illustrious careers. Warren and players like Frank Smith, the saxophonist on
Ohrwurm
, chose to stay put in Phoenix and pursue their musical development through teaching, writing and performing. Both now teach at ASU and are integral parts of the local jazz scene.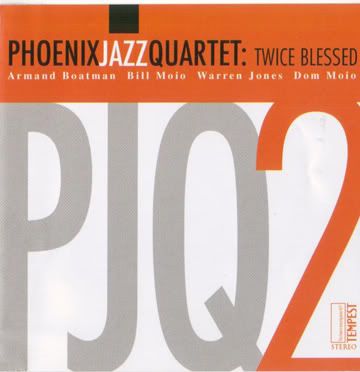 Warren Jones
Twice Blessed
(Tempest)
The jazz quartet setting, Twice Blessed, places Jones with longtime stalwart of the Phoenix jazz milieu, Armand Boatman. Veterans D. Moio and B. Moio complete the ensemble. This set is a traditional straight ahead affair that would be right at home on one of those contemporary jazz cruises. Two Jones compositions, one by Boatman, one by each Moio and five standards form the program. The playing is strong right through with the ensemble sounding comfortable and appropriately inspired.

Jones' "Twice Blessed, the title cut, is a bossa with contemporary changes and a slightly dark melody. B. Moio, whose playing unfolds in the tradition of Herb Ellis and Joe Pass, adds a fine solo in staccato fashion. Boatman, reminiscent of Oscar Peterson and George Shearing, displays his facility with restrained sensibility. "Lullaby, the second Jones tune, saunters along like a trail through the woods on a damp spring morn. Tastefully portrayed, Jones, B. Moio and Boatman all declare their statements with grace, while D. Moio creates a wonderful atmosphere with mallets on toms and cymbals.

"Speak Low jumps along in medium up tempo format, allowing the fellas to proffer their interpretive skills on a conspicuous standard. B. Moio's tightly displayed solo and crisp comping open the door for Boatman's romping improvisation. Jones and D. Moio suitably propel it along, Moio trading eight bar breaks with Boatman and B. Moio before the tune comes to a halt. Although no new ground is breached on this date, the rest of the tunes continue in similar fashion with forceful playing and well crafted improvisation.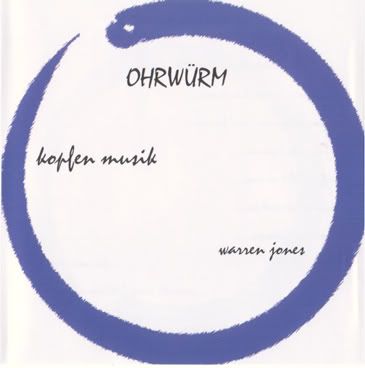 Warren Jones
Ohrwürm
(Earworm)
2004
Ohrwürm: kopfen musik, Jones' first CD as a leader, is the more adventuresome of the two discs. Four Jones compositions, one each by drummer Downs and guitarist Champion, two oft played standards, and "Scottie's Tune (Thompson) are featured. The first thing you will notice is pronounced bass in the mix. Far too many recordings have the bass either muffled or placed well behind the other instruments. Not so here, which is good news for rhythm section fans and bass enthusiasts. Further, both studio and live cuts are included.

"L'il Toughy opens with a bass vamp that sounds like the opening of a spy movie. The subtle, brooding melodic line enters, followed by an extended solo by Jones. Champion's guitar is rich and touched with a nice blend of electronic enhancement. Smith adds a strong solo of ample texture before the melody leads the tune home. "All the Things You Ate is Jones' reworking of the great standard of similar title. The trio of Jones, Downs and Champion leisurely put this one through the paces with Jones and Champion adding well developed solos. Parker's "Billie's Bounce, recorded live, showcases Champion's dexterity on acoustic guitar, a welcome voice often overlooked in jazz. Jones' driving bass line bolsters the mood, with Downs providing an intriguing combination of brush and stick work. The recording quality is surprisingly good for a live venue, surely produced on a shoestring budget.

"Simple Things is a bluesy ballad in three, demonstrating Smith's supple ability to communicate with passion and carrying the melodic and solo chores throughout. "Body and Soul poses another opportunity for Champion to expound with acoustic guitar. Beautifully displayed chords and precise delineation of individual notes cascade with abundance. Downs and Jones provide a solid and tasteful foundation. "Scottie's Tune is a simple flowing tune that serves as an extended solo showpiece for Jones. Champion and Smith add their dialogue as well, but Jones shines throughout, fully investigating the chord structure and melodic line. His detailed walking lines propel the flow.

Jones' "Freezer Queens, a gorgeous tuneful ballad, fills the air with melancholy. Life's precious moments and the need for gratitude come to mind. Another trio tune, Downs and Champion set the mood perfectly. Jones provides a fully developed and melodic solo, laying the groundwork for Champion's adroit styling. Jones sums it all up on the album cover with this written thought; "be good, have fun, and learn something. Both discs offer excellent moments from Jones and company, Ohrwurm being my personal choice for thought provoking material.
Twice Blessed

Personnel: Armand Boatman, piano; Bill Moio, guitar; Dom Moio, Drums; Warren Jones, bass

Tracks: Too Dark for Clarke; Dom's Blues; You, the Night and the Music; Twice Blessed; I Hear Music; Detour Ahead; If I Were a Bell; Lullaby; Dawsonism; Speak Low

Ohrwurm

Personnel: Chris Champion, guitar; Tim Downs, Drums; Steve Marsh; Frank Smith, saxophone; Warren Jones, bass

Tracks: L'il Toughy; New Waltz; All The Things You Ate; Billie's Bounce; Simple Things; Fences; Body and Soul; The Marsh; Scottie's Tune; Freezer Queens

Visit Warren Jones here: Warren Jones.
---