Kali Z. Fasteau: Vivid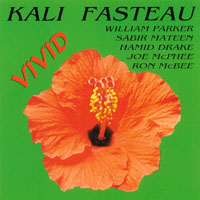 The double entendre in the title of
Vivid
applies to color as well as emotion. Multi-instrumentalist Fasteau, who's traveled the world living and performing, offers an intriguing combination of soprano saxophone and voice, among other things. Her fusion of high-energy blowing with high-flying song fits surprisingly well into this mix of performers and instruments. When Fasteau sings, her soprano voice sounds eerily like a soprano saxophone—you might not catch it if you weren't paying attention.
Recorded live during three performances during 1998 and 1999, Fasteau's group pursues energetic free improvisation around abstract themes relating to hues. The tone of each piece reflects the group's interpretation of a particular color. If you're willing to play the game, it can be quite fun to make the connections and see how vision can connect with sound. Regardless, this all-star group has much to offer from a purely musical standpoint. The combination of three horns yields a thickly textured sonic field which twists and thrusts about. Fasteau, McPhee, and Mateen frequently engage in synergistic expressionism, though they tend to shy away from call-and-response play. At times the group deviates from Western harmony into more mystical Eastern flavors.
Hamid Drake and Ron McBee drive the rhythms on Vivid, with occasional help from Fasteau. These tunes tend to have a tribal feel, so the use of percussion to round out the drum kit lends additional depth. Unfortunately this recording is quite limited in terms of sound quality, so the percussion is often lost. And with rare exceptions, bassist William Parker is essentially inaudible—a tragic loss, given his affinity for complex rhythms and his unusual treble extension. I suppose one must pay a sonic price to experience live music created in the moment—but Vivid is so poorly recorded that the listening experience is compromised. It's a shame, given the prodigious talent in this group and the confident approach they use with the music.

Track Listing: Orange; Red; Turquoise; Aquamarine; Sun Yellow; Chartreuse; Tangerine; Sienna (This Moment); Tamil Blue; Royal Purple; Pimento; Heliotrope; Violet; Sea Green; Magenta.
Personnel: Kali Fasteau: soprano saxophone, voice, nai & kaval flutes, mizmar, drum set, mousin, sanza; Hamid Drake: drum set, bindir, voice; Sabir Mateen: alto & tenor saxophones, bamboo side flute; Joe McPhee: soprano saxophone, pocket trumpet; Ron McBee: djembe & African percussion; William Parker: bass.
---