Steve Abshire & Vince Lewis: Two In The Pocket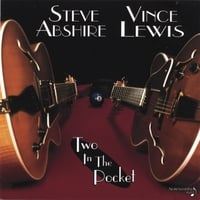 If you're a fan of mainstream jazz guitar, here's a gem of a small label recording that will be a continual delight. I'm talking about
Two In The Pocket
, a Steve Abshire and Vince Lewis collaboration from two now obscure jazz guitarists who will both be better known in the near future. This is a small label recording that has succeeded in doing it right, from the performance to the sound quality to the packaging. The headliners, Abshire and Lewis, have split the CD between guitar duet performances and tracks with various backing combinations featuring a pianist, bassist, and drummer. The striking aspect of this recording is the warmth of the interaction, not only between the two guitarists but also among all of the musicians of the session. This is a lively disc with players who know how to listen and respond, their deft timing and support for each other is notable.
Drummer Mike Sheperd and bassist Tommy Cecil are superb in the difficult role of backing a two-guitar front line. Pianist Robert Redd's contribution is primarily in a supportive role, adding low-key, thoughtful solo work along the way. The intertwining guitar and piano lines are particularly subtle and effective. It should be noted that the musicianship throughout this recording is impressively sophisticated, taut, and swinging. Both Abshire and Lewis can do it all, including providing excellent accompaniment for each other and tossing off consistently interesting solos. Both are guitar pros who have gracefully absorbed the history of their instruments with stylistic nods to the likes of Herb Ellis, Joe Pass, Kenny Burrell, Wes Montgomery, Barney Kessel, Chuck Wayne, and Joe Puma. Noteworthy Jazz has much to be proud of with their presentation of the debut recording of this classy guitar duo. Highly recommended.
Track Listing
Undecided; Bernie's Tune; Tea for Two; Three Little Words; Someone To Light Up My Life; Show Me; This Masquerade; If I Had You; Blues In The Closet; I Can't Give You Anything But Love; Samba D'Sandra; and Nagasaki. (67:28)
Personnel
Steve Abshire, guitar; Vince Lewis, guitar; Robert Redd, piano; Tommy Cecil, bass; and Mike Sheperd, drums.
Album information
Title: Two In The Pocket | Year Released: 2004 | Record Label: Noteworthy Jazz
Post a comment about this album