Chad Eby: Triptych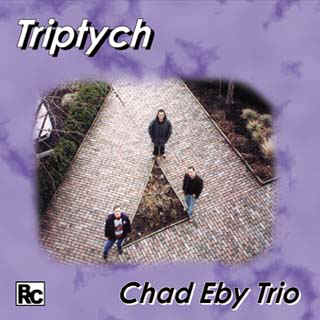 Chad Eby is no household name in Jazz- yet. But on this, his debut record, the multireedist Eby shows the kind of maturity and musicality that elude many on their debut record, and as such, he deserves no small amount of notice.
Eby has played with Brad Leali, Wessell Anderson, Steve Turre, Victor Atkins, Scott Amendola, Clarence Seay, and was a member of the Sarah Morrow quintet for her cd release tour in France a few years ago. He can play in a variety of situations and doesn't mind doing so. Side gigs aside though, Eby has been pursuing his own musical vision within the context of the trio- either the traditional saxophone trio with bass and drums or a trio with guitar and drums. The trio is the format Eby most prefers because in his mind it allows the most creative freedom for him both as a musician and a saxophonist.
The trio format is also the format which features prominently on his record. Indeed, the cultivation of ideas within the trio format that Eby has led over the past several years has certainly given rise to the recording of "Triptych." Much gigging and shedding behind him, Eby cut a record to document this work and one can say without hesitation that it's a keeper. This is tough, intense, and yet clearly art-minded music that hits you on a variety of levels. One can attribute this in part to the variety of material that is played here but equally perhaps to the range of Eby's expression. He seems as comfortable playing in a free situation (e.g. "Stan's Myth") as in a more obviously straight-ahead piece like "Triptych." As well, the man can deliver on a ballad- check "Dedication" for a prime example.
Onto the music in its entirety. Tryptych features 12 cuts with over 70 minutes of music and Eby on either Tenor, alto, or soprano, with a couple of guests thrown in for good measure. Eddie Bayard, a gutteral, virtuosic volcano of a Tenor player, is on three cuts, and another fine Tenor, Pete Mills- is on two. Also, the "Stan" of "Stan's Myth" fame is on board for his featured track in which he generally acts the part of interlocutor and "stimulates the unexpected."
The program as said is diverse, and while there are a few covers here it's mostly Eby's originals. The choices for cover material here show some thought, as well. Along with Bayard, Eby plays Donald Byrd's "Fancy Free" and while it's one of the more conventional cuts on the rec, it has some fine saxophone playing by both parties, and the pulse of the bass is solid! Eby's lilting soprano singing over Bayard comping on Tenor in the melody statement is a nice touch moreover.
"Eldorado" is a showcase for his soprano and as a plaintive, prayer-like piece it it offers a chance to hear his lyricism in a very good light. Eby's soprano saxophone is actually quite similar in sound and style to that of Branford Marsalis. It has that burnished, slightly melancholy, and yet very "round" sound. It's a very nice sound, and one certainly worth pursuing whether it sounds similar to what someone else is doing or not. His soprano features on a number of tracks here, and it's very welcome, in short.
Further on, with "Elegy- April 20th, 1999" we hear something in a similar vein- though, this time on Tenor. This "Elegy" owes a certain debt to Coltrane's classic composition "Alabama", as it is based compositionally on the "Alabama" premise- there is an opening statement, a prayer concerning the subject at hand, which in this case is the Columbine school shooting (hence April 20th). This sonic prayer is offered over a static pulse, but once subsided is then followed by a driving section in which we experience an unfolding on the complex feelings that the subject arouses. There is anxiety here, but also a sense of resolve- "to not let this happen again" as it were. The piece then comes full circle- the prayer is offered once again and while no closure is given- the constant of hope remains. Eby takes the evocative premise of "Alabama" to a modern tragedy, and it is quite evocative.
"Cyclic Episode" is a Sam Rivers composition many may not be hip to. Eddie Bayard is here again and along with Mr. Eby they navigate the tune's complex structure in good form- one of the best cuts of the record this is. That Rivers can write a tune, but only skilled improvisors need apply. Eby and Eddie dug right in. Contrasting with this piece, Eby's "Rivers' Edge" (after- you guessed it...) is rendered along with Pete Mills (both on Tenor) and it reminds one of Ornette's "Lonely Woman" in its angst-filled melody.
The title track is in the post-bop mode and features Eby blowing hard on Tenor over some changes and two different time sections. It's strong, and this is probably the best example on here of your "everyday Chad Eby." This is his characteristic soloing, and it's no more clear than on this track: a tough, feisty improviser with a full sound.
Finally, "Stan's Myth" is in reference to Stan Smith (whose fine "No Discussion" was also reviewed here.) It begins with an ominous intro before Eby goes into a rubato statement, Smith crashes the party (literally) and then all hell breaks loose. Well, not quite-Eby and Smith lead this free discussion over drums that traverses a variety of sonic and mood territory before it then reaches a crescendo and all is at peace again. Consider it much like temperamental weather; there's a storm, the sun shines through the rain, and then the clouds clear. That's the arc of this piece.
A full 75 minutes later (with many other highlights) the listener has experienced a wealth of music and a wealth of personal expression from a young artist named Chad Eby. Over an hour of music but with many more hours surely behind the evolution of this record. A Triptych of three dimensions in sound.
The reviewer shouldn't forget to mention Eby's trio comrades. Chris Haney is a fine, fine, up-and-coming bassist who has a deep, robust tone and can indeed lay down "A Fat-Ass Groove" (an actual cut.) Dave Weinstock meanwhile is consistently tasteful here and shows a crispness and an airiness at the kit that makes the music breathe.
Hopefully we'll be hearing more from Chad Eby- this mature first outing has the markings of an artist dedicated to his craft- not a mere "performer", so we shouldn't be surprised if a next outing will reveal even more depth and substance in his music. In an era when saxophonists have become ubiquitous on some level, it is good to know that subtle, artistic music is being made in spite of that.
Triptych is available from CoJazz records: www.cojazz.com.
Track Listing
1) I've Got You Under My Skin (Porter) 2) Eldorado (Eby) 3) Fancy Free (Byrd) 4) Elegy- April 20th, 1999 (Eby) 5) Rivers' Edge (Eby) 6) Cyclic Episode (S. Rivers) 7) Stan's Myth (Eby) 8) Triptych (Eby) 9) Dedication (Eby) 10) 2405 Louise #1 (Eby) 11) Chris Haney Lays Down a Fat Ass Groove 12) I Can't Get Started (I. Gershwin and V. Duke)
Personnel
Chad Eby- soprano, alto, tenor saxophone, Chris Haney- bass, Dave Weinstock- drums. Eddie Bayard- tenor saxophone (3,6,12) Pete Mills (5,12) and Stan Smith- guitar (7).
Album information
Title: Triptych | Year Released: 2002 | Record Label: Cojazz Recordings
Post a comment about this album