Alan Silva & Oluyemi Thomas: Transmissions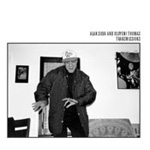 The practice of harping long and loud on the lack of public notoriety or understanding afforded creative improvising musicians has become an almost customary tack in reportage of the music. A "resignation to obscurity" mindset prevails among many producers, listeners and even musicians that this is orphic status is simply their lot in life. Still the musicians survive exercising their talents behind the veil of popular ignorance doing the only thing they must- nurturing and elevating their art beyond the strictures of ambivalence. Alan Silva and Oluyemi Thomas are two such musicians. Neither is widely known outside his comparatively small core sphere of influence, Thomas especially so. But as this disc, culled from an intimate performance at 1999's Fire In The Valley Festival points to what those familiar with either man have known to be true. Silva has been a profound force in free jazz for nearly four decades and has collaborated with luminaries like Cecil Taylor, Archie Shepp, Bill Dixon, Sun Ra, Sunny Murray and many others. Thomas' creative efforts have been far less documented on recordings, a fact that makes the documentation of this meeting all the more important.
Never to my knowledge have bass clarinet and bass been wedded so consummately in isolation. The title to the disc is an apt one and captures the feeling of this team of tone scientists beaming out sonic signals that transcend the conventional continuums of space and time. In tone and timbre Thomas' bass clarinet recalls the voices of John Gilmore and Marzette Watts while favoring a thick Ayleresque vibrato and a propensity for the deep visceral end of the instrument. Silva's string sculptures mirror the intricacy of arachnid webs flecked with droplets of dew. Moving from arco harmonics to bouncing pizzicato patterns of errant rhythmic energy his bass becomes a pipeline to the divine on the opening piece. Thomas' heavy reed ranges from whinnying altissimo squeals to deep-throated subterranean gulps and in tandem with Silva the effect is positively cavernous in terms of sonic weight and girth. There are points mid-piece where the harmonic terrain becomes so dense you could tread across it. Later in the piece Silva bounces bow and thrumming fingers off his strings and Thomas trades reed for wooden flute. "Lofty Flight" continues the summit as Silva shows his complete command of pitch adding perfectly measured bowed streaks as punctuation to Thomas' rasp-tinged saxophonics. Further on in the piece Silva constructs horizontal drones atop which Thomas' is free to move vertically along an extended range of heights. There are moments here and at other points in the concert where the pair seem to move a shade too far inward, seeming to play more for themselves than for their audience. These passages of unchecked introversion are few and are routinely remedied quickly when they do arise.
In recent years Silva's experiments with electronics and synthesizers as means of achieving orchestral range and resonance have sometimes overshadowed his work on bass. But anyone who doubts the level to which Silva has preserved his prowess on strings will almost certainly have all suspicions summarily banished when greeted by the sounds preserved in this performance. Thomas' skills have also come into question in some circles of the press, but again any doubts are quickly diminished when he begins speaking in tongues through his instruments. But as William Parker suggests in his passionate liners this meeting of highly musical minds, far from being something as urbane as a proving ground, is on a much deeper and profound level a spiritual nexus for two analogous souls. The fact that we as listeners are invited to share in the sense of discovery makes the rendezvous all the more joyous. Whether or not it's heard by the masses the music remains.
Eremite on the web: http://www.eremite.com
Track Listing
Connecting With The Divine; Lofty Flight; Root & Branch; Offering to the Exalted One; Soft Flowing Waters.
Personnel
Alan Silva: bass; Oluyemi Thomas: bass clarinet, c-melody saxophone, wooden flute, percussion.
Album information
Title: Transmissions | Year Released: 2001 | Record Label: Eremite Records
Post a comment about this album