Tierney Sutton: I'm with The Band; Kelley Johnson: Live at Birdland
Tierney Sutton
I'm with the Band
Telarc
2005
"There's something in our live set that doesn't come through on a studio recording," Sutton said during a phone interview about her recently released album I'm With The Band, which was captured live at Birdland last spring, "so we decided, 'why not do a live record?'"

The album contains several classic tunes from the American songbook—some of which were specially selected and arranged for the album, such as Ted Koehler/Harold Arlen's "Between The Devil and The Deep Blue Sea," Cole Porter's "I Get A Kick Out Of You," and Henry Mancini's "Two For The Road." "Those were songs that we played that people always asked about," she said, "but that we had never committed to a record."

Sutton's crystal-clear voice sounds completely integrated with the musicians in the band; her improv scats throughout are like an additional instrument—a result of a twelve-year relationship she has had with the musicians with whom she performs. "The band is very cohesive and everyone has strung their lot whenever we play," Sutton says. "The album's title is a statement I wanted to make about our unity and it also is a funny pun."

At the CD release show at Birdland, she pretty much reproduced the songs on the recording, adding songs such as Willie Nelson's "Crazy" and others. Her confidence on stage went through into the audience, which got her sense of humor as she joked between songs, pushing them to purchase the CD. The band, as she described, is indeed completely integrated in its sound.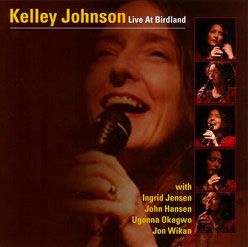 Kelley Johnson
Live at Birdland
Jazz Connect
2003
On her own Live At Birdland album, vocalist Kelley Johnson relies on standards but gives them a certain personal touch. She practically owns the Carmichael/Washington tune "The Nearness of You" (which was included on her performance at Jazz Standard, Sep. 12th) and the oft-recorded "What A Little Moonlight Can Do For You" (which Sutton also covered in her album) sounds fresh and energetic.

Although Johnson does not exude the same sexiness that Sutton does on stage, she has an engaging stage presence and a charming personality that is quickly captivating. She also has a very confident voice and takes on a cacophony of sounds in her arrangement to the Bacharach/David composition "What The World Needs Now" with extreme ease. The same thing goes for Ornette Coleman's "Turnaround" on the CD, where she scats Ella-like, trading jabs with trumpeter Ingrid Jensen throughout the song's almost ten-minute duration, which also features great work by pianist John Hansen.

Track and Personnel Listings
I'm with the Band

Tracks: Softly, As In A Morning Sunrise; Let's Face The Music And Dance; 'S wonderful; Between The Devid And The Deep Blue Sea; Two For The Road; East of The Sun(And West of The Moon); People Will Say We're In Love; If I Loved You; surrey With The Fringe on Top; Cheek to Cheek; Blue Skies; I Get A Kick Out of You; The Lady Is a Tramp; What a Little Moonlight Will Do; On My Way to You; Devil May Care.

Personnel: 1: Tierney Sutton: vocals; Christian Jacob: piano; Trey Henry: baritone; Kevin Axt: bass; Ray Brinker: drums.


Live at Birdland

Tracks: How Long Has This Been Going On; The Nearness of You; Turnaround; What Little Moonlight Can Do; In My Own Little Corner; Tulip or Turnip; Footprints; Monk's Dream; My Favorite Things.

Personnel: Kelley Johnson: vocals; Ingrid Jensen: trumpet; John Hansen: piano; Ugonna Okegwo: bass; Jon Wikan: drums.
---