Jackie Ryan: This Heart of Mine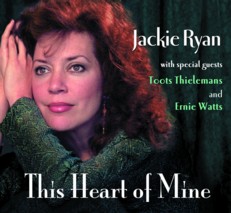 You simply cannot sing a song any better than Jackie Ryan does. And you cannot make a better jazz vocal CD than this one. It is perfect. If that sounds too reverent, let me change the praise to "perfectly wonderful." Each of the elements is truly wonderful: the choice of songs, the arrangements, accompanying musicians, even the ordering of the songs. And, most importantly, of course, Jackie Ryan! She is a smart, sophisticated vocalist for grown ups and this is her finest record and, in fact, may well be the best jazz vocal disc of 2003. If justice does exist,
This Heart of Mine
should make the San-Francisco-based Jackie a star. She has it all, a luxuriant smoky, rich alto, a feeling for jazz, a deft sense of swing, effortless delivery, stunning presentation and, just as importantly, an unaffected honesty.
Each of her four CDs shows the steady growth of this remarkably talented artist, but This Heart of Mine deserves superlatives. How about the spell she weaves on that newest of standards, the jazz elegy to summer, "Estate," or her moving version of Jobim's seldom recorded tender "Anos Dourados" (Golden Years) sung in perfect Portuguese. The seldom-performed "Maybe September" is an exceptional song from a very non-exceptional movie ("The Oscar"). Alec Wilder's "Moon and Sand" is getting more attention the past decade, and well it should. Ryan's version is a wonderful and most tender addition to the growing canon. Other highlights include a gospel-tinged "Jump for Joy" and a graceful "Sleepin' Bee." Each track is meticulously constructed but still, the feeling of improvisation—so important in jazz – abounds. The "construction lines" are not visible—only the spontaneity and the joy.
You can tell a lot about a singer by the accompanists she keeps and Jackie Ryan keeps the best. This Heart of Mine features two different marvelous core bands. Four Los Angeles-based master musicians include pianist Jon Mayer, drummer Roy McCurdy, guitarist Barry Zweig, and bassist Darek Oles. A San Francisco contingent includes either Leonard Thompson or pianists Amina Figarova, bassists John Wiitala or Ruth Davies, and percussionists Omar Clay or Jason Lewis. The legendary Toots Thielemans adds his lyrical magic on the aforementioned "Estate" and "Maybe September." Saxophonist Ernie Watts delivers some memorable contributions on three cuts. Yutaka Yokokura provides beautiful strings and Steve Erquiaga gentle bossa guitar rhythms on Jobim's "Anos Dourados."
Jackie Ryan has a full-bodied voice and she intoxicates with a combination of power and perfume. She can be cute without cloying, sassy without being smug, she can swing but handles ballads with an assured delicacy and depth. Jackie is the real thing, an artist to delight in today and to follow in the future. This Heart of Mine is sixty seven minutes of glorious music.
Visit Jackie Ryan on the web at www.jackieryanmusic.com .
Track Listing
1. This Heart of Mine (Warren/Freed) - 3:11 2. A Sleepin' Bee (Arlen/Capote) - 3:46 3. Estate (Summer) (Brighetti/Martino) - 6:34 4. East of the Sun (Bowman) - 5:50 5. Jump for Joy (Ellington/Webster) - 4:00 6. Make It Last (Haynes/Paxton) - 5:45 7. Anos Dourados (Buarque/Jobim) - 3:59 8. Maybe September (Evans/Faith/Livingston) - 5:15 9. When I Grow Too Old to Dream (Hammerstein/Romberg) - 3:39 10. Moon and Sand (Engvi
Personnel
Steve Erquiaga - Guitar; Barry Zweig - Guitar; Ruth Davies - Bass; Roy McCurdy - Drums; Jon Mayer - Piano; Darek Oles - Bass; Toots Thielemans - Harmonica; Ernie Watts - Sax; John Wiitala - Bass; Jason Lewis - Drums; Amina Figarova - Piano; Yutaka Yokokura - Strings; Jackie Ryan - Vocals; Leonard Thompson - Piano; Bart Plateau - Flute; Derek Oles - Bass.
Album information
Title: This Heart of Mine | Year Released: 2004 | Record Label: OpenArt
Post a comment about this album