The Sheryl Bailey 3: Bull's Eye
The patchwork Oriental rug decor and comfortable living room ambiance at NYC's Fat Cat immediately put both musician and audience on intimate terms. Within that friendly context, guitarist Sheryl Bailey's Hammond B3 trio highlighted newly composed material from their latest CD,
Bull's Eye
. Bailey's intricately elegant chordal improvisations and blisteringly precise leads were willing and equal partner to the power and versatility of organ master Gary Versace. Ian Froman's inventive and propulsive drumming not only added a distinctive third voice but also created novel frameworks that enabled Bailey and Versace to keep things more than interesting.
Commencing with the timely tribute tune "Elvin People," Froman offered up intriguing rhythms that pushed in a seemingly more Miles than Trane mode as both guitar and organ sparsely improvised in opening introductory conversation. Further homage pieces to guitarist Pat Martino and pianist Cedar Walton each featured Bailey's quick featherlike touch and warm tone until the proceedings gently touched down in the "Fog," the lovely slow melody merging into a mesmerizing solo. It was then time for Versace and Froman to shine as "Two Brothers" took over a slow groove from Sheryl to display their prodigious improv skills. Fire spat from Versace's fingers as he alternately inspired churchlike reverence or engendered a feeling of raw supremacy. The funked up groove of "Swamp Thang" served as the basis for some all out B3 burning as the whole band cut loose.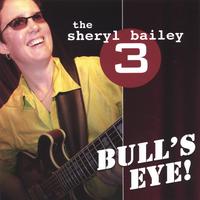 The Sheryl Bailey 3
Bull's Eye!
Pure Music
2004
The agile guitar line and driving rhythm of the fresh sounding cooker and title cut "Bull's Eye" opened the second set and was followed by the chordally exquisite ballad "Song for All Souls." Soon after guitar and organ became enmeshed partners and danced divinely to "Valtz Med," the melodic intro to "Old and Young Blues" started to close out the evening. Bailey further amazed with her ability to match Versace's comping capabilities allowing for guitar and organ to alternate arpeggios against backdrops of contrasting timbre. A communal musical journey that underscores a maturing group sound,
Bull's Eye
clearly hits the mark square on.
Bull's Eye!

Tracks: Old & Young Blues, Elvin People, Swamp Thang, Sue's Samba, Valtz Med, Two Brothers, Song for All Souls, Fog, Bull's Eye

Personnel: Sheryl Bailey-guitar/pen, Gary Versace-Hammond B3, Ian Froman-Drums
Post a comment