The Realpolitik of Georg Frederic Handel
A refined opera composer or brusque cutting contest brawler? A noted keyboardist or a savvy impresario? A sweet-natured collector of Art or a quick tempered musical entrepreneur? Pious Lutheran composer of
Messiah
or master musical plagiarist and propagandist. Baroque composer Georg Frederic Handel was nothing if not a man of the world and one who encompassed these conflicting images.
While much has been written
about
the very public Handel, very little is known about the composer's private life. One of the best views of the composer, as seen from 10,000 feet, was written by former
Now York Times
Classical Music critic, Harold C. Schonberg, who in his landmark
Lives of the Great Composers
(Norton, 1970). In a chapter entitled, "Composer and Impresario," Schonberg describes the composer thusly,
"
Where Bach was a provincial, a German who never left Germany, his great contemporary, Georg Frederic Handel (so he spelled his name in England, where he spent most of his life) was a cosmopolite, a man of the world, and independent figure, of the first great composers who was a business man of music. Georg Frederic Handel: a big man and a lusty one; a naturalized British subject who spoke English with a heavy accent; a man with an explosive temperament and withal a sweet-tempered and even generous philanthropist; a man who made and lost fortunes in his musical enterprises; the owner of a good art collection, including some Rembrandt paintings; one of the greatest organists and harpsichord players of this day; a man with a simple, uncomplicated faith and equally uncomplicated view toward life.
"
Now, does this not sound like someone you would like to know?
Handel was born in Halle in 1685 (the same year as J.S. Bach and Domenico Scarlatti), beginning his musical career properly, in 1702, as organist at the Calvinist Cathedral. But that was not to be his lot. Handel went to Hamburg, at the time, a center of opera in Europe. Handel composed his first opera,
Almira
there in 1705. The next year, the composer travelled to Rome where he would spend the next four years. Like other parts of Handel's life, little is known of the composer in Italy, save for anecdotes, one shared again by Schonberg in his essay:
"
[In Italy, Handel]...was called Il Sassone—the Saxon—making a big impression there, as he did everywhere. [Also, while in Italy]...he had a harpsichord and organist duel with Domenico Scarlatti, his exact contemporary (Scarlatti was also born in 1685). The Handel-Scarlatti encounter took place in the house of Cardinal Ottoboni. As harpsichordist, both were declared equal. As organist, Handel won easily. "Scarlatti," says Mainwaring, "himself declared the superiority of his antagonist, and owned ingenuously, that till he had heard him on this instrument, he had no conception of its powers.'
"
From Italy, Handel travelled to Hannover as a court musician to the elector. While in Hannover, he took a leave of absence and traveled to England where Italian opera was becoming popular. There, Handel composed
Rinaldo
(1711), meeting with such success that, after returning to Hannover, he had decided to go AWOL and return to London, where her would stay, riding the horse of Italian Opera from fortune to famine, the later achieved in 1737, when the composer went bankrupt after a competing opera house opened in London.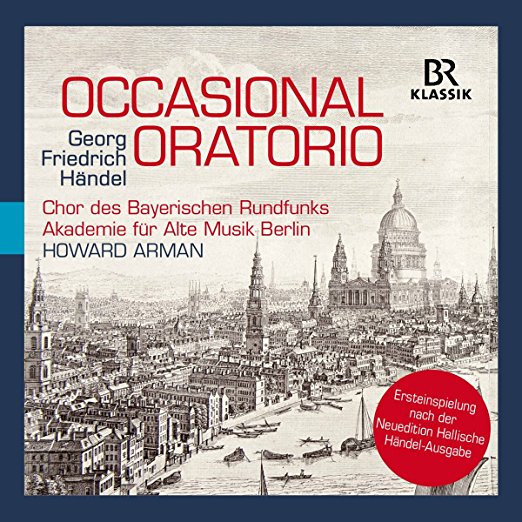 Chor des Bayerischen Rundfunks; Akademie fur Alte Musik Berlin, Howard Arman
Georg Friedrich Handel: Occasional Oratorio
BR Klassik
2017
The back story to Handel's 1745 performance of
An Occasional Oratorio
is an interesting one. The reader's digest version (from the always able
Wikipedia
is:
"
An Occasional Oratorio (HWV 62) is an oratorio by George Frideric Handel, based upon a libretto by Newburgh Hamilton after the poetry of John Milton and Edmund Spenser. Handel composed the Occasional Oratorio hastily in January and February 1745 and premiered it immediately on 14 February 1745 with Willem de Fesch, Élisabeth Duparc, Elisabetta de Gambarini, John Beard (tenor), and Thomas Reinhold at Royal Opera House. It contains 44 movements split over three parts. The famous chorus "Prepare the Hymn" (a paraphrase of Psalm 81:1-2) is the 26th movement and appears in the second part. The second minuet from the Music for the Royal Fireworks was reused from this oratorio.
"
The source credited for this information was from the late Handelian conductor Sir Christopher Hogwood in his book,
Handel: Water Music and Music for the Royal Fireworks
(Cambridge, 2005). As august as this information is, it does not address the backstory where Handel very wittingly produces propaganda for the ruling government. Here is what was going on: In late 1744 -early 1745, Charles Edward Stuart ("Bonny Prince Charlie") attempted to regain the British throne for the exiled House of Stuart during the War of the Austrian Succession, when most of the British Army was on the European continent. Taking up with the Jacobites, Charles began a march toward London.
In the autumn of 1745 George Frideric Handel was 60 years old and on holiday in Scarborough, far to the north of London. The composer was worn out and brooding over a most an unsuccessful oratorio season that had ended abruptly, early. One day, the composer receives a troubling letter: "Bonnie Prince Charlie" was leading the "Jacobites" to overthrow the present English King George II. London society was shitting a brick. With
A Chorus Song Made for the Gentlemen Volunteers of the City of London
, Handel had discovered a musical means of shoring up the populace. By December 1745, Charlie had made it south as far as Derby, only 150 miles from London. In an effort to calm and inspire the London populace, Handel agreed to compose a bit of propaganda for crowd control. With his friend the librettist Newburgh Hamilton (1691—1761), Handel took advantage of the present strife to compose his
Occasional Oratorio
in January and February of 1745.
Famous for fast work (Handel composed his
Messiah
in a matter of weeks) the composer make use of existing material that had already been tried and tested (as he often did). The text compilation by Newburgh Hamilton heavily criticized by the
Messiah
librettist Charles Jennens, who deftly wrote that thelibretto was an "inconceivable jumble of Milton and Spenser, a chaos extracted from order by the most absurd of all blockheads." While Hamilton had used Milton's adaptations of the Psalms to the libretto, as well as excerpts from Edmund Spenser's
Teares of the Muses, Hymne of Heavenly Beautie, The Faerie Queene
, this was not unusual and was much in keeping with how Handel operated.
What was heard on February 14, 1746 at the Theatre Royal in Covent Garden was still crow pleasing, not least because Handel had provided much that was familiar to them, including choruses from
Israel in Egypt
and pieces of the popular
Concerti Grossi
Opus 6. Then, there was also the final chorus, already presented in 1727 at the coronation of King George II ending with the words, "God save the King, long live the King." On April 16, 1745, Prince William Augustus, Duke of Cumberland, King George's son, met Charlie at Culloden, where he viciously dispensed with the Jacobites, the kingdom being saved.
So, the more things change, the more they stay the same. The
Occasional Oratorio
is not the greatest Handel, but then, the worst Handel stands heads and shoulders above his contemporaries. Conductor Howard Arman leads the Chor des Bayerischen Rundfunks and the Akademie fur Alte Musik Berlin in a spirited performance that draws the best from the soloists soprano Julia Doyle, tenor Ben Johnson and baritone Peter Harvey. The Chor des Bayerischen Rundfunks has most previously been heard on Peter Dijkstra's reading of
Messiah
(BR Klassic, 2015) and J.S. Bach's
Weihnachts Oratorium
(BR Klassic, 2015). The chorus is an organism well developed for even the challenge of a composer's lesser work and they do a fine job here.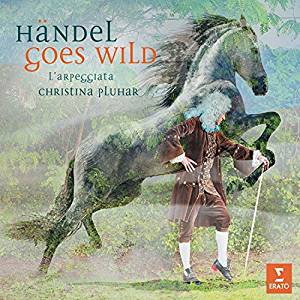 L'arpeggiata, Christina Pluhar
Handel Goes Wild
Erato Records
2017
I have to believe that
il caro sassone
, with his big, burly personality and sense of humor, would be delighted with the musical high jinx Christina Pluhar and her L'arpeggiata orchestra make of much of his Italian Opera repertoire. It would not be too far a stretch to call Christina Pluhar and L'arpeggiata the Baroque Postmodern Jukebox. Both have the intention of stretching boundaries and recasting the traditional as the non-traditional. L'arpeggiata is just a bit more straight-laced. Or not.
On
Handel Goes Wild
, Pluhar and company engage in a bit of genre-interface mingling time travel with soprano Nuria Rial, countertenor Valer Sabadus and jazz clarinetist Gianluigi Trovesi. I stop short of considering these "re-imaginings" Pluhar turns Handel's Italian Opera canon on its ear with the interpolation of frank jazz themes from clarinet and piano along with copious improvisation. The effect is like a quick rush of blood to the head, or a 25-year old single malt chased with a quadruple ale. It is a unique stylistic mashup between the straight-laced Baroque and the catch-as-catch-can approach of jazz. Pluhar's Handel consideration joins those of Purcell, Monteverdi and Cavalli. But music director and L'Arpeggiata are not one-trick ponies. The group has a dandy Monteverdi
Teatro d'Amore
(Virgin Classics, 2009) and
Vespers 1610
(Virgin Classics, 2011).
Händel Goes Wild
is very much in keeping with the groups similar treatment of Henry Purcell and contemporaries' music,
Music For A While
(Erato, 2014). Doubtless this recording will frustrate purists, but for sheer listening enjoyment, one could find a million Baroque Opera recordings performed perfectly straight and not be near as entertained.
Critic's Note:
Anno Domini
2017, marks the 100th Anniversary of recorded jazz, deftly noted by the release of the Original Dixieland Jazz Band's shellac "Dixieland Jass Band One-Step (A)/Livery Stable Blues (B)," Victor 18255, recorded February 26, 1917 and released March 7, 1917. Just for perspective, in 1917, my father was 18 months old and my mother was yet to be born for two years. It is also the twentieth anniversary of me writing for
All About Jazz
. The first recording I reviewed for the magazine was Art Pepper's
San Francisco Samba
(Contemporary, 1997), published December 1, 1997. I am using this present review as part of a series noting my twentieth anniversary with the magazine and paying special tribute to my fellow writers at
All About Jazz
and Publisher Michael Ricci.
Post a comment
Watch