The Re-Emergence Of The Black Stick: The Soul in the Mist, La LumiŤre de Pierres, Yellowcake & Ornette Coleman Anthology
The clarinet seemed down for the count after the big band era. Bop had a few players of note (Buddy De Franco, John La Porta) but by the time free jazz emerged, the clarinet had been seemingly eliminated from the small group format. Something happened during the late '70s, signaled by John Carter's decision to focus on the instrument, and it has made a modest comeback to the point where it isn't unusual once again to hear the instrument's lithe grace and impassioned cries as part of the jazz lexicon.
Perry Robinson - Andrea Centazzo - Nobu Stowe
The Soul In The Mist
Ictus
2007

Perry Robinson was one of the few players who carried the torch for the instrument during the early Free Jazz era. Although recording opportunities under his own name were few and far between (only three albums during the '60s-70s), fellow musicians of the era (Henry Grimes, Archie Shepp, Charlie Haden) valued his art and tapped into his skills. He even did time as a member of one of Dave Brubeck's mid '70s ensembles. On The Soul in the Mist, he's playing in a trio with Italian percussionist Andrea Centazzo and pianist Nobu Stowe. Although they play compositions credited to Centazzo, the feel of this set is spontaneous and free. The title tune is a beautiful ballad with an arcing line that Robinson delivers with poise and passion. Robinson's virtuosity is to the fore on "Twenty Years Later with an acappella intro that's worth the price of admission alone. In addition to his percussion kit, Centazzo also plays a Mallet Kat Keyboard that has its merits and downside; at times it sounds clunky and cumbersome. However, on "Another Situation in conjunction with Stowe's piano, it gives the effect of a gamelan orchestra behind Robinson's spiraling lines. Apart from a couple of minor reservations, this is a wonderful set that's well worth hearing by anyone who wants a showcase for Robinson's current state-of-the-art.
Francois Houle - Evan Parker - Benoit Delbecq
La Lumiere De Pierres
Psi
2007

Canadian clarinetist François Houle has been one of the main exponents of the clarinet in an improvising context since the early '90s, releasing a series of excellent recordings. Additionally he's an interpreter of contemporary composed music for the instrument. But for La Lumière de Pierres he's joined by longtime musical partner pianist Benoît Delbecq and British saxophone master Evan Parker. The three tracks are improvised and although this is basically Parker playing with a long established duo, it sounds like the three have been playing together for years. No one player dominates and in addition to solo and duo sequences there's plenty of tasty three-way improvising. The pieces develop logically and take the listener through all of the unexpected twists and turns of the best free improv. Houle's rich woody tone contrasts nicely with Parker's burnished metallic squall; at one point towards the end of "Stone Through Sunlight the two engage in a spiraling dialogue that seems a perfect merger of metal and wood. Underneath it all Delbecq's subtly prepared piano provides the third texture that gives this music further depth and color; his moments at the end of the disc are among the album's highpoints. La Lumière de Pierres is a satisfying mixture of free improvisation characterized by instrumental virtuosity and improvisatory sensitivity.
Jacob Lindsay - Scott R. Looney - Gino Robair
Yellowcake
Rastascan
2007
Bay Area musicians Jacob Lindsay (clarinet), Scott Looney (electronics) and Gino Robair (percussion) engage in free improvisation of a more electronic nature on Yellowcake. Lindsay plays a range of clarinets from contrabass to piccolo. The use of electronics and percussion and Lindsay's reliance on the extended range of his instrument gives this trio an incredibly broad sound range. The music borders on the electro-acoustic side of improvisation (aka eai) but unlike much of that music, it's far more active with the musicians responding almost reflexively to their cohort's signals. Unlike most eai it's frequently dense and active but like most eai, one is never quite sure of the sound source. Lindsay's is the most identifiable sound, especially in the lower reeds. Scrabbling and aggressive in nature, sound attacks the listener from all sides. The final passages of "You, In My Shadow have a particularly alien character. Yellowcake is a satisfying set of state of the art free improvisation in all its splendid, unpredictable glory.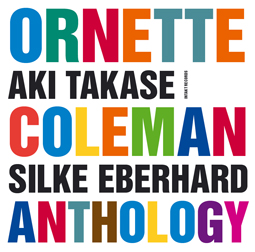 Aki Takase - Silke Eberhard
Ornette Coleman Anthology
Intakt
2007

German reed player Silke Eberhard has been making waves in Europe since the late '90s. In addition to her own groups, she has collaborated with Dave Liebman, Johannes Bauer and others. Ornette Coleman Anthology, a set of duets with pianist Aki Takase on Coleman tunes is a real gem. Eberhard plays alto sax, clarinet and bass clarinet and while the saxophone appears to be her main instrument, she is equally adept on the others.

Their approach to Coleman remains faithful to the music while putting their personal stamp on it. The fact that Takase plays the main chordal instrument Coleman avoided (with a couple of exceptions) indicates this is a different direction from the composer's original intention. However, this record is a resounding success. One can hear both players reveling in the openness provided by the music. The material is from pieces composed from 1958-1968 and approached from a variety of directions. Some are brief theme statements with succinct solos; others are explored at length and with unique approaches. "Focus On Sanity finds Takase playing a heavily prepared piano after the initial fanfare. "Airborne in its original version is a buoyant piece but here, after the theme statement, it turns into a sparse, textural improvisation with Eberhard blowing quiet breathy phrases and Takase exploring the insides of the piano. On the bluesy "Turnaround , Eberhard's clarinet gingerly skips over the twists and turns provided by the theme as Takase breaks into stride. This is usually not the way Coleman played these tunes but it's clearly the way these two contemporary improvisers hear this music and it's what makes this disc so strong. The one jarring note is the one Takase composition, "Dedicated To O.C.-Doughnut , which doesn't sound particularly Coleman-esque and seems to break up the program with its rhapsodic approach. But that minor quibble aside, this a favorite record of the year.

Tracks And Personnel The Soul In The Mist
Tracks: The Soul In The Mist; Another Situation; The Cry; Twenty Years Later; Last Song; Pan Dance; A Foggy Day In Philadelphia; The Voices.
Personnel: Perry Robinson: clarinet; Nobu Stowe: piano; Andrea Centazzo: percussion, Mallet Kat Keyboard, sampling.
La Lumiere De Pierres
Tracks: Stone Through Sunlight; Moonlight Through Stone; Stone On Stone.
Personnel: Francois Houle: clarinets; Evan Parker: tenor saxophone; Benoit Delbecq: piano.
Yellowcake
Tracks: Definitive And Subject To Change; Opaque Green; Discontinuous Beings; You, In My Shadow; Lazy Tongue; The Prince Of Wrongdoing (Mr. Unwilling Symptom); Bristling With Ambiguities; Blund (The Poundering).
Personnel: Jacob Lindsay: clarinets; Scott R. Looney: electronics; Gino Robair: energized surfaces, voltage made audible.
Ornette Coleman Anthology
Tracks: Turnaround; Lonely Woman; Free; The Blessing; Folk Tale; Open To The Public/Check Out Time; Cross Breeding 1; The Sphinx; Dedicated To O.C.-Doughnut; Revolving Door; Mr. And Mrs. People; Angel Voice; Motive For Its Use; The Disguise; Change Of The Century; Focus On Sanity; Congeniality; Airborne; Broadway Blues; Beauty Is A Rare Thing; Face Of The Bass; Peace; Little Symphony; Eventually; Humpty Dumpty; Eos; W.R.U.; Check Up/Enfant; I Heard It Over The Radio; Round Trip; Music Always; Love Call; Una Muy Bonita.
---