The Prodigious and Prolific Sonny Stitt: 16 New Releases for 2007 (and still counting!)
"You can't do no more than has already been done. Remember a man named Art Tatum; now, who can play any more than that? ...You ain't supposed to play over people's heads. You're trying to give a message to people, and make it as simple as possible for the average man."


The quote is by a paradoxical reactionary who, like Tatum, could improvise on a tune and make you think you'd heard it. Only after 20-30 more listenings did it become apparent you hadn't heard anything yet. Sonny Stitt was not only a consummate master of the alto and tenor saxophone (and, when he chose to be, baritone sax) with an exhaustive repertory of popular and jazz standards but an assimilator, or consolidator, of the whole jazz tradition that had preceded him. Parisian music reviewer Evan Chandlee's appraisal of Stitt's music is especially insightful: "Like Handel, Vivaldi and Telemann, who made inestimable contributions while never reaching the level of J.S. Bach, Stitt's playing, though not as complex and innovative as Bird's, effortlessly attained gorgeous summits.... His intensity and blues heat often transcend bebop and even jazz, exemplifying a popular musical form all his own, somewhere between rhythm and blues and the big-city night sounds of the old black neighborhoods, where Stitt was a popular hero, incessantly on tour, ever constant to the blues and immensely respected for his faithfulness both to Bird's idiom and to himself. To some degree, his omnipresence and mastery consoled jazz fans for the premature departure of the incomparable Bird."


As a consolidator and consoler, Stitt, who passed away in 1982 at the age of 57, appears to be busier than ever in 2007. It's been estimated that he recorded upwards of 150 sessions under his own name (I'm still finding titles not mentioned in the All Music Guide) during a 35-year-career, and we are now witnessing a virtual non-stop cavalcade of Stitt reissues, most of them imports and some not previously available on CD. A quick glance at album releases on Amazon.com reveals that in 2006 there were 12 reissues/new issues of Stitt recordings. And at the half way mark of the current year, the listings already show 16 Stitt reissues in 2007. One of them, the coveted but scarce 1972 Stitt sessions Tune Up and Constellation (formerly available domestically on the defunct 32 Jazz label as Endgame Brilliance), was released earlier this year in Europe but has yet to make its appearance on the U.S. market.


It would be all too easy to say that with Stitt everything is good, but Stitt completists are likely to caution that it's equally easy to get "burned." Stitt was pretty casual about things like contracts and royalties. "Pay me X amount, and I'll cut your record, but then I've got to catch a flight"—that was often the itinerant sax- for-hire's play-for-pay approach to the business of making records. Much of his recorded output quickly acquired "public domain" status and, as a result, some amateurishly recorded sessions with inferior audio have been repackaged multiple times under numerous labels. Moreover, even Stitt had days when, musically, he simply wasn't on his game.


What follows are brief reviews designed to help readers make informed decisions about this latest stream of Stitt sessions, restricted to 2007 releases and roughly arranged from most recent to earlier issues:
Sonny Stitt
Tune Up! + Constellation
Gambit
2007
For the better part of the new milennium these two 1972 dates have been the most sought-after Stitt recordings, bringing premium collector' prices for the out-of-print single-CD compilation of both sessions, Endgame Brilliance (it's more economical if not practical to locate the two separate LPs on Cobblestone). Though still not available domestically, this latest compilation can be ordered directly from the Spanish distributor (freshsoundrecords.com), with liner notes (in English) written for this new 2007 edition. These were the recordings that opened the eyes of many critics and jazz followers who didn't know what some of us apparently did: that Stitt had been Bird and more in the mid to late '40s—the complete saxophonist, formidable pyrotechnician, master of the vocabulary of bebop on all three horns— and that he was still capable of playing that way if not better. The only thing different about these two sessions is that Stitt decided to stop wallowing in the sounds of the late 1960s and beyond: he stripped his horns of the Selmer Varitone attachment, an electronic gadget that had been disguising his majestic sound; he closed the book on his days as a tenor "soul and funk artist"; he bid farewell to the Hammond B3 organ, his primary source of accompaniment throughout the '60s. In other words, he simply "got mad," went into the studio, and played glorious bebop—even using both horns played at different tempos on the same tune ("I Got Rhythm"). Contrary to some views, these two sessions are not Stitt's "best" recordings, but they're close enough. Most importantly, they inspired others to keep the faith during the long years of funk and fusion, Motown and disco that were to follow.
Sonny Stitt
At the D. J. Lounge
Universal/Polygram
2007
This is a 1961 session recorded at McKie's Disc Jockey Lounge, once a primary outlet for Chicago southside jazz and located in a funky part of town (63rd and Cottage Grove) that would have discouraged attendance by those unfamiliar with the neighborhood. On this Saturday night in June, the postage-stamp- sized bandstand, situated inside the bar rail, somehow managed to accommodate not only Stitt but local tenor sax hero, John Board, along with the Hammond B3 of Eddie Buster and drums of Joe Shelton. Stitt plays alto on "Blue Moon" and "I'm in the Mood for Love," but on the up-tempo blues and "Rhythm" tunes he picks up his tenor in order to "school Board." There are some bristling, even stormy and physically-felt exchanges between the two tenors, but ultimately the old teacher prevails while lessoning the challenger.
Sonny Stitt and Zoot Sims
Inter-Action
Universal/Polygram
2007
Had I not caught Stitt with Zoot Sims at Chicago's Plugged Nickel in the 1970s, this 1965 recording would have come as a complete surprise. Who might have predicted the amiably swinging sounds of Sims' tenor would provide the kind of challenge Stitt seemed to require to embarrass his frontline companions with his textbook solos woven tightly from Parker's language. Even though Stitt's competitive instincts deprive this studio session of some of the playful exchanges of an Al Cohn-Zoot Sims tenor match-up, Sims' convivial, disarming style exerts a relaxing effect on Stitt, eliciting from him fewer notes and more brightness and fun. Neither one of these players could ever pass up a good session, and Sims' playing on the date seems to remind Stitt that there's more to music than winning: it's just as much, after all, about play.
Sonny Stitt
Mr. Bojangles
Cadet
2007
Stitt as an instrumentalist was to the American Songbook what Sinatra was to it vocally. But unlike Old Blue Eyes, and like numerous other struggling musicians in the wake of Beatles-Rolling Stones-mania, he was never too proud to turn down a recording date, regardless of how commercial, corny or kitschy it might seem. This 1973 session has three things going for it: the front-cover photo of Stitt in a pimped-up minstrel suit; Stitt's pure sound, unfettered by the Selmer Varitone attachment that he had only recently discarded; one Stitt original ("Fifty Per Cent"). Unfortunately, all three are no match for the pop-ephemera program, which stands up to a single listening at most. Besides keyboardist Roland Hanna (playing Fender Rhodes), the session sports Don Sebesky's arrangements with horns, oboes, and a full string section, but that's not enough to to salvage this curious period piece. Not even a Stitt or a Sinatra could turn this pigsty into an upscale silk-purse boutique.
Sonny Stitt
Sits in with the Oscar Peterson Trio

Umvd Import

2007


It's practically criminal that this superlative session, originally recorded by Verve in 1959, hasn't come out as a domestic reissue, but at least this Canadian import, provided you can locate it, is available at a more reasonable price than 2-3 previous Japanese editions. The original liner notes, describing the musicmaking of Stitt and Peterson as "four of the fastest hands that jazz has known," do an injustice to a musical summit meeting that features a relatively conservative Peterson piano and a tradition-minded Stitt, honoring Charlie Parker on the program's first half, then moving from alto to a Prez-influenced tenor for the second half. Most of the tempos are medium-up to slow, allowing ample room for Stitt's full-bodied, richly expressive tone, as is evident on the very first track, Jimmy McHugh's "I Can't Give You Anything But Love," on which Stitt's alto sound is alternately articulate and legato, lush and light. "Moten Swing" and "Blues for Pres, Sweets, Ben and All the Other Funky Ones" finds Stitt on tenor for a slow-tempoed, heartfelt yet thoughtful musical love letter from one inimitable tenor voice to some others no less personal and identifiable. Be careful not to fall into the trap of writing this album off as "another Stitt blowing session": it easily belongs in the top ten of all 150+ Stitt recordings. This reissue includes three new tunes from a 1957 Stitt-Peterson date with the addition of Herb Ellis' guitar.


Sonny Stitt
Sits in with the Oscar Peterson Trio

Universal Music France

2007
This reissue (a card-board fold-out) of the aforementioned session comes sans the three bonus tracks and is part of the Jazz in Paris series, now numbering 111 CDs. The included, informative documentation is a reminder that Peterson, while traveling in 1959 as a member of Jazz at the Philharmonic, went with his newly-formed trio (drummer Ed Thigpen had replaced guitarist Herb Ellis) into a Paris studio to record for Verve A Jazz Portrait of Frank Sinatra. Thanks to a chance meeting with Stitt, who was not traveling with JATP but had just arrived in Paris to follow Cannonball Adderley at the Blue Note, Peterson elected to go for a double, cutting a second album on the same day (May 18). The liner notes explain that Peterson and Stitt knew each other's playing from previous JATP tours and then quote the dominating pianist's curious appraisal of Stitt: "Sonny Stitt was always a player that you had to be very careful with, because he was so prolific in his linear invention that you tended to get caught up in what he was doing, and become one of the listeners instead of one of the participants."
Sonny Stitt with Charles Kynard
My Mother's Eyes
Groove Hut
April 23, 2007
This reissue of a 1963 date will appeal to followers of jazz organ, as it was the debut of Charles Kynard, a little-recorded organist with an individual voice and strong left foot (he doesn't "cheat" by playing manual bass with his left hand). Stitt sticks with tenor sax on the tracks from the original LP (which has two versions of the title song, recently revived by pianist Monty Alexander). The final three tracks, featuring Stitt in the company of his favorite working rhythm section of the day (organist Donald Patterson and drummer Billy James), are bonus tracks found only on the CD reissue.
Sonny Stitt
Move On Over: The Eddie Buster Sides
Jazzbeat Spain
May 7, 2007
Originally released on Chicago's Argo label, the title date is a 1963 studio session including little-known altoist Nicky Hill and the underrated guitarist Joe Diorio, who was a Stitt favorite on many of his Chicago lounge dates during the 1960s. The first eight tracks are from the original album while the last six are from At the D. J. Lounge (see above), making this packaging the better value. The energy levels and heated, extemporaneous exchanges are no less evident on the studio than the "live" session.
Sonny Stitt / Bud Powell / J. J. Johnson
Sonny Stitt/Bud Powell/J. J. Johnson
JVC Victor
2007
Essential music from 1949-1950 featuring Stitt on tenor saxophone in a quintet with trombonist J.J. Johnson and pianist John Lewis as well as leader of a quartet with pianist Bud Powell. The recordings show Stitt putting to rest allegations of his being a "Bird clone" while paradoxically establishing his credentials as the "Bird of the tenor saxophone." Powell's playing is worthy of his legendary status while Johnson is characteristically impeccable throughout. Listeners can probably pass up the three bonus tracks of this "mini-LP" Japanese import and settle for the domestic release (1990, OJC). But an even better alternative is the four-disc CD box (containing these sessions exclusive of alternate takes), Quadromania: Sonny Stitt.
Sonny Stitt and Jack McDuff
Stitt Meets Brother Jack
Japan vicj
2007
Stitt's tenor and one of the baddest B3 players on a varied, soulful, predictably grooving 1962 studio session, sparked by the addition of Ray Barretto's conga. Listeners who are not organ fans (even Stitt would develop an aversion to the instrument by the 1970s) may wish to look for one of the numerous sessions Stitt recorded with his favorite (and arguably best) B3 accompanist, the hugely underrated Donald Patterson. As an alternative to this mini-LP Japanese import, copies of the 1992 OJC/Fantasy release are still available (and are usually more adaptable to the dimensions of domestic CD shelves and carriers).
Sonny Stitt

In Brazil With the Zimbo Trio
Fresh Sound Records
2007
This 1979 date would certainly qualify as one of the surprises in the litter were Stitt not so ubiquitous, as likely to show up on any given day in Brazil as in Tokyo, Paris, London, Stockholm, or Chicago. A rare recording, it's once again resurfaced as a limited release. Although the Zimbo Trio dedicated itself to performing Brazilian music exclusively, on five of the eight tracks they make exceptions for Stitt, who is restrained but always melodic, tasteful and swinging. A recording for Stitt completists only.
Sonny Stitt
So Doggone Good
Japan vicj
2007
This 1972 session tends to get dismissed even though the playing of both Stitt and his rhythm section compares favorably with the critically acclaimed contemporaneous dates Tune Up! and Constellation. The pianist on this date (Hampton Hawes) as well as the drummer (the hard- swinging, relentlessly aggressive Lenny McBrowne) are arguably the equals of their counterparts (Barry Harris and Alan Dawson or Roy Brooks) on the former, more heralded recordings. But this session should still be available on the domestic release, Goin' Down Slow (Prestige, 2003), which combines two Stitt LPs on a single CD.
Sonny Stitt / Gene Ammons / Jack McDuff
Soul Summit
Prestige Records
2007
This compilation of two sessions from 1961-1962, Soul Summit and Soul Summit Vol. 2, belongs more to Gene Ammons than to Stitt or McDuff, but Etta Jones practically steals the show with her three appearances with Ammons. Jones' voice meshes well with tenor saxophones—one of the few female voices that can stand alongside the big, bluesy, full-throated and earthy sounds of the Coleman Hawkins school of jazz tenor playing. And no one, including frequent music partner Houston Person, complements her better than Jug. In fact, to hear the two of them together on the rarely performed, operatic and exquisite "If You Are But a Dream" is to experience "soul" incarnate. It's music like this that keeps dreams alive, and it's a tenor/alto encounter like Ammons' and Stitt's swinging treatment of "When You Wish Upon a Star" that demonstrates dreams do, in fact, often come true. It's hard to imagine anyone with ears not responding to music as inviting and compelling as this.


Sonny Stitt and Booker Ervin with Donald Patterson
Soul People
Prestige Japan
2007
Even though this 1964 studio session features a relaxed and confident Stitt in the company of his favorite rhythm section throughout the 1960's—organist Donald Patterson and drummer Billy James—the hard-charging tenor of Booker Ervin gives Stitt all he can handle. Rather than attempt to match the challenger's raw passion, Stitt uncharacteristically employs understatement. (His encounter with tenorist Jimmy Heath—Mellow, 1975—is another example of low-key Stitt.) One might have hoped the match-up would inspire him to play tenor like the Stitt of old on the Powell quartet and J. J. Johnson quintet sessions of 1949-50, but Ervin's heat isn't where Stitt wants to go on this particular day. He answers with smoother, more extended melodic lines but goes to the tonic note ad nauseam. It wouldn't be until the '70s that he would occasionally return to the form of his best work in the '40s and '50s.
There were liquid indulgences that were taking a toll on Stitt in the sixties, in addition to the wear and tear of the life itself. Give him credit for going through some tough, painful stretches to regain the powers he knew were his. Stitt could be an ornery cuss and a tough hombre, too proud to go down without fighting, exhibiting enormous self-discipline while staying on the wagon—another quality differentiating him from Bird. His pride and professionalism won out before the end, when a virulent cancer (not a heart attack, as commonly reported) acted so swiftly that he, like Bill Evans, was able to keep playing practically to his dying breath.
The 2007 pressing, which took a month to arrive from Japan, comes with a booklet in Japanese but includes a folded insert with the original informative, insightful 1965 liner notes, written in English by Jack McKinney. The transfer of the Van Gelder original, for a change, is pristine. Billy James' percussion has never sounded better.
Sonny Stitt
Sonny Stitt and the New Yorkers
Toshiba TOCJ
2007
A 1956 recording from the always solid and true, dependable Roost series, this one finding Stitt playing with the passion of a musician with something to prove—namely, that the late Charley Parker was not irreplaceable. Stitt sticks to alto but at times sounds so full in the lower register a listener can't be sure which horn he's playing (his tenor playing could be equally deceptive). It doesn't matter. By the time he's done with "Cherokee," the listener's left wondering: how could Bird, or even Stitt, possibly top this? The rhythm section of pianist Hank Jones, bassist Wendell Marshall and drummer Shadow Wilson ("rediscovered" recently as a result of his appearance with Coltrane and Monk on the much-publicized "find" of the Carnegie Hall recording) is not only formidable but tight and rehearsed, since they had completed a three-year engagement at Minton's Playhouse just prior to recording this session with Stitt. It's doubtful the leader has ever sounded stronger or more impressive on alto saxophone, with Jones also receiving ample opportunities to display his distinctive melodic touch.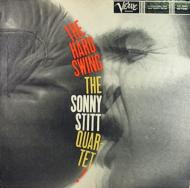 Sonny Stitt
The Hard Swing
Universal
2007
Despite the familiar material and nondescript rhythm section (though drummer Lenny McBrowne was highly underrated throughout his career and veteran bassist George Morrow under-utilized during his tenure with Max Roach), Stitt's sound is as golden and radiant as ever, ensuring that each of these songs receives VIP treatment from an artist who, while often suspicious of "creativity" and "innovation," always placed the highest value on clarity, logic and communication. As a result, his mastery of the saxophone and realization of the melodic soul of his material will remain the gold standard, or point of reference, for many years to come. As most true artists soon discover, "originality" and even "creativity" become meaningful only when one is able to recognize what is inarguably good or consummate.



Tune Up! + Constellation
Tracks: Tune Up; I Can't Get Started; Idaho; Just Friends: Blues For Prez And Bird; Groovin' High; I Got Rhythm; Constellation; A Ghost Of A Chance; Webb City; By Accident; Ray's Idea; Casbah; It's Magic; Topsy.
Personnel: Sonny Stitt: alto and tenor saxophones; Barry Harris: piano; Sam Jones: bass; Alan Dawson: drums; Roy Brooks: drums.


At the D. J. Lounge
Tracks: McKie's; It All Depends on You; Blue Moon; Jay Tee; I'm in the Mood for Love; Free Chicken.
Personnel: Sonny Stitt: alto and tenor saxophones; John Board: tenor sax; Eddie Buster: organ; Joe Shelton: drums.
Inter-Action
Tracks: Katea; I Want to Go Home; Look Down That Lonesome Road; Saber; My Blue Heaven; Fools Rush In.
Personnel: Sonny Stitt: alto and tenor saxophones; Zoot Sims: tenor sax; John Young: piano; Sam Kidd: bass; Phil Thomas: drums.


Mr. Bojangles
Tracks: Mr. Bojangles; World Is a Ghetto; Killing Me Softly With His Song; Blue Monsoon; Got to Be There; Fifty Per Cent; Ben
Personnel: Sonny Stitt: alto and tenor saxophones; Roland Hannah: electric piano; Cornell Dupree: guitar; Richard Davis: electric bass; Jimmy Johnson: drums; George Marge: alto flute and oboe; Jimmy Buffington: French horn; Gloria Agostini: harp; Phil Kraus: vibraphone; Harry Lookofsky et al: strings. Arranged and conducted by Don Sebesky.


Sonny Stitt Sits in with The Oscar Peterson Trio
Tracks: I Can't Give You Anything But Love; Privave; Gypsy; I'll Remember April; Scrapple from the Apple; Moten Swing; Blues for Pres, Sweets, Ben & All the Other Funky One; Easy Does I; I Didn't Know What Time It Was; I Remember You; I Know That You Know. (The last three are "bonus" tracks not included on Universal's "Jazz in Paris edition.)
Personnel: Sonny Stitt: alto and tenor saxophones; Oscar Peterson: piano; Ray Brown: bass; Ed Thigpen: drums.
My Mother's Eyes
Tracks: Summer Special; My Mother's Eyes; Still in Time; Blue Skies; S.O.P. Blues; Don't Go to Strangers; Red Top.
Personnel: Sonny Stitt: alto and tenor saxophones; Charles Kynard: organ; Ray Crawford; guitar; Doug Sides: drums; Donald Patterson: organ; Billy James: drums.
Move on Over: The Eddie Buster Sides
Tracks: Dexter's Deck; Shut the Back Door; The Lady Is a Tramp; Love Letters; My Mother's Eye; Stormy Weather; Move on Over; A Natural Fox; I'm in the Mood for Love [Live]; McKie's [Live]; It All Depends on You [Live]; Blue Moon [Live]; Free Chicken [Live]; Jay Tree [Live]
Personnel: Sonny Stitt: alto and tenor saxophones; Eddie Buster: organ; Nicky Hill: alto sax; John Board: tenor sax: Joe Diorio: guitar: Joe Shelton: drums; Jerold Donavon: drums.


Sonny Stitt/Bud Powell/J.J.Johnson
Tracks: All God's Chillun Got Rhythm; Sonny Side; Bud's Blues; Sunset; Fine and Dandy [Take 1]; Fine and Dandy [Take 2]; Strike Up the Band; I Want to Be Happy; Taking a Chance on Love; Afternoon in Paris [*]; Afternoon in Paris [Take 2]; Elora [*]; Elora [Take 2]; Teapot [*]; Teapot [Take 2]; Blue Mode [Take 1]; Blue Mode [Take 2]; 3 alternate takes.
Personnel: Sonny Stitt: tenor saxophone; J. J. Johnson: trombone; John Lewis: piano; Nelson Boyd: bass; Max Roach: drums; Bud Powell: piano; Curly Russell: bass.


Stitt Meets Brother Jack
Tracks: All of Me; Pam Ain't Blue; Time After Time; Ringin' In; 'Nother Fu'Ther; When Sonny Gets Blue; Thirty- Three, Ninety-Six.
Personnel: Sonny Stitt: tenor saxophone; Jack McDuff: organ; Eddie Diehl: guitar; Art Taylor: drums; Ray Barretto: conga drums.
With the Zimbo Trio
Tracks: Hope's Blues; Corcovado; There You'll Never Be Another You; Little Suede Shoes; Autumn Leaves; Samba do Orfeu; Blues for Gaby; Assim está Certo.
Personnel: Sonny Stitt; alto and tenor saxophones; Amilton Godoy: piano; Luis Chaves: bass; Rubens A. Barsotti: drums.
So Doggone Good
Tracks: Back Door; Your Love Is So Doggone Good; Orange Ashtray; I Don't Know Yet; More I See You; The Speculation.
Personnel: Sonny Stitt; alto and tenor saxophones; Hampton Hawes: piano; Reggie Johnson: bass; Lenny McBrowne: drums.
Soul Summit
Tracks: Tubby; Dumplin'; When You Wish Upon A Star; Shuffle Twist; Sleeping Susan; Out In The Cold Again; Love I've Found You; But Not For Me; Too Marvelous For Words; If You Are But A Dream; Scram; Ballad For Baby; Cool, Cool Daddy


Personnel: Sonny Stitt: tenor and alto saxophones: Gene Ammons: tenor sax; Jack McDuff: organ; Charlie Persip: drums; Etta Jones: vocals; Clark Terry: trumpet; George Duvivier: bass; Oliver Nelson: arrangements and alto sax; Ray Barretto: conga; Red Holloway: tenor sax; Richard Wyands: piano; Hobart Dotson: trumpet; Wendell Marshall: bass; Walter Perkins: drums; Harold Vick: tenor sax; Eddie Diehl: guitar; Joe Dukes: drums.
Soul People
Tracks: Soul People; Sonny's Book; C Jam Blues; Medley: I Can't Get Started/The Masquerade Is Over; Flying Home; Tune-Up; There Will Never Be Another You
Personnel: Sonny Stitt: tenor and alto saxophones; Booker Ervin: tenor sax; Donald Patterson: organ; Billy James: drums; Grant Green: guitar.
Sonny Stitt and the New Yorkers
Tracks: The Best Things in Life Are Free; Engos, The Bloos; It Might as Well Be Spring; Cherokee; I Didn't Know What Time It Was; Body and Soul; People Will Say We're in Love; Bloosey; Bird's Eye.
Personnel: Sonny Stitt: alto saxophone; Hank Jones: piano; Wendell Marshall: bass; Shadow Wilson:drums.
The Hard Swing
Tracks: I Got Rhythm; What's New; Subito; If I Had You; I'll Remember April; Blues For Lester; After You've Gone; Street Of Dreams; Way You Look Tonight; Presto; Tune Up
Personnel: Sonny Stitt: alto and tenor saxophones; Amos Trice: piano; Lenny McBrowne: drums; George Morrow: Bass.