Dave Santoro: The New Standard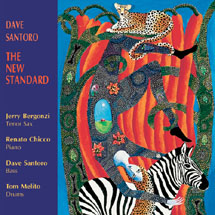 Bass on Top...
Bassist Dave Santoro has formed a "standards" quartet that effectively expands the philosophy of Keith Jarrett's Standards Trio. Jarrett, along with drummer Jack DeJohnette and bassist Gary Peacock represent a "standards" unit, reinterpreting the great American songbook. They have had the market cornered in performing standards for the last 20 years. Santoro makes this concept one better with the addition of tenor saxophonist Jerry Bergonzi, who is charged with reharmonizing the same American Songbook. This has resulted in three recordings for Double-Time Records, of which The New Standard is the third.
Dave Santoro has had a long relationship with Jerry Bergonzi, beginning their respective standards love affair on Bergonzi's Blue Note release, Standard Gonz (96256, 1989). This was followed up in 1999 with The Dave Santoro Standards Band (Double Time Records, 151) and with The Dave Santoro Standards Band II (Double Time Records, 165, 2000). The former of these recordings offers a vastly reharmonized "On Green Dolphin Street" that was to set the stage for the next two recordings.
The present recording contains eight blissfully realized standards, none of which clock in at less than six minutes. The band has a casual, well-practiced swing, making their collective musicality sound easy. This recording sounds the least like a bassist-led affair than any other I have recently heard. Part of the reason for this is the relatively little soloing Santoro performs and the large amount of space the leader affords Bergonzi and pianist Chicco. Both men sound fresh and bright, choosing all of there notes intelligently and dynamically. Bergonzi, whose tone has long associated with a substantial Coltrane influence, proves down right lyrical in a full-throated sort of way that makes his playing more attractive than that of the master. The two lengthiest pieces, "I've Never Been in Love Before" and "Witchcraft" provide copious example of the piano-tenor intuition in this band.
Santoro purrs slightly behind the beat, giving the music a hesitant momentum that is thick and dense. Drummer Tom Melito plays the dozens with his band members by trading eights with them and never giving an inch. In cooperation with Santoro, Melito propels the group in a sure and stalwart manner. Santoro's solos, when he takes them, are lyrical with no wasted notes. He does not over play. Tasteful harmonics and a sure time characterize Santoro's playing, illustrating his smart but homespun approach. His choice of material also betrays his common intelligence. The New Standard is thoroughly satisfying. It is a down the middle-of- the-road treat.
Track Listing
I've Never Been In Love Before; I Remember You; Witchcraft; All Of You; How About You; Let's Pretend; You're Too Marvelous for words; The Best thing For You. (Total Time: 60:06).
Personnel
Dave Santoro: Bass; Jerry Bergonzi: Tenor Saxophone; Renato Chicco: Piano; Tom Melito: Drums.
Album information
Title: The New Standard | Year Released: 2002 | Record Label: Double-Time Jazz
Post a comment about this album