The Music Ensemble: The Music Ensemble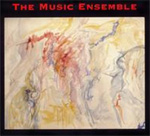 The '70s were, ironically, a fertile period for free jazz. During an era when rock yielded to disco and modal jazz surrendered to fusion, free jazz was experiencing a renaissance. As always, the forces propelling this advance were not financial (when has a freely improvising musician ever made money?). Instead, it was the sense of community that sprang up in cities like Chicago and New York, with (private and public) performances in lofts and cafes. The Music Ensemble, a collective improv group that developed in NYC during the early '70s, featured some strong personalities—but nobody was willing to take the role of leader. That essential feature defined the group's personality, its tone, and its density.
The '74 and '75 live performances documented on this archival recording were captured through a single point mike, so they're intimate but a bit grainy. That doesn't seem to reduce the simmering energy of the group when it hit its stride. The Music Ensemble operates at a high level of density: the entire sextet constantly tugs and tosses ideas around. The idea of "soloist" contradicts the whole philosophy behind the music, so when any given player steps forward with a dramatic statement, he's joined by the others to make it a collective statement. Rather than pursuing simple ideas like call-and-response or rhythmic counterpoint, these players are obsessed with color, texture, and tone. Bassist William Parker plays a key role with long-held arco sweeps that provide a sort of landscape upon which the other players can sketch—though he, too, can be quite dynamic at times. Billy Bang, who delivers some of his most beautifully lyrical passages on record, has his ear closely tuned to the ebb and flow of the current. His playing on "Echoes Wind Transpire" lends a distinctly minor color and evokes a mystical, Eastern atmosphere. Likewise, the colorful percussion lent by various group members on this piece revert it to a tribal essence.
The Music Ensemble favors contemplation over flash-and-bang. It dwells in the deep subconscious rather than the realm of conscious ideation. Spontaneity overshadows any kind of planning. Most magically, this recording manages to integrate five (or six) voices into a coherent whole that can communicate on many simultaneous levels.
Visit Roaratorio Records on the web.

Track Listing: Stance Dance (Courage); Arithmetical Mystic; Echoes Wind Transpire; Radiatory Fineness.
Personnel: Roger Baird: drums, percussion, tabla, flutes; Billy Bang: violin, percussion; Malik Baraka: trumpet; Daniel Carter: tenor and alto saxophones, flutes, drums, percussion; William Parker: bass; Herb Kahn: bass (1)
---