Charles Sibirsky/Mark Josefsberg Quartet: The BQE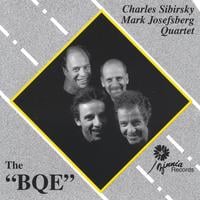 The Brooklyn-Queens Expressway receives its due credit on
The BQE
for bringing the two halves of this quartet together. It also appears in its own way through the music itself: ranging from dreamily slow to head-long fast, changing tempos and moods at a moment's notice. Sibirsky asserts that most of this record was improvised, built around spare compositional frameworks. Indeed, the openness of the quartet to evolution and devolution is the record's greatest quality.
While the members of the rhythm section (DeCesare and Mondlak) play their swinging due, the real focus of The BQE is the interaction between Sibirsky and Josefsberg—which relies upon an advanced level of understanding. Trade-offs between head and solos occur spontaneously. These two players seem to have a near-magical ability to predict each other's moves and go with them, not knowing in advance exactly where they will lead. While one might expect more "togetherness" from a quartet arrangement, The BQE offers a tasty hint at the potential of Sibirsky and Josefsberg's playing outside this context.
Track Listing
The BQE; I Remember You; Give It Time; Sweet and Lovely; Sparta; Have You Met Miss Jones.
Personnel
Charles Sibirsky, piano; Mark Josefsberg, vibes; John DeCesare, bass; Drori Mondlak, drums.
Album information
Title: The BQE | Year Released: 2000 | Record Label: Zinnia Records (1)