Friends Of Gravity: Thankful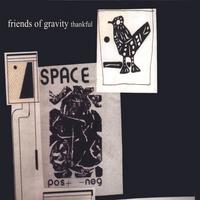 Acoustic trio trades gear for electronics to pursue a musical "revelation." Oh,
that's
original. A skeptic might say the "revelation" is that John Medeski sells more records than Keith Jarrett, making the anti-unplugged bandwagon a good place to be right now.


So the Lousiana-based Friends Of Gravity are stuck proving they're something more than another me-too act on their 2005 debut album, Thankful. More often than not, they deliver. They're not exactly defining concepts, but play enough of them to be legitimately intriguing.


Their funk/fusion covers the genre from its birth in the '60s to the modern era, fitting for a band citing Ornette Coleman, Jimi Hendrix, and Radiohead as influences. The eight songs emphasize original compositions long in length and liberal in changing pace within them. There's a lot of moments—especially during choruses—that feel close to commercial in their sense of accessibility, but also too much happening for those who normally relegate music to the mental background to expect it to remain there.


"Horseshackin'" is a decent opening—funky, upbeat and fairly safe—the kind of song that's an introduction on a good album and a showpiece on a mediocre one. There's some dread of the latter as the followup "Stark" opens with guest trumpeter Rex Richardson playing a slow Miles Davis-like horn straight from '80s albums like Amandla. But the nearly sixteen-minute composition recovers by continuing to step back in time to grittier fusion, subtlety altering the tones of the lead players along the way. Here, as elsewhere, Andy Bourgeois acts as an underappreciated sonic point guard, dishing out thick B3 and keyboard textures that add depth to lead lines by co-players without getting so elaborate to distract.


Maybe it's the law of averages for an album covering styles from the '60s to the '00s, but the stretches of '80s sounds seem frequent. Tommy Sciple's distorted high-pitched bass (or maybe it's the undefined "soundscapes'" credit) on "Triple Threat" recalls Larry Carlton's cranking out of Eric Clapton and Steely Dan instrumentals, while the intense "Algiers" resembles Stanley Clarke/Wayne Shorter work of the era. The latter, incidentally, features some of drummer Simon Lott's best work, meshing a tone raw as a garage band with a prolific intensity normally reserved for live large-stage fusion gigs where rousing the crowd is a priority.


The album ends with what might have been a better—or at least more daring—opening with "Joy," switching over thirteen minutes from distorted samplings of "Swing Low, Sweet Chariot" to clock chimes to simple smooth jazz to a off-kilter organ funk fest. On an album of many styles, they all seem to make a cameo encore here.


It's common to say a band's debut shows promise and to expect improvement as they develop. Friends of Gravity shows on Thankful it's already gone through plenty of development since Bourgeois and Sciple started playing together a decade ago, but long-term success may depend on the group's willingness to expand concepts rather than rely on them. The next logical step may be exploring in depth the various ideas making those fleeting come-and-go appearances, rather than making the shifts an artistic statement in themselves. Or maybe even something totally different, such as a daring return to those unplugged days of yesteryear.

Track Listing: Horseshackin'; Stark; Triple Threat; Church; D-Sciple; Drift; Algiers; Joy
Personnel: Andy Bourgeois, keyboards, organ, samples, saxophone, melodica; Tommy Sciple, bass, soundscapes; Simon Lott, drums, cymbals, sampler; Rex Richardson, trumpet on ďStark"; Scott Bourgeois, saxophone on ďStark" and ďD-Sciple"
---