Lars Jansson/Bohusl: Temenos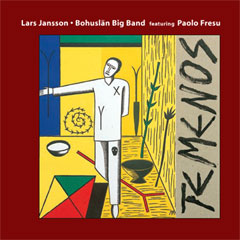 Lars Jansson is what one would call the complete package: a marvelous composer, resourceful arranger and masterful pianist, comfortable in any framework from trio to large ensemble, as he is on this scintillating new release by Sweden's world-class Bohuslän Big Band.
This is Jansson's third recording with the triple-B, and as on the others ( The Blue Pearl; One Poem, One Painting ) he has written and arranged every number, none of which is less than persuasive. As I noted in reviewing One Poem, One Painting, "Jansson writes spellbinding musical poetry and sketches luminous portraits in sound.... [His] music, always rhythmic and melodious, swings at any and all tempos..." That is certainly the case here, as Bohuslän performs nine of Jansson's bracing compositions, half a dozen of which were commissioned by the band with financial help from the Swedish Council of Affairs (we could use one of those councils here in the States).
While everything on offer is top-drawer, to me, the highlight among highlights is the enchanting "Waltz for Bill," a stylish tribute to the late pianist Bill Evans whose seductive theme, introduced by Jansson on the heels of a breathtaking brass/wind chorale, enwraps empathetic solos by flugel Samuel Olsson and bassist Yasuhito Mori. Equally charming is "Ground of Being," a tender ballad set in motion by a gossamer chorale that leads to Jansson's eloquent piano solo. If it's unbridled swinging you want, there's "Now," which smokes from the get-go and prompts forceful statements from trumpeter Morten Lundgren and tenor Ove Ingemarsson, intrepid drumming by Morten Lund and typically superb comping by Jansson. Guest artist Paolo Fresu's muted trumpet enriches "Cosmic Sleepwalker," "One Taste," "Exformation" and "Gnosis 1," the last of which opens in a supernal vein before shifting into a rock-like groove behind Fresu's dancing trumpet and Ingemarsson's muscular tenor solo.
"Temenos" (Greek for "silent room"), which opens the album, is a bright and brassy showpiece with incisive commentary by Jansson, Mori and trombonist Christer Olofsson, "Cosmic Sleepwalker" a dynamic Bob Mintzer-style backdrop for Fresu's trumpet and Johan Borgström's alto sax. Borgström's supple flute solo enlivens "One Taste," as does Jansson's amiable turn at the Yamaha P1205 electric piano on the rhythmic tone poem "Exformation." "Gnosis 2" is a straight-ahead swinger whose fluent solos are dispensed by Ingemarsson, Lund and trombonist Björn Samuelsson.
Jansson shows again on Temenos, as if anyone needed further convincing, that he is one of the world's leading big-band composer/arrangers, while the Bohuslän ensemble reaffirms its enormous prowess and unequivocal fondness for his music. A consistently sharp and impressive album that should please almost any big band enthusiast.
Track Listing
Temenos; Cosmic Sleepwalker; One Taste; Exformation; Gnosis 2; Waltz for Bill; Now; Ground of Being; Gnosis 1 (73:07).
Personnel
Lars Jansson, composer, arranger, piano, Yamaha P1205, Yamaha Tyros; Lennart Grahn, Morten Lundgren, Samuel Olsson, Jan Eliasson, trumpet, flugelhorn; Niklas Robertsson, alto, soprano sax, bass clarinet; Johan Borgstr
Album information
Title: Temenos | Year Released: 2004 | Record Label: Spice of Life
Post a comment about this album