Take Five With Mwalim *7)
Meet Mwalim *7):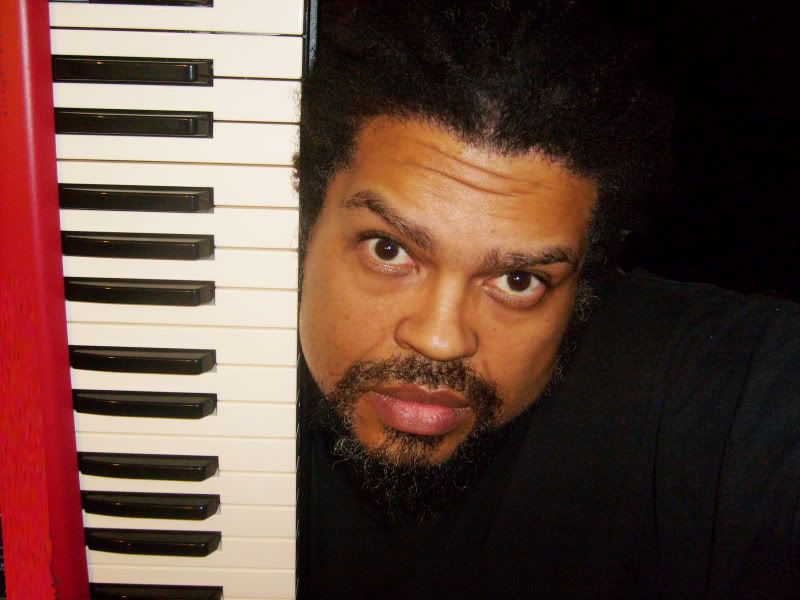 Mwalim is the type of soul artist who embodies the time-honored tradition of the multifaceted singer, songwriter and producer. Emerging from the east coast small club circuit, followed by several years lending his talents to other artists projects and a writer, musician, and producer.
Instrument(s):
Piano, voice, African percussion, viola.
Teachers and/or influences?
Allan Nurse,
Barry Harris
,
Thelonious Monk
, Dennis Slaughter, Bernie Worrell.
I knew I wanted to be a musician when...
I heard my grandfather play the piano at age one.
Your sound and approach to music:
I'm a laidback groove player, although I treat the keyboard like a percussion instrument. I allow the left and right hands to play a call and response game, where bass lines, chords and melodies are used to set the mood.
Your teaching approach:
Mistakes are a part of growth, exploration is a part of regiment, and you should find your voice in the trails of those who influence you.
Your dream band:
Give me Tony Thompson on drums, Angel Rodriguez on percussion, Kona Khasu on bass,
Vernon Reid
on guitars and the Memphis Horns.
Road story: Your best or worst experience:
My best experience happened one night in NYC when I played a small venue and discovered that
Gil Scott-Heron
was in the room and wanted to meet me. When I came over, he looked me up and down, and said, "I heard there was a kid in town who sounded like me," and then walked away.
My worst experience was playing a gig that got shut down by the cops, who decided to run checks on the whole band so they could "meet their arrest quota" for the month. Luckily, everybody was clean, but it was quite scary.
Favorite venue:
The Black Spot Cafe—Hyannis, MA
Bar Nun—Washington DC
The Five Spot—Brooklyn, NY
The Lizard Lounge—Cambridge, MA
University College of Bangor -Bangor, ME
Univ of Mass Amherst—Amherst, MA
Morgan State College, Baltimore, MD
Nuyorican Poet's Cafe—New York, NY
The Baggot Inn—New York, NY.
Your favorite recording in your discography and why?
"Will I Ever" is my favorite tune. It's a very free, happy and simple tune with a flowing melody.
The first Jazz album I bought was:
Head Hunters
by
Herbie Hancock
.
What do you think is the most important thing you are contributing musically?
My sound and style is a grassroots breath of fresh air.
Did you know...
I love bag-pipe music.
CDs you are listening to now:
Stephen Scott
,
Renaissance
(Verve);
King Britt,
When The Funk Hits The Fan
(Six Degrees);
Grant Green
,
Feelin' The Spirit
(Blue Note).
Desert Island picks:
James Brown
,
Say It Loud
(King);
Thelonious Monk,
Straight No Chaser
(Columbia/Sony);
The Bass Mint Bros,
Sketches of a Neighborhood
(Liberation/ MGM).
How would you describe the state of jazz today?
Jazz is an antiseptic wake, where the purists are the pall bearers and the innovators are being rejected for blasphemy.
What are some of the essential requirements to keep jazz alive and growing?
Celebrating our roots and accepting our growth.
What is in the near future?
About to release a new project,
The Liberation Sessions: Collaborations, Compositions, & Remixes
(Liberation Music/MGM, 2009); Finishing an album for vocalist Phillip Aaron,
Come Along
; and completing my solo album,
The Bronx Jazz
(Liberation Music/MGM, 2010).
By Day:
Assoc. Prof. of English at UMass Dartmouth.
If I weren't a jazz musician, I would be:
Dead.
Post a comment