Take Five with Mark Haskins
About Mark Haskins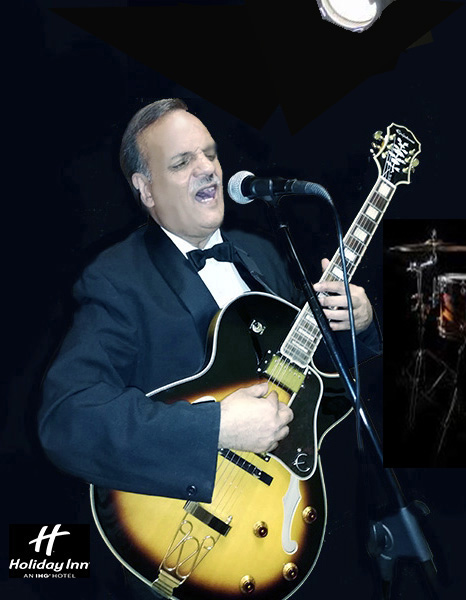 Music in the Haskins' household was as much a second language as English or Spanish is to another. Mark Haskins' late father was a violinist and his sister a music teacher. So there was always a tune coming from some part of the house. Mark's room though was flooded with the sounds of
Miles Davis
and
Wes Montgomery
. Imagine a seven-year-old tackling the likes of "Footprints" and "Born to Be Blue" on the piano. Mark did just that as his lessons started at an early age, only moving onto the drums a decade later. Five years later he switched to the guitar. Many thought he'd jump right into music after high school, but he went to university and graduated with a master's degree focused on electronic engineering and computer science.
Soon after he obtained his degree he switched gears and went on to further his jazz studies at the Trinity College of Music in
London
. It was there that he took that childhood love of the greats and channeled them as he grew into his own modern day jazz artist. Now with almost four decades of experience behind him, he's built up an impressive resume of accomplishments. From playing around the world touring with countless artists to being on the bill of major Jazz festivals to being featured on BBC—he's done it all and then some. He has also worked as a session musician in London, Ireland, France, America and Australia with some of the very best artists in the world. He has always remained in the background, backing and producing other artists.
For years fans and critics alike have appreciated what Mark Haskins brings to the genre of jazz, including his unorthodox compositions in songs like "African Heartbeat" and the more personal tracks he's released recently in honor of his late wife, such as "Nightride" and "The Echoes of Your Heart."
The passing of his wife prompted Mark to return to his home in South Africa. He established his own record company; MIH Music Publishers. Now he's focused on releasing his fifth studio album,
Changes
. He plans on following
Changes
up with two more albums in 2018. Mark has stepped out of the background straight onto the world stage where he belongs. He is a true maestro.
Instrument(s):
Guitar, Piano, Drums.
Teachers and/or influences?
My late dad was a classical violinist so he obviously had a lot of influence in my formative training. My late sister, Patricia, who was several years older than me, kick-started my training at the age of six. She was a music teacher who played piano.
The first time that I listened to jazz music, was at the age of five. I fell in love with that rich mellow tone of Wes Montgomery's guitar. At that time my favorites besides Wes Montgomery were
Dizzy Gillespie
and Miles Davis. Later on, I started listening to
Pat Martino
,
John Coltrane
, and
George Benson
.
Apart from my teachers at Trinity College of Music, my favourite teachers were
Pat Martino
and
Billy Cobham
. I salute all my teachers over the years. They are too numerous to list. I'm eternally grateful for the input all of them had in cultivating my skills and talents.
I knew I wanted to be a musician when...
Forever. I never really had, needed or wanted a choice. Music was part of my staple diet. From the age of four, I could sit down at a piano and pick out and play the melody lines of most songs by ear. All this was done without instruction. The very first melody which I played unassisted was "The Sound of Music!"
Your sound and approach to music.
My approach to sound was sculptured by Wes Montgomery at a very early age. I still use the clean tones of my Gibson L5 coupled with my Vox amp. My approach to music was influenced mainly by Pat Martino. He taught me to listen attentively to my fellow musicians, to augment and embellish their playing, and never to overpower the soloist. He also taught me that when it was my turn to take my solo: "Let rip and give it all you have." He certainly does just that. Furthermore, Billy Cobham taught me to keep an open mind and to listen to a very broad spectrum of music other than jazz. I listen to and love classical music. Bach, Mozart and Beethoven in particular. I also listen to country, reggae, blues, rock, hip hop and R&B. Not that I like it all. I learn something from each one. Even if I only learn what I should not do. :-)
Your teaching approach
As a teacher, my role is to provide a welcoming environment for students to learn and grow. It is important for learning to take place in such an environment so that students are not only free to be themselves, but free to make mistakes. This way, mistakes happen in a safe, forgiving environment where students can learn from them before they have to learn those lessons on stage in the real world. It is of utmost importance that teachers prepare students to perform in the real world. The biggest gift we can give our students is an education that is student-centered.
My methodology varies, e.g. if I am teaching advanced jazz guitar phrasing to a single student, then my approach and demeanour would be completely different from when I am teaching a group of third year classical (piano) students the principles of modal interchange.
Your dream band
That's a very difficult question as lots of my dream band members have passed on. However, that is easily remedied as there are tons of great musicians out there. My line up would be as follows: You guessed right. Me on guitar.
Victor Wooten
on bass. Billy Cobham on drums.
Chick Corea
,
George Duke
and
Joe Zawinul
on pano/keyboards.
Alex Acuña
on percussion. Harry Sheppard on xylophone. Tony Rezac on saxophones.
Flora Purim
on vocals.
Road story: Your best or worst experience
Wow, there were so many but I think that the worst one was in back in the early days. I was still drumming with a band in Manchester at the time. Anyway, I was in my early twenties and the hippy era and grass was still around. I, at that stage, had never smoked weed before. One Saturday we were booked to play at an open air concert. To cut a very long story short, I had smoked a bit of marijuana after we had set up and had done our sound check. I was feeling pretty goofed by the time we had to perform. Unbeknownst to me, my stool was set up with the one leg resting in the groove of two stage planks which was covered with a mat. My bass drum was tied to my stool for stability as we did in those days. My podium was elevated and I was positioned right at the back of the band. There was a two-and-a-half meter drop to the ground. As I started taking my solo, the leg of the stool dug into the groove as my weight shifted on the stool. Yes, you guessed right. My bassist told me when I came to what had happened (half an hour later). These were his word: "F..k, S..t man... I looked at you starting your solo and the next thing you disappeared, cymbals, Roto-Toms every f'n thing gone down the back of the stage" Apparently one of my Roto-Toms hit the on-stage monitor sound man rendering him unconscious. Horrific.
Favorite venue
One of my favorite venues that ever I performed at is Ronnie Scott's. That was in 1994. Ronnie and Pete King still owned and ran the club then. Ronnie would occasionally get on stage and share a few jokes with everyone. This venue is a Jazz lovers' dream. It's obviously got history which has changed over the years but it is still a dimly lit, atmospheric jazz venue with a lot of ambiance and without the thick haze of smoke of days gone by. The intimate atmosphere coupled with the excellent acoustics, the spirits of past legends and the rich history makes this one of my favorite venues on the planet.
Your favorite recording in your discography and why?
My favourite recording in my discography is definitely "African Heartbeat." This song took me close on to thirty-eight years to complete. The rich heartbeat of Africa is very hard to capture in one song. The diverse rhythmic patterns and melodies are of such a great spectrum that one has to dig deep, to find the common musical denominators, then, merge them into a musical tale.
What do you think is the most important thing you are contributing musically?
Diversity within the jazz palate.
Did you know...
I am ambidextrous.
The first jazz album I bought was:
Chick Corea:
Return to Forever
. I still play it regularly.
Music you are listening to now:
Wes Montgomery:
The Montgomery Brothers: American Jazz Classics
Wes Montgomery:
Guitar on the Go
(Concord)
Joe Pass
:
A Sign of the Times
(World Pacific)
Ella Fitzgerald
& Joe Pass:
Take Love Easy:
(Pablo Records)
Duke Ellington
:
Ellington Moods
(Sesac Recordings)
Desert Island picks:
Pat Metheny
&
Lyle Mays
:
As Falls Wichita, So Falls Wichita Falls
(ECM Records)
Jaco Pastorius
:
Jaco Pastorius
(Epic)
Wes Montgomery:
The Incredible Jazz Guitar of Wes Montgomery
(Riverside Records)
How would you describe the state of jazz today?
I read this somewhere: "Jazz is on the fast track to becoming the least popular music genre in America, and it's only headed downhill from here." The truth is not that jazz isn't popular. It's that it has changed dramatically, influenced countless young musicians, and has spread far and wide internationally. Having said that, I would like to add that there are so many musical forms that draw from the harmonic beauty and improvisional intricacies of jazz, that other genres (like R&B and hip-hop), owe an enormous gratitude to jazz in its formative and original form.
What are some of the essential requirements to keep jazz alive and growing?
First and foremost, we need to keep the nucleus of jazz in our souls when playing/performing. Jazz is being able to improvise intelligently without having to think. We as jazz musicians should practice and hone our talents to such a degree that this no longer becomes a technicality, rather, a flowing of musical intricacies that is simple and pleasing to the soul. It has to swing.
What is in the near future?
Having just released
African Heartbeat
in February, and the album
Changes
in March, I have another two studio albums planned for release before November. An extensive tour of Japan in November is in the planning stages. The complete itinerary will be furnished by mid-October.
What is your greatest fear when you perform?
To be honest, I do not fear live performance. The minute I start playing, fear is not in my vocabulary. I deal with the crisis or situation as it arises with a total lack of fear.
What song would you like played at your funeral?
"African Heartbeat." Ironic isn't it? :-)
What is your favorite song to whistle or sing in the shower?
Normally the current piece of music I am working on.
By Day:
Electronic Engineer.
If I weren't a jazz musician, I would be a:
Electronic Engineer.
If I could have dinner with anyone from history, who would it be and why?
Wes Montgomery. Just to see if he has any table manners. Would love to see if he smokes whilst he is eating. Also, I would like to pick his brain.
Post a comment