Gene Ess: Sunrise Falling: Gene Ess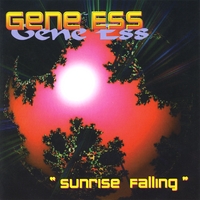 Gene Ess
Sunrise Falling
Amp Records
2003
Even if you knew who Gene Shimosato was, you're still going to be surprised when you hear Gene Ess! Fans of electronic music and fusion will be most pleasantly surprised with Sunrise Falling. Ess lays it on thick with the aural fruits from expert tinkering with his self-built, PC-based studio and tweaked-out tones produced from a diverse arsenal of axes. An absolutely world-class core rhythm tandem of Matt Garrison and Jojo Mayer provides support, along with guest shots from past associates Rashied Ali (yes, of John Coltrane renown) and groove-merchant Fima Ephron.

Ess shows he's a rapt scholar and practitioner of electronic styles; many of the tunes are based around modern, sequenced, computer-assisted soundscapes. If you're going to venture into these sorts of compositional environments, there are no superior live drummers and bassists to have on hand than Mayerand Garrison. Jojo Mayer remains under-recognized for the pivotal role he's had in live drum'n'bass electronica styles. He was living inside of this stuff when no other drummers dared even attempt it, but unfortunately, has never documented his own ambitious work with a commercially released product.

The incredibly strong live buzz he created in the New York community of aficionados and musicians is enjoying a recent resurgence with his recommitment to live Nerve Nights . Matt Garrison has also delved heavily into this stuff live, in an incendiary live alignment of Dave Fiuczynski's JazzPunk; Kindread Spirits with the Gilmore brothers, David and Marque; with Jojo Mayer in his own band; and most recently on Herbie Hancock's Future2Future tours. What makes Ess, Garrison and Mayer so mind-blowing as a unit is not only their familiarity with each other from past and present associations, but also their combined stylistic expertise at just about everything else, from provincial to progressive.
"Sanpan" exhilarates, mixing a block-rockin' electronic sequence with an ethnic, circular melody statement voiced on lead guitar. A different sequence gives way to a live, Jaco-esque looping bass line underpinning a more hyper guitar line. Underneath it all rifles Mayer, providing a rocking, then funky pulse. Careful listening reveals that Ess did some fairly freaky cutting and pasting of live drum parts with and against the electronic sequencing. This gives way to an implosion by
Garrison
- a sunspot, as it were - that in all of fifteen seconds shows why he's one of the most astonishing soloists who's ever picked up the instrument. I'll leave it at that, and let you wear out your own rewind button. Ess spins out long blues-fusion lines out of the Mike Stern school on guitar synth, thankfully sporting more guitar than synth-based tone. He effectively shifts harmonic tonality while retaining the same melody line throughout.
"Kazuko" provides immediate respite, especially if you breathe along with GeneEss to this deceivingly simple bossa-ish tune with a challenging harmony. Pause again to dig the completeness of Garrison's game as he fills upthe sound spectrum with a very unique comping style, some executed with both hands on the neck, spiced with tasteful trills. Ess shows his expertise with refined, sparklingly authentic classical technique applied to the Brazilian idiom while Mayer, for his part, displays stylistic commandby playing merely as little as a drummer could.The title track goes electronic again, alternating an intro head with extrapolation on a subsequent melody. Similarly, a spare bluesy Strat solo gives way to more imposing, elongated improvisational lines, affirming Ess' stylistic commitment here to his fusion side.
"Triptych" provides an epic centerpiece wherein a meditative classical intro fulfills its objective—setting up the fiery, prog leanings of "Sailing Song." While Ess gets off some very modern angularlines in his solo spot, his use of space during its early phases is equally impressive. Who knew
Fima Ephron
had veteran-like progger's chops? Listen in amazement and bemusement as Mayer invokes the spirits of vintage Bruford and Palmer, as both he and the song itself move effortlessly between 3 and 5, pushed forward by his ultra-modern, relatively stripped-down spin on the style. "Ephemera" enters at about eight minutes, retaining the thick, electronic progressive vibe, with Garrison's swallowed-sounding bass line setting up against computer-harmonized background Arp lines that also serve to root the time deeply. Ess plays the melody with a haunting tone rendered by blending midi-guitar with a software-generated synth patch. At roughly the middle of the tune, he splices in a perfect 25 second, disc-defining rip. The immediately following drum fill signals Mayer taking progressive possession of the proceedings. While your grooving on the staggering drum chops displayed under another spinning, winding,
ephemeral
solo by Gene, you can also contemplate how such high-end sound quality was achieved on a largely home-studio executed project.
"Variant" is just that - something totally different - an open-feel piece with Ess, Garrison and
Rashied Ali
. The tune's short melody is stated up front on guitar synth and goes right into an improvisational jazz dance, featuring the disc's longest solo statements. A double-stopped bass vamp by Garrison supports an arching fusion fusillade from Ess, a favor the leader returns by dropping out of the mix completely for a duet spot between drummer and bassist. Garrison's cut and splice solo style lends itself very nicely to that of one of the inventors of open-time drumming. Although different in context, their work together descends from and recalls the spirituality formerly shared between both Rashidand Matt's father, Jimmy, with John Coltrane.
Few guitarists in the world come as prepared as Ess to slam pristine, legitimate classical technique up against an elegantly executed koto arpeggio on "Katana." The theme and quick double-stopped solo give way to a trance-style melody, coupled with his vocalizations and random use of Japanese words. He suceeds in conveying more than just the sound, but also the cinematography, of the discipline and grace necessary to bear the Samurai sword in the song's title. Ess says, "In my vision, Katana is an individual's calling, hence we all carry a 'sword' that needs to be discovered and then dealt with." Note that this track, which has Ess on all instruments, constitutes the realization of a vision that is his alone. This drives home the point that he's re-discovering, re-dealing, re-assessing and re-inventing, right down to his name, on a regular basis. This release marks the opportunity for us to go right along with him, at least on the musical side of that journey.
Available from
AMP Records
or directly from
Gene Ess
on the web.
Track Listing
1. Sanpan , 2. Kazuko, 3. Sunrise Falling, 4. Katana , 5. Garbanzo, 6. Triptych I. Aqua II. Sailing Song III. Ephemera, 7. Yuudachi , 8. Gene Pool, 9. Variant, 10. Now, Parting
Personnel
Gene Ess - Guitars, Synths, Loops, vocals, Matt Garrison - Bass, Fima Ephron - Bass, Jo Jo Mayer - Drums, Rashied Ali - Drums
Track Listing
Matthew Garrison
Personnel
Gene Ess: guitar; Rashied Ali: drums; Matthew Garrison: bass, electric; Fima Ephron: bass, electric; Jojo Mayer: drums.
Album information
Title: Sunrise Falling: Gene Ess | Year Released: 2003 | Record Label: AMP Records, U.K.
Post a comment about this album