Ghidra: Strawberry Skinflint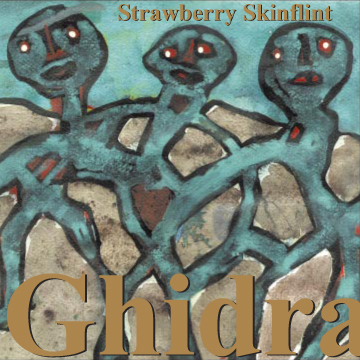 Free improvisation gets a giddy turn from Wally Shoup, Mike Peterson and Bill Horist, who filter, merge and heat different genres into one heady blend. For the most part they turn on the ignition and never let the temperature cool. Yet there is another side that latches on, one that shows that they can work a melody into a distinctive framework that gives their music a three-dimensional presence.
Shoup is a volatile saxophonist. His alto describes arcs that scream for attention, but by the same token he does not overwhelm and choke on excess. Horist uses feedback and cutting lines, and with Peterson driving the rhythm with out of the usual flair, Ghidra captures attention and keeps it pegged.


A fibrillating array of notes lets loose as the alto brings in "Vapid Fire." There is nothing of the former as they coax a gradual intensity, a coil that feeds on Shoup's now tense lines and the chunky riffs of Horist's guitar. A mood change comes on "Naphtha Valley Sunrise," Shoup a voice rising in cry fuelled by Peterson's scurried beat and Horist's gnarled incursions. If intensity is the watchword, then the title cut deserves full credit. All the elements that go into making free music are present in the impulse that rocks, that gets its tether in check and that lets them roam in a fertile field and open propulsive vistas. An uncharacteristically soft and gentle opening, with the visage of an oriental melody, rises slowly on "Yakisoba Western." They break that mould, Shoup getting more emphatic on the melody and then vamping it into bent lines, Horist at a tangent with feedback and wah-wah and short wailing jabs, Peterson steady on the beat. At the end of the spectrum, melody has been scattered, but the impact has not waned.
Track Listing
Vapid Fire; Spread the Worm; Plebe on Plebe; Yakisoba Western; Ennui Matisse; Naphtha Valley Sunrise; Swimming Bell; Disclosing Your Eyes; Mrs. Saws-for-Teeth; Strawberry Skinflint; Stepford Husbandry; Slow Roller
Personnel
Wally Shoup--alto sax; Bill Horist--guitar; Mike Peterson--drums
Album information
Title: Strawberry Skinflint | Year Released: 2004 | Record Label: Sol Disk
Post a comment about this album