Kjetil Husebø: Sources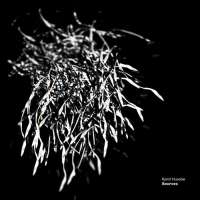 Norwegian pianist and live sampling master
Kjetil Husebø
continues to develop his highly personal sonic language on his sophomore solo release after last year's solo debut
Contradictions
(Optical Substance, 2012). Husebø explores the grand piano as a sound source—acoustic or enhanced with live sampling and electronics. Both treatments of the piano sound organic even in its most abstract moments, and all blur the distinctions between jazz improvisation, contemporary music, acoustic ambiance, and electronic textures.
All ten pieces were performed, and improvised live at the studio with no overdubbing. The music was captured and mastered beautifully by sound engineer/drummer
Audun Kleive
and sound sculptor/guitarist
Helge Sten
.
The expanded sonic palette of the grand piano stress its timbral qualities and as a rhythmic instrument on the two versions of "Sources." The intertwining fractured rhythms are blended with fractured melodic lines, suggesting a tensed coexistence between these two completing sonic poles. On "Pledge" and "Panta Rei" the acoustic keyboard is secondary to the electronic disturbing sounds, punctuating the mysterious cinematic narrative on the former or add echoing marks to the enigmatic drone on the latter. "Ignorabimus" exposes the basic wooden ingredients of the grand musical instrument and its sonic characteristics in its most primitive form.
Husebø acoustic pieces, as "Transit" and the following "Festina lente," are lyrical and contemplative. Both unfold patiently and sketch dramatic stories. Only the short "Breather" is based on simple melodic theme, beautifully articulated by Husebø, using the full sonic spectrum of the grand piano and the studio space.
As on
Contradictions
, Husebø succeeds to redefine a new way of listening to the piano, a magnificent instrument with almost infinite sonic options, through a provocative and enigmatic journey.
Track Listing
Sources; Pledge; Transit; Festina lente; Breather; Digging up - part I; digging up - part II; Sources - variation II; Ignorabimus; Panta Rei.
Personnel
Kjetil Husebø: Steinway model D piano; live sampling and electronics (1, 2, 6, 8, 9, 10).
Album information
Title: Sources | Year Released: 2013 | Record Label: Optical Substance Productions
Post a comment about this album
Watch