Michael Weiss: Soul Journey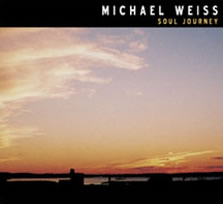 It's not often that you find jazz compositions of the caliber that Michael Weiss offers up on his own self-produced
Soul Journey
. But then, you have to consider that the pianist and composer did take home the grand prize in the Monk Institute's Composers Competition in 2000. The second word in the title is actually a highly accurate clue to the complexity and variety of the forms, moving way beyond the typical methodology of head-solos-head. Furthermore, the front line sparkles with the heavy hitting talents of trumpeter Ryan Kisor, alto saxophonist Steve Wilson, and trombonist Steve Davis.
Setting the standard for a program of all originals, the opening gambit, "Optimism," toggles back and forth between bars of three and bars of four. Another journey to uncharted territory comes with "Atlantis," its melody punctuated by out-of-tempo fanfares and a switch to waltz time in spots. Then towards the end of the piece, Weiss solos over a repeated riff from the horns that introduces some new melodic trinkets. In its most basic form, the title track actually struts its stuff over a rock backbeat. The twist is a lush melody statement and Weiss on Fender Rhodes, the circular harmonic movement allowing plenty of room for stretching out on the solo statements. It's a deceptively funky intro to "Orient Express" that actually leads to a brisk bebop head and some fleet fingered work from Weiss.
If you've been following Weiss and his recordings over the past few years, you might have recognized that pieces like "Orient Express" and "Atlantic" were originally recorded by the pianist in a quartet setting on the DIW album Power Station. What will come as a revelation is the transformation that the pieces have made now that they've been fleshed out even further by Weiss for this larger ensemble. It's a given, however, how the tight sense of unity that the pianist has developed with bassist Paul Gill and drummer Joe Farnsworth, further peppering doled out sparingly via the tasty percussion flourishes of Daniel Sadownick. In the end, this a very special jazz recording that goes far beyond your typical mainstream fare. Michael Weiss is a vital talent with something important to say... and you'd do well to listen.
Track Listing
Optimism, El Camino, Soul Journey, Orient Express, Atlantis, The Prophecy, The Cheshire Cat, La Ventana, Second Thoughts
Personnel
Michael Weiss, piano, Fender Rhodes; Steve Wilson, alto sax; Ryan Kisor, trumpet, flugelhorn; Steve Davis, trombone; Paul Gill, bass; Joe Farnsworth, drums; Danile Sadownick, percussion
Album information
Title: Soul Journey | Year Released: 2003 | Record Label: Sintra Records
Post a comment about this album