Scott Tinkler Trio: Shrike Like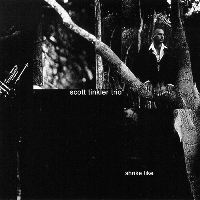 My dictionary defines a shrike as one of a type of birds "that have a strong notched bill hooked at the tip, feed chiefly on insects, and often impale their prey on thorns." Now it's nearly certain that Australian trumpeter Scott Tinkler had the cry of the bird (and not its lifestyle) in mind when he titled his third trio record. But there's also something sharp and predatory about
Shrike Like.
The stark black-and-white cover of the disc features Tinkler perched on a tree branch, birdlike, scanning his surroundings.
Unlike most trios, Tinkler's trumpet/bass/drums setup operates with more spontaneity than arrangement; more pulse and flow than notation; and more sudden swooping changes than predictable declensions. While each tune tends to operate within a specific groove defined by bassist Adam Armstrong and drummer Simon Barker, even the rhythm section turns on a dime, edging back and forth between funk and swing and free playing. Shrike Like features aggressive, forward-looking improvisation with an edge. In many ways reminiscent of Ron Miles's '96 record My Cruel Heart, this disc examines the many approaches a trumpeter can use to sail through levels of rhythmic foundation, co-evolving with it along the way. Tinkler's virtuostic playing relies upon extended techniques such as false fingering, stop-tonguing, and multiphonics, though he also flies on the straight and narrow when necessary. Slow-moving insects beware: this shrike does not hestitate to strike.
Visit Scott Tinkler on the web.
Track Listing
Positively Glowing; Shrike Like; Home is Where The Horace; Bloke Man; Truck Stop; Sharing A House With Walt; Stitching Lenardo.
Personnel
Scott Tinkler: trumpet; Adam Armstrong: bass; Simon Barker: drums.
Album information
Title: Shrike Like | Year Released: 2000 | Record Label: Self Produced
Post a comment about this album