Short Takes Part 3, Plus Three from MCG!
Herbie Mann / Phil Woods
Beyond Brooklyn
MCG Records
Herbie Mann passed away July 1, 2003. Beyond Brooklyn was recorded earlier that year and serves as Mann's final recording. He finds himself in the empathetic company of Phil Woods, a musician he has been associated with for 40 years. They reprise their relationship with an eclectic menu ranging from bebop to Brazil (could it have been any other way?). Both Mann and Woods are superb ballad players as they demonstrate, together and separately on "We Will Meet Again," "Caminhos Cruzados," and a heartbreaking "Time After Time," recorded just weeks before the flautist's death. Ellington's "Azure" and Oscar Pettiford's "Bohemia After Dark" are lively lead-ups to Charlie Parker's "Au Privave," which is dispatched easily by the two masters. With the market cluttered with all manners of music, some good, some better, it is nice to know that age and experience can always be counted on.


Nancy Wilson
R.S.V.P.
MCG Records
R.S.V.P. finds Miss Nancy Wilson cast in a variety of settings, singing some of her favorite and most personal songs. To the delight of Wilson fans, the songs Miss Wilson chose for the recording have never been recorded by her during her 50 years in the music business. The recording further distinguishes itself with Miss Wilson being joined by a special guest and a singular arrangement for the songs. Where this works the best is in her vocal duet with Kenny Lattimore on "Why Did I Choose You," An Old Man is Like an elegant Wine," which she shares with Toots Thielemans and Phil Woods, and "How About Me," accented by Paquito D'Rivera. Two of the pieces are not associated with guests (other than the arrangers) and perhaps represent the recording best. Miss Wilson infuses Gordon Jenkin's "Goodbye" with such an exquisite longing and pain that it is like inhaling freezing air. "Little Green Apples" is simply cast as a wonderful ballad (in honor of Wilson's friend, O.C. Smith). Nancy Wilson remains the First Lady of Jazz Vocals.


Bob Mintzer Big Band
Live at MCG with Special Guest Kurt Elling
MCG Records
Bob Mintzer leads the smartest American Big Band. That band is captured in a live setting at the Manchester Craftsmen's Guild on this new recording. In Addition, Mintzer has Kurt Elling on board as vocalist. This one was looking pretty good before it was placed under the laser. The band is tight as a drum right out of the chute with the Latin original "El Caborojeno." Mintzer solos full-throated on the tune, filling out the lower register of his horn very well. Elling sings a beautifully straight "My Foolish Heart." Well known as a vocalese-scat master, Elling's voice is sweet and virile. Basie's "One O'Clock Jump" is given a facelift by Mintzer and is hurled with great velocity by the band into the 21st Century. But without a doubt the over-the-top core of this recording is Mintzer and Ellings take on Herbie Hancock's "Eye of the Hurricane" where Elling sings as if apoplectic, driven by the band's speed and intensity. This is 12-plus minutes of music on a high plain, with the remainder of the recording on its heels.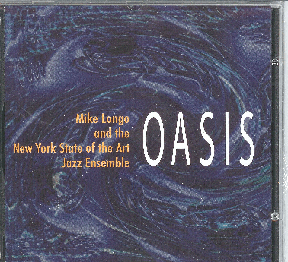 Mike Longo and the New York State of the Art Jazz
Oasis
CAP Records
Mike Longo's claim to jazz fame is having supported Dizzy Gillespie from 1966 to 1973. He has made a number of notable recordings since then, including The Awakening. Longo is well versed in the language of bebop and proves the same in big band swing. His writing and arranging are expansive and his grasp on the blues impressive as evidenced by the opener, "Bag of Bones." His solo on the piece is downright weird, using harmonies more futuristic than Monk in his salad days. "Love Walked In" features Hilary Gardner, singing full-bodied. "Alone Together" is given a shifting Latin treatment, featuring the low brass and Jobim's "No More Blues" provocative. Longo gives us a better-than-average Big Band Outing that will please more than it will displease.


George Gee Big Band
The Music of Frank Foster: Settin' The Pace
GJazz Records
George Gee, in his first studio recording, humbly passes the baton to legend Frank Foster for a Big Band stroll through some of the saxophonist's better known compositions and standards associated with him. The band is big and LOUD, right from the start, jettisoning "Out of Nowhere" in the disc opener. Foster's "Settin' the Pace" notches the swing heat up, featuring the trombone section and Howard Johnson on baritone saxophone. Carla Cook sings "Lover Come Back to Me" over Foster's inventive arrangement of the Gershwin chestnut. "The Very Thought of You" is likewise treated. "When Your Lover Has Gone and "Autumn Leaves" are lush, yet bright. Mr. Foster proves quite the conductor, benefiting from his years of experience leading the Basie Big Band.


Matt Wilson's Arts & Crafts
Wake Up! (To What's Happening)
Palmetto Records
Drummer Matt Wilson has been very busy lately. His name has been surfacing lately on recordings by the likes of Bill Mays, Frank Kimbrough and Denny Zeitlin, as well as a member of the either Orchestra and the Herbie Nichols Project. All of that and he sports a successful solo career. He has previously released an Arts and Crafts recording in 2001 ( Arts and Crafts ). (Hard) bopish and organic, Wake Up! possesses a c very contemporary edge, honed by mixing unruley post bop elements with the sleekest of jazz. For example, witness the transmogrification of Matt Wilson's "Free Range Chicken", from a calliope tune into seething urban funk, propelled by Stafford's informed trumpet and Golding's burping and irreverent organ. Stafford and Golding return, perfectly behaved for Jaki Byard's ballad, "Aluminum Baby." Muted, Stafford navigates the challenging melody, pushed by Golding's harmonic wheels. Curtis Stigers sings on the tony Williams composition "There Comes A Time." This song perfectly captures the free spirit of Matt Willson. His drumming is a wall of sound, filling in every crevasse. This is a superb recording by any measure.


Joe Henderson Quintet
At The Lighthouse
Milestone Records
This is Joe Henderson 1970. The tenor saxophonist is performing here halfway between his two Blue Note periods—He his also performing on the hinge of modernity. Miles Davis had already released In a Silent Way and Bitches Brew. The nearest evidence of this is George Cables playing the electric piano. Other than that, this is full-bore blowing, Second-Great-Quintet style. The stark contrast between studio and live recordings of the period are sharply focused on this recording. Far from note perfect, Henderson and Woody Shaw are at their creative best, taking chances and winning. The performances contain three of Henderson's most famous compositions: "Caribbean Fire Dance," "Recorda-Me," "A Shade of Jade, " and "Isotope." George Cables provides the period electric piano and Ron McClure the free playing he would become noted for later. "'Round Midnight" opens with Henderson at his most full-throated and is followed by the Cedar Walton tribute of the Saxophonist, "Mode for Joe." These two pieces comprise the disc's spiritual center, grounding a very valuable re-release.


Don Friedman Trio
My Favorite Things
441 Records
My Favorite Things is a class act made up of three class acts. Don Friedman has been recording as a leader or sideman since the mid-1950s and remains woefully underappreciated. His previous 441 recording, Waltz for Debbie , was very well received. Mr. Friedman is a lyrical player with muscle. His music possesses a physicality that the late Bill Evans lacked. He is joined by bassist George Mraz and drummer Lewis Nash for a swinging little trio date that turns out to be quite a significant release for 2004. The title cut is executed in the proper willowy ¾ one should expect (and offers a great alternative to the Coltrane/Tyner interactions on the same tune). The original "Schmooze Blues" shows that Friedman is no one-dimensional balladeer. He plays with great passion and aplomb. While previously mentioning Coltrane, Mr. Friedman turns an interesting "Giant Steps," treating the cornerstone tune as a swing machine. A top ten recording for sure.


Katahdin's Edge
Step Away
Incline Records


Enter Sandman...Katahdin's Edge is the brainchild of pianist Willie Myette. The music is largely a is a cross between The Bad Plus and Dave Brubeck—Structural and astructural at the same time. The music is at once thrillingly funky and then sedate before declaring revolution on the listener and going every which way. Myette's sheer musicality makes complex pieces such as "Step Away" and "Zargonic Effect" very listenable. John Funkhouser's bass is treated to very open solo space with drummer Mike Conner's keeping the entire soiree in time. This is a superb piece of avant-garde jazz that should satisfy fans fo everyone from Harry Connick to MM&W.



Roberto Magris
Roberto Magris
Self Produced
I have never heard any bad jazz come out of Italy. The Italian brand of this American export is always spiced con brio. One need not listen any further than the introduction to the opening "I Remember You" to know that there is something special about Roberto Magris and his brand of jazz. Leading his group EUROPLANE, Magris navigates both accessible and inaccessible waters with equal capability. On the Whole, his approach is free, barely tethered. The leader's piano is adventuresome, smacking of courage and determination. Recorded between 2002 and 2003, this is his newest foray into the market. This is a superb collection of standards and originals performed crisply with the brilliant Italian sensibility listeners have come to expect.


Jacques Loussier
Impressions on Chopin's Nocturnes
Telarc
Loussier has made a cottage industry out of injecting jazz into the classical repertoire. He has already recorded jazz trio interpretations of Bach, Vivaldi, Handel, Debussy, Ravel, and Satie. All of these previous releases have been enjoyable on two levels: one, Loussier's pianism is substantial; he could play a nursery rhyme and make it sound like Bach. And, two, one does not have to be versed in the original Nocturnes to enjoy this disc (though It helps with the appreciation of what Loussier is trying to do). The same is true for Loussier's Chopin. Here, Loussier chooses to go it alone and play solo. Chopin's piano music almost seems tailor-made for this type of interpretation and the pianist takes the pieces into surprising directions, interpolating ragtime, stride, and swing elements into the romantic harmonies. Don't let Chopin scare you. This is a very enjoyable disc.
---