Sephardic Tinge: Avshalom Farjun's Toy Vivo Duo and Itamar Erez Adama Ensemble
A decade ago, downtown New Yorker Anthony Coleman coined the term Sephardic Tinge as the name for his new piano trio. In doing so he was referencing Jelly Rolly Morton's Spanish Tinge, which Morton had believed to be the element that gave jazz much of its original character.
Coleman wanted to reflect the rich musical heritage of the Sephardic Jews, but surely couldn't have foreseen the relevance of his words today to Israeli qanun player Avshalom Farjun and to Vancouver-based, Israeli expatriate guitarist/pianist Itamar Erez. Both musicians take the Sephardic Tinge even further, including the Sephardic Jewish tradition and its Ladino songs, as well as Spanish music's myriad traditions—and both are weaving into these glorious traditions newer and broader influences.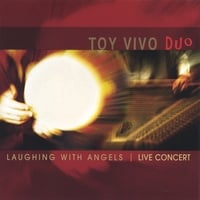 Toy Vivo Duo
Laughing With Angels: Live Concert
Nada Records
2006

Avshalom Farjun is a self-taught musician, the head of Nada Records and the founder of the once influential, now defunct outfit, Bustan Abraham. He splits his time between Israel and Andalucia. After flirting with many musical instruments he focused on the qanun (an oriental, flat, 90-string zither). A prototype of the piano, according to legend the qanun was invented in the ninth century. On his second solo album he is accompanied by one of the finest Israeli percussionists, Avi Agababa, in the Toy Vivo (in Andalucian Spanish meaning I'm alive) Duo.
With Laughing With Angels: Live Concert, recorded live in concert in Brussels in '05, Farjun continues and expands on the direction he began with his first solo release, Toy Vivo (Nada Records, 2005). In his non-traditional style, he interprets classic Bustan Abraham songs, incorporating elements from all over the Mediterranean. Flamenco is clearly present, but so are references to Indian and African traditions, and all are distilled into new compositions.
Together with the sensitive accompaniment of percussionist Avi Agababa, Farfun creates a very colorful musical language. Both musicians' approaches are relaxed and self-effacing, always aiming to complement each other, and even the skeletal performances of Bustan Abraham songs like "Suite For Deyzi," "Fountainhead" and "Canaan" are rich in nuances and finesse.
The duo's beautiful interpretation of the traditional Andalucian classic "Muwashah", based on a melody written by Sheik Abd Al Rahim Al Masloub, is compellingly minimalistic. Farjun and Agababa's reductionism serves to intensify the beauty of the original melody.

("Muwashah" has been covered many times all over the Mediterranean and the Middle East: from the Iraqi-Jewish version of Hakki Obadia on Iraqi Jewish and Iraqi Music, Global Village, 1995; through the Bustan Abraham version sung in Arabic, Hebrew and Spanish on Pictures Through The Painted Window, Nada Records, 1994; and the Spanish-Arab version of Radio Tarifa on Rumba Argelina, World Circuit, 1996; to the Ladino version of New York downtowners Oren Bloedow and Jennifer Charles, also known as the Elysian Fields, on La Mer Enfortuna, Tzadik, 2001).
The solo qanun on the closing "Simple Love" is an attractive summary of the breezy elegance of the album. Warmly recommended.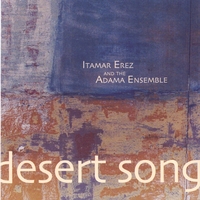 Itamar Erez and the Adama Ensemble
Desert Song
Self Published
2006

Itamar Erez is a well educated young composer who writes for films, dance and theater. Aside from this impressive resume, he explores the music of the Middle East and Spain in his own Canadian Adama (in Hebrew meaning earth) Ensemble, founded in '02.
Adama's instrumentation is very similar to that of Oregon in the early 1970s. Itamar Erez plays guitar and piano, Tony Nickels plays woodwinds (notably the oboe), Laurence Mollerup plays bass and Stefan Cihelka is on percussion, mainly the tabla. Like Oregon, Adama aims to bridge the gaps between classical, jazz and world musics, through both composition and improvisation.
Adama, however, explores its own musical language on its debut album, Desert Song. On "La Juderia," the group explores the ceremonial structure of Sephardic-Jewish songs; on "Desert Song," and the soothing "Sheva," the players develop the Middle Eastern-flamenco connection so apparent in the music of Tunisian oud player Anouar Brahem; on "Autumn Will," they create a chamber music-like development of some of the compositional elements of Egberto Gismonti; and the contemplative solo guitar in "Isidore" adds to the imaginative guitar playing of Spanish flamenco guitarist Vicente Amigo.
The only non-original tune, the fascinating chamber version of the traditional Sephardic-Jewish song "Morenica", with its Indian overtones, was previously recorded by Coleman's Sephardic Tinge Trio (Morenica, Tzadik, 1998). Adama's treatment is further evidence of the group's ability to fuse multicultural origins and influences.
Erez brings to all these influences his broad musical experience, and turns them into fresh statements. His music acknowledges, and sometimes mirrors, past inspirations, but at the same time he's keen to develop his own interpretations of existing musical heritages. The tight arrangements and the assured sense of flux—and the highly experienced members of this ensemble—all contribute to the success of a promising debut.
Visit Itamar Erez on the web.

Tracks and Personnel
Laughing With Angels: Live Concert
Tracks: Por Manuel; Suite For Deyzi; Laughing With Angels; Fountainhead; Muwashah; Down To Earth; Black Seagull; Canaan; Tension And Intention; Simple Love.
Personnel: Avshalom Farjun: qanun; Avi Agababa: darbukka, riqq, bendirs, udu, shakers, bells; Gershon Wiserfihrer: oud (1,5).
Desert Song
Tracks: Prelude; La Juderia; Desert Song; African Dream; Autumn Will; Isidore; Morning Song; The Path; Sheva; The Return; Morenica
Personnel: Itamar Erez: guitars, piano; Tony Nickels: oboe, flute, bass clarinet, English horn; Laurence Mollerup: bass, electric bass; Stefan Cihelka: tabla, frame drums, tambourine, percussion; Emad Armoush: cajon, palmas; Jonathan Bernard: marimba.
Post a comment