Joe Bourne: Remembering Mr. Cole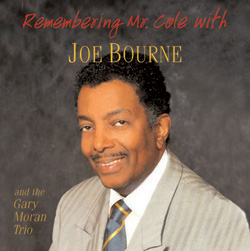 Remembering Mr. Cole
is an easy stroll through 16 Nat King Cole-associated numbers by silky-smooth vocalist Joe Bourne, backed by the Gary Moran Trio. Not surprisingly, there is little of the shock of the new here, but the Moran Trio is more than adept at light and airy swing, while Bourne sings with warmth and enthusiasm.
Tribute albums often seem like an act of masochism. Inevitably, the reconceived performances will compare unfavorably to the revered classics. This divide between old and refurbished becomes even more apparent in an age such as ours when the products of the past are fetishized with frequent reissues of the original article. Back when works by older folk and blues artists were difficult to find, covers by the likes of John Hammond Jr. served an educational purpose in addition to fulfilling an artistic impulse.
Today, Nat King Cole is such an ubiquitous figure that the educational or promotional value of an album like Remembering Mr. Cole is virtually nil. In addition, it is surely no slight to observe that Bourne cannot match the warmly burnished beauty of Cole's voice (who can?).


Remembering Mr. Cole is, almost by definition, a pleasant album. However, the ease with which a listener can hear the Cole versions of most of these songs raises questions about the album's necessity. Joe Bourne is an appealing talent and it would be interesting to hear his take on material that has been defined less authoritatively than the tunes on this set.

Track Listing: This Is My Night to Dream; Best Man; Besame Mucho; You're Looking At Me; Frim Fram Sauce; Satchel Mouth Baby; Slow Down; The Sunny Side of the Street; 'Tis Autumn; Little Girl; When I Fall In Love; Walkin' My Baby Back Home; Sweet Lorraine; Orange Colored Sky; Is You Is Or Is You Ain't My Baby; For All We Know
Personnel: Joe Bourne-vocals; Gary Moran-piano; Scott Black-bass; Ed DeLucia-guitar
---