Joe Bourne: Remembering Mr. Cole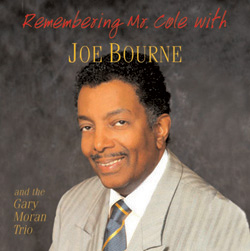 Singers have tried to imitate Billie Holiday, Frank Sinatra, Nat King Cole, Louis Armstrong, and other notable legends with mixed results. How can one ever hope to replace the original? In this day and age when our CD and DVD collections boast some of the best audio reproductions ever thought imaginable, we know for sure that we've already got those memories locked up.
Freddie Cole tested the waters. His sound was so much like his brother's that it was difficult to tell them apart. He wanted to remind the public that his sound was his own—but the parallel to Nat King Cole was much too close. Why listen to imitations, when the real thing is available on our shelves at home?


Joe Bourne imitates Nat Cole in style, instrumentation and in his swinging vocal manner. His charming rapport places the "Frim Fram Sauce," "Besame Mucho," and "Sweet Lorraine" in our laps with a hearty welcome. His accompaniment does a swell job of keeping the mood genuine.


The session swings lightly and holds a cohesive grip on ensemble interaction. Ed DeLucia and Gary Moran provide stellar solo work alongside Bourne's comfortable vocal manner. However, Remembering Mr. Cole doesn't open any doors. There's nothing new here. Originality, that element most treasured by jazz artists, has taken a back seat. Bourne's pleasant tribute does no more that repeat cherished memories with the flattery of imitation foremost on his mind.

For audio samples, visit Joe Bourne on the web.

Track Listing: This is My Night to Dream; The Best Man; Besame Mucho; You're Looking at Me; Frim Fram Sauce; Satchel Mouth Baby; Slow Down; Sunny Side of the Street; 'Tis Autumn; Little Girl; When I Fall in Love; Walkin' My Baby Back Home; Sweet Lorraine; Orange Colored Sky; Is You Is or Is You Ain't My Baby; For All We Know.
Personnel: Joe Bourne- vocals; Gary Moran- piano; Scott Black- bass; Ed DeLucia- guitar.
---