Reissue Round-Up
Quite a few new reissues hit the market in the past few months, here is a round up of a few we here at the vault feel deserve your attention.
Shout! Factory's Bethlehem Reissue Series:
Mel Torme
,
The Bethlehem Years
. Continuing in their efforts to bring you the gems of the Bethlehem label, Shout Factory presents the transitional period of Torme's career from pop star to swinging jazz vocalist. Culminated from several of his 1950's releases, including
It's a Blue World
from 1956,
Lulu's Back in Town
from 1957,
Mel Torme Sings Fred Astaire
from 1956 and four others. Songs of note include "The Lady is a Tramp, "Can't Take That Away from Me and "It's Delovely. An essay written by Ted Gioia is included as are detailed liners and a few photos. Release date September 20th.
Dexter Gordon
,
Daddy Plays the Horn
. An oft-overlooked recording in the discography of tenor legend, Dexter Gordon, needs to be forgotten no longer. Originally released in 1955, finds Gordon trying to take hold of his personal demons and establish himself as a band leader with a quartet consisting of Kenny Drew on piano, Leroy Vinnegar on bass and Larry Marable on drums. While not one of Gordon's finest moments, this album is completely enjoyable and a great addition to a collection of a fan or the artist or era. Super detailed liners and essay are included and no photographs. "Daddy Plays the Horn an "Autumn in New York highlights the six recordings on the collection.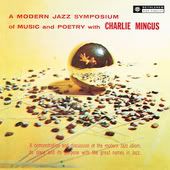 Charles Mingus
,
A Modern Jazz Symposium of Music and Poetry
. You would think by the title that jazz marries poetry would be the theme of the entire recording, but depending on your outlook (mine is thankful), only one ("Scenes in the City ) of the eight tracks include any kind of spoken word. The rest of the album finds Mingus and his septet of music's finest work through such stellar recordings that bridge the gap of difficult but accessible jazz as "New York Sketchbook and "Duke's Choice. Detailed liners, and essay by Nat Hentoff and no photos are included.
Various Artists
,
George Gershwin's Porgy and Bess
. In this performance of
Porgy and Bess
finds Mel Torme in the role of Porgy and Frances Fey as Bess. The remaining cast of performers and musicians are too long to list, but of note include Duke Ellington and His Orchestra, Maynard Ferguson, Herbie Mann and Johnny Hodges. As excellent and entertaining of a recording of this great show as one will find. Add to that the outstanding essays and liner notes with super photographs from the sessions and you have a grand slam package!
Other Shout! Factory Releases:
Various Artists
,
The Great American Baseball Box
. A great box culminated from the music and moments from America's past time. Of interest to jazz fans are the recordings of Count Basie's "Did You See Jackie Robinson Hit That Ball?, Les Brown and His Orchestra's "Joltin Joe DiMaggio, and Nat King Cole's "The First Baseball Game. On the second CD, the great calls from baseball's legendary games make this both a history lesson and a trip down memory lane from the listener Disc three compiles a aural history of some of baseballs great games and the final disc is a compilation of many other moments and sound clips (i.e. Abbot and Costello's 'Who's On First) that show baseball's woven into the fabric of America's history and soul. Great notes, photos and information are included.
Ray Charles
,
The Dick Cavett Show
. Culminated from three separate episodes, this video package celebrates the appearance of Ray Charles in 1972 and 1973. These episodes include great interviews and fourteen performances of such classics as 'Georgia on My Mind, "I Can't Stop Loving You, "America the Beautiful and "Am I Blue. In addition to the great episodes, this two-disc package contains the original commercials promoting these appearances, an interview with Cavett an essay by David Ritz, episode synopsis and a few photos.
Johnny "Guitar Watson
,
The Funk Anthology
. A long overdo celebration of the great funk / blues artist's recording career from 1952 through 1994. Included in the package are classic recordings of "Superman Lover, "Miss Frisco (Queen of Disco and "Ain't That A Bitch. This collection contains a thirty plus page booklet with an essay by David Ritz, six previously unreleased recordings, great photos of the artist and his album covers and detailed liners and credits '" an all-star package that pays the proper tribute to a great artist.
From Sony/Legacy:
Dexter Gordon
,
Manhattan Symphonie
. Originally released as a six track album in 1978, this new issue contains two additional tracks that were previously unreleased. The highlight, of course, on this album is Gordon's performance of "Body and Soul along with "As Time Goes By and "I Told You So. This release features liner notes and the original in depth essay by Pete Hamill and a new essay by George Cables.
---