Randy Sandke: Outside In, The Mystic Trumpeter, Trumpet after Dark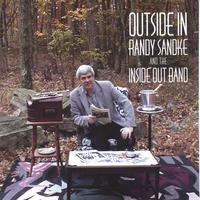 Randy Sandke
Outside In
Evening Star Records
2005
The pleasures of Outside In should come as no surprise to anyone familiar with trumpeter Randy Sandke. Adventurous and forward thinking, he also incorporates the best of traditional jazz. The opener, "Ganjan, is an opportunity for him and bandmates Wycliffe Gordon, Marty Ehrlich, Ken Peplowski, Scott Robinson, Uri Caine, Greg Cohen and Dennis Mackrel (Howard Alden guests on one tune) to conjure up some 21st century magic with this 1941 Jelly Roll Morton tune. Insinuatingly sensuous, they waaa waaa their way into every crevice of Morton's final song.

The set mixes Sandke's own tunes with occasional stops at Ellington, Strayhorn and others. In "Genesis, a shorter piece of his, Gordon and Anderson get in some savory trombone licks with added dressing from Mackrel's percussion and Cohen's keyboard. It's notable how each instrument's sound is celebrated so distinctly without ever losing the sense of a hot, cohesive ensemble at play.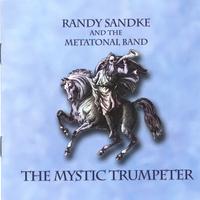 Randy Sandke
The Mystic Trumpeter
Evening Star Records
2003
The Mystic Trumpeter is composed of two full-length Sandke pieces: the title track, (from the poem by Walt Whitman) and "Symphony for Six. The first section of the title work, "Liquid Prelude, opens with a gorgeous long note from Sandke, supported by a translucent passage from Ted Rosenthal's keyboard. By contrast, the violence of "Sounds of Smiting Steel has Sandke tearing up and down scales with staccato punctuation against Robinson's blasting sax, Mackrel's drums and percussion and Rosenthal's now meandering, now explosive keyboard. Only when reading the titles after listening does it become evident how they've sound painted scenes and emotions.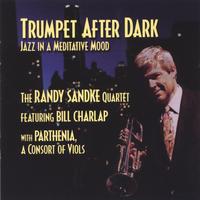 Randy Sandke
Trumpet After Dark: Jazz in a Meditative Mood
Evening Star Records
2002
Distinctly different in style and ambience is Trumpet After Dark: Jazz in a Meditative Mood. If the viol consort "Parthenia seems unlikely company for a jazz quartet, any doubts are quickly dispelled on another Sandke tune, "Quiet is the Night, as the consort's dark sound wraps around Sandke's gorgeous trumpet solo. Other surprises include Ellington and Strayhorn's rarely heard "Starcrossed Lovers, (reminiscent of "Passion Flower ) and especially Sandke's arrangement of Chopin's "Etude in E, which seems here as if it was always meant to be a swinging dance tune. "Lush Life as a dreamy duet between Sandke and pianist Bill Charlap shines in a set that proves what's truly sweet is never saccharine.

Tracks and Personnel
Outside In

Tracks: Ganjam; Genesis 1; Revelations 8-11; Outside In; Two As One; Tonk; Raising Caine; Gulf Stream Dream; Hyde Park; Ornette Chop Suey; Blues For Joe Klee; Soul in the Wood; Mobius Trip; Ganjam.

Personnel: Randy Sandke: trumpet and leader; Wycliffe Gordon: trombone; Ray Anderson: trombone; Marty Ehrlich: alto sax, clarinet, bass clarinet, alto flute; Ken Peplowski: tenor sax, clarinet; Scott Robinson: alto sax, baritone sax, contrabass sax, clarinet, water phone, theremin, optical theremin; Uri Caine: piano, vibes; Greg Cohen: bass; Dennis Mackrel: drums; Howard Alden: guitar (14).
The Mystic Trumpeter

Tracks: The Mystic Trumpeter: Liquid Prelude; The Walks of Paradise; Sounds of Smiting Steel; The Flames That Heat the World; Distant Thunder; Enough to Merely Be. Symphony for Six: Allegro; Adagio; Scherzo; Rondo

Personnel: Randy Sandke: trumpet; Scott Robinson: tenor and soprano saxophones, bass flute; Wycliffe Gordon: trombone; Ted Rosenthal: piano; Greg Cohen: bass; Dennis Mackrel: drums & percussion.


Trumpet After Dark: Jazz in a Meditative Mood


Tracks: Quiet Is the Night; Nocturne; Being Human; Goodbye For Now; Star Crossed Lovers; Etude in E; Le Jour Ou La Colombe; Monk's Mood; A Blues Serenade; Can She Excuse My Wrongs; Lullaby For Karen; Blues For Sandy; Lush Life; Soul Eyes

Personnel: Randy Sandke: trumpet; Bill Charlap: piano; Greg Cohen: bass; Dennis Mackrel: drums. With the Parthenia Viol Consort: Rosamund Morley: treble viol; Beverly Au: treble and Bass viol; Lawrence Lipnik: tenor viol; Lisa Terry: treble and bass viol.