Ran Blake: From Music to Film and Back
By
Matana Roberts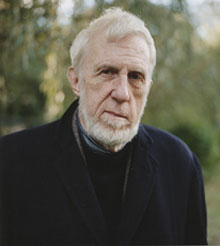 More than a four-decade career as a recording artist, a winner of numerous iconic awards (including being named a Mac Arthur fellow in 1988) with more than 30 recordings to his credit collaborating with artists creatively diverse as saxophonist/composer Anthony Braxton, pianist Jaki Byard, and saxophonist Ricky Ford, pianist Ran Blake's music still sounds fresh, alive and unmistakably matchless. In the following interview Ran really was true to form - full of wisdom and beautiful crystallized memories surrounding a myriad of thoughts that just flowed like the Hudson on a warm breezy day. The grace, the wit, the humility, the uniqueness, the generosity, and the charm—that's Ran Blake in a nutshell—at 69 years young a true icon that shines like the brilliant genius he truly is.
All About Jazz:
Well one of the first things I wanted to talk about is what you're doing in New York in January, what exactly is going on?
Ran Blake:
Well there is the 80th birthday concert of George Russell...
AAJ: I see.
RB: Which was done in London, and was done in Jordan Hall [at the New England Conservatory (NEC) in Boston] and will be done in New York and will be done a month later in Sweden, and then there's the [NEC] alumni afternoon at IAJE (International Association of Jazz Educators convention). We hope to get the New York bunch to help us to recruit but I'm also in to what we can do for alumni careers, of course we can't do a great deal –I don't want to make promises, but it will be good to see what the institution can do. And then I hope to get to know my favorite hotel—the Leo House on 23rd and 9th. It's a Jesuit hotel and different nuns and priests patrol the hallway to make sure you're drinking you're water and lemon, and there's a chapel there and a psychiatrist and an organ and a lounge and a coca cola machine!
AAJ: So this visit kind of takes you back. When did you live in New York?
RB: That was my happy period, I came there in August of 1960 and lived in Amelia Lairfield's boarding house on 113th and Amsterdam.
AAJ: Harlem!
RB: Yes. I had curfew, here I was 25, and I had to be home at 10:30 most nights and for the Friday night kosher dinner I had to be there at 8pm. And she had a ruler, she didn't slap me too much but I had to be there on time. I paid twelve dollars a week and did things to help. Then one time she said you may have a guest and George Russell came up and instead of bringing Welch's grape juice it was Bordeaux, and she began smiling and then she called him Georgie, and then we were able to have cheese and wine, and she began liking jazz, studying gospel music, and Stravinsky, and loved the modern jazz quartet, and then her family was thrilled that they could have a little bit of wine there so her whole personality changed. I lived there and I studied with George Russell, Bill Russo, worked as a desk clerk, a waiter, helped an engineering firm, and then I could go out in the evening and wait on tables at jazz clubs and listen.
AAJ: How long were you here and when did you leave NYC?
RB: So I left, I did two trips, of course I mean it was great to be with Jeanne Lee and then in 1967 Jeanne and I went to Europe, and then I took a two week trip to Greece to the world of Vradiazi, and that's when the military coup took place, and then other things happened, and then Gunther [Schuller] invited me to Boston. [Editors note: Ran had gone to Greece to work and also hoped to study with composer Mikis Theodorakis of Zorba the Greek fame. He unfortunately arrived there right before the infamous junta military coup of 1967. He witnessed much violence and specifically atrocities that were being committed against artists but that went virtually unreported in the press. He luckily escaped Greece and made a point to report what he saw and document it in music as well so that it would never be forgotten.]


AAJ: So you said you were in New York in 1960. When did you meet vocalist Jeanne Lee?


RB: Oh we were at college together .We met on a September afternoon at Bard hall [at Bard College in upstate New York], she made the mistake of saying "you sound like Art Tatum", which nobody else had ever said, and I said "what an interesting comment" and she said "I am considered somewhat interesting by some..." and then we had dinner that night and then we began to rehearse.
AAJ: And you began to rehearse, and how soon after you began rehearsing did you record that infamous record? [ The Newest Sound Around, 1962 on RCA]
RB: Oh..., well 7 years. We're not the microwave society like today's people Matana. We took our time and then we met Sunday morning at Ms. Lairfield's--- by then she allowed us to have bleu cheese on our bagels--- and she would come and hear the rehearsals and give her two cents worth. We just loved rehearsing for the sake of it so it was just years and years. I think when we were both sophomores we stopped seeing each other much. She worked with a conventional trio and I did more solos and running to hear [saxophonist] Houston Person in Hartford or musicians in other places. It really was years and years.
AAJ: Well just looking from that record to the newest record you have out which is with the sons of Gunther Schuller- drummer George and Ed Schuller the bassist.[Sonic Temples GM]—you have some compositions on that record that you have recorded many times. A particular favorite seems to be Laura, [by Johnny Mercer and David Raskin] that you recorded also with Jeanne Lee more than once. What do you look for in the compositions that you choose of other composers? RB: I think mood, lyric—of course the movie I had liked. And then Jeanne saw it, but I look for something with good lyrics, like "We'll be Together Again" [as sung by Al Green] is very important, and "Good Morning Heartache" by Irene Higgobotham from Worcester [Massachusetts], nobody knows her writing. "You and I" by Stevie Wonder. [I look for] something that's sort of endearing like "Smoke Gets in Your Eyes," "Sophisticated Lady," "Lush Life,"--- meaty words, grammaticism, but that doesn't have to be a given. I think some of the words of the song "Dancing in the Dark" [Arthur Schwartz and Howard Dietz] that talk about eternity— there are two there lines in [that song] that are fabulous. I guess I look for a mood but for me the mood that I look for is often gray and dark and has a life span going back to the past, the present, and the future. So those are my favorite ones that—[I like] music that has memories.
AAJ: I know that Film Noir is very important to you, why is that? [Editors note: Film Noir means literally 'black film or cinema that was a term coined by French film critics. It is a genre of American films that first appeared in the 1940s, became well-known in post-war time, and lasted in a traditional phase until about 1960. Blake comments on his biographical hand out – Six Key Experiences : "At first I felt my musical life would revolve around the axis of program music but I became less enchanted by its most literal examples, and became more intrigued by the inner corridors of film and real life characters. This occurred without conscious effort and as my early teen years continued, this dark atmospheric mood occupied 80% of my life. Without strategy, I began to form an occasional judicious compilation of a sort of musical glossary that would signify death and law enforcement.]"


RB: Well I think it because it was a part of my childhood--- I discovered [the film] Spiral Staircase [directed by David O. Selnick] in '46; A world of mystery but its not quite supernatural, ghost, or horror and there isn't blood, and it's not big city crime, and I guess— why is it?—why do some people like gardenias? Really even at this age—I'm going to be 70 in a year and I still don't know why. There's some bad film noir. My favorite director [is] Claude Chabrol, but there's a lot of variety—there can be a romantic, a fantasy film noir, a more biting noir, etc.
AAJ: But you like the noir that's more shaded or gray right?
RB: Yes I do like a few sun clouds—its great when there's a moment of happiness, but it's more subtle and often it's interior and it's a transference of guilt, it's just not somebody [going] bang! bang!—its how like a [Alfred] Hitchcock character sometimes is accused by the police and sometimes she or he are very innocent but you're always wondering and sometimes there are great visual shots in the dark and in candlelight. I could go on and on...
AAJ: Well how has that grayness affected your musical sight—what's the connection?
RB: I think—well I don't do much psychoanalysis of myself---I don't know it just does. I think because I watch the movies and then I go to the piano. It's different than like a conservatory and budgets and all. Like [the film] Vertigo [ directed by Alfred Hitchcock], my month is not complete if I don't see it--- there's James Stewart looking at Kim Novak looking at her mothers painting and there you see her looking backwards, even if sometimes they're playing con games there's all those sub meanings. There is feeling in that aloneness, going back to the past, the nostalgia.
AAJ: Who introduced you to Noir?
RB: Oh I snuck there, I must of read the papers in Hartford and Springfield Massachusetts I didn't call it noir I just went to the movies—I remember I had a piggy bank with pencils— and I snuck in one day and the manager noticed me at the theater and said "you've been here two or three times this week what would your parents say?" I would hide in the back of theater—all people under [age] 14 had to out of the theater at 6pm—I knew which back door to sneak out of. I could come back into the theater but then my parents started getting suspicious so they sort of banned [it], they said I could see other movies but they didn't want me to see anything of this nature, I mean the story goes on and on. Well, just a how does one fall in love? or why do some people like scotch and somebody else jack daniels?
Post a comment