Ran Blake: From Music to Film and Back
By
Matana Roberts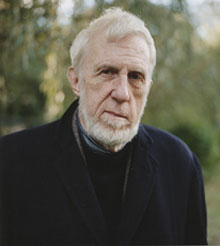 More than a four-decade career as a recording artist, a winner of numerous iconic awards (including being named a Mac Arthur fellow in 1988) with more than 30 recordings to his credit collaborating with artists creatively diverse as saxophonist/composer Anthony Braxton, pianist Jaki Byard, and saxophonist Ricky Ford, pianist Ran Blake's music still sounds fresh, alive and unmistakably matchless. In the following interview Ran really was true to form - full of wisdom and beautiful crystallized memories surrounding a myriad of thoughts that just flowed like the Hudson on a warm breezy day. The grace, the wit, the humility, the uniqueness, the generosity, and the charm—that's Ran Blake in a nutshell—at 69 years young a true icon that shines like the brilliant genius he truly is.
All About Jazz:
Well one of the first things I wanted to talk about is what you're doing in New York in January, what exactly is going on?
Ran Blake:
Well there is the 80th birthday concert of George Russell...
AAJ: I see.
RB: Which was done in London, and was done in Jordan Hall [at the New England Conservatory (NEC) in Boston] and will be done in New York and will be done a month later in Sweden, and then there's the [NEC] alumni afternoon at IAJE (International Association of Jazz Educators convention). We hope to get the New York bunch to help us to recruit but I'm also in to what we can do for alumni careers, of course we can't do a great deal –I don't want to make promises, but it will be good to see what the institution can do. And then I hope to get to know my favorite hotel—the Leo House on 23rd and 9th. It's a Jesuit hotel and different nuns and priests patrol the hallway to make sure you're drinking you're water and lemon, and there's a chapel there and a psychiatrist and an organ and a lounge and a coca cola machine!
AAJ: So this visit kind of takes you back. When did you live in New York?
RB: That was my happy period, I came there in August of 1960 and lived in Amelia Lairfield's boarding house on 113th and Amsterdam.
AAJ: Harlem!
RB: Yes. I had curfew, here I was 25, and I had to be home at 10:30 most nights and for the Friday night kosher dinner I had to be there at 8pm. And she had a ruler, she didn't slap me too much but I had to be there on time. I paid twelve dollars a week and did things to help. Then one time she said you may have a guest and George Russell came up and instead of bringing Welch's grape juice it was Bordeaux, and she began smiling and then she called him Georgie, and then we were able to have cheese and wine, and she began liking jazz, studying gospel music, and Stravinsky, and loved the modern jazz quartet, and then her family was thrilled that they could have a little bit of wine there so her whole personality changed. I lived there and I studied with George Russell, Bill Russo, worked as a desk clerk, a waiter, helped an engineering firm, and then I could go out in the evening and wait on tables at jazz clubs and listen.
AAJ: How long were you here and when did you leave NYC?
RB: So I left, I did two trips, of course I mean it was great to be with Jeanne Lee and then in 1967 Jeanne and I went to Europe, and then I took a two week trip to Greece to the world of Vradiazi, and that's when the military coup took place, and then other things happened, and then Gunther [Schuller] invited me to Boston. [Editors note: Ran had gone to Greece to work and also hoped to study with composer Mikis Theodorakis of Zorba the Greek fame. He unfortunately arrived there right before the infamous junta military coup of 1967. He witnessed much violence and specifically atrocities that were being committed against artists but that went virtually unreported in the press. He luckily escaped Greece and made a point to report what he saw and document it in music as well so that it would never be forgotten.]


AAJ: So you said you were in New York in 1960. When did you meet vocalist Jeanne Lee?
---
Ran Blake
Ghost Tones

Ran Blake
All That Is Tied

CD/LP/Track Review
Multiple Reviews
CD/LP/Track Review
Live Reviews
CD/LP/Track Review
Read more articles