Present TNT; The Monk's Progress; Trumpet Madness
Jazz has been a variegated entity practically from its first note and a trio of new releases in the orchestral genre exemplifies this diversity, which recalls a line from the Wallace Stevens' poem "Thirteen Ways of Looking at a Blackbird : "I was of three minds/Like a tree/In which there are three blackbirds.
Sherrie Maricle/DIVA Jazz Orchestra
Present TNT: A Tommy Newsom Tribute
Lightyear
2005
In addition to being one of Johnny Carson's favorite foils, Tonight Show bandleader Tommy Newsom was a talented composer and arranger. Drummer Sherrie Maricle and the DIVA Jazz Orchestra pay homage to him with takes on several of his compositions and arrangements.

The opening tune "Titter Pipes is a joyful burst of color whose lively arrangement practically leaps off the disc. Scheila Gonzalez' brash tenor solo and Karolina Strassmayer's alto turn are standouts. Strassmayer also displays a light touch on the flute on the Latin-flavored "Pensativa and completes her triple play on "Three Shades of Blue with a soprano sax that is dolorous, soulful and gritty.

Anat Cohen, well known for her work on tenor, plays a Dixieland-flavored clarinet on "Moonlight . The "Nat Cole Medley features a samba version of "Nature Boy ; the band singing wonderfully on "Straighten Up and Fly Right ; and Deborah Weisz' plungered trombone and Tanya Darby's soaring trumpet on "Route 66 . Lisa Parrott's full-bodied baritone solo and Jami Dauber's clear as a bell trumpet carry the day on "Trail Mix . The "Remember Medley has a lovely Latin-tinged version of "I Remember You . The disc ends with Zoot Sims' "The Red Door , a showcase for Anat Cohen to display her muscular command of the tenor. Maricle keeps everything on point on drums throughout.
Lungau Big Band
The Monk's Progress
LBB
2005
The Lungau Big Band takes a different dynamic approach to the concept of the big band. It too features on-point arrangements and a deep, rich sound, but Lungau grooves more than swings.

"Modification opens up in the standard big band format but quickly goes into a standard jazz one. Robert Friedl builds an alto solo with shifting lines above the melody; Wolfgang Pointner's guitar solo in tandem with Philip Kopmajer's drumming is somewhat reminiscent of "Birdland . "The Monk's Passion is a page from the Miles Davis playbook, with Juraj Bartos' brooding flugelhorn recalling Quiet Nights and Sketches of Spain. "El Monasterio del Sur has a brief but nice dialogue between Frauenlob and bassist Alexander Meik. Kurt Gersdof's dreamy tenor on "Die Lebenslange Sehnsucht Nach Isolation gives this tune its center and "Monksmountain is a splendid big band waltz. "Dancing Monk opens with a flute flourish and is followed by brass bursts that sound like the music from a '70s crime drama chase scene. "Everyone's Garden is a veritable children's nursery rhyme, the funky side of Mother Goose. At the outset, "Peace of Mind is as calm as the title suggests; then things escalate as the brass gradually swells, with the trombone leading the charge. "The Maze is a rollicking, quicksilver closer to an impressive CD.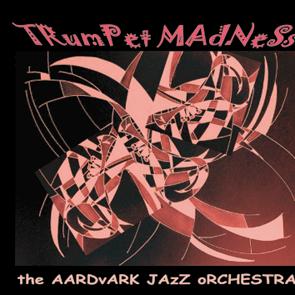 Aardvark Jazz Orchestra
Trumpet Madness
Leo
2005
If DIVA reflects the classical sound of a big band and the Lungau Big Band is a modern incarnation, then the Aardvark Jazz Orchestra might be the way a jazz orchestra might sound after World War III. Essentially a live album, Trumpet Madness is a series of postmodern landscapes - some stark, some humorous, some starkly humorous - that blend seamlessly.

"Flexology opens with a mock orchestral warmup that segues into a Latin beat. Phil Scarff wails on trumpet, Dan Zupan takes off on soprano sax and the tune is capped off with a thunderous drum solo by Harry Wellott. "JB's Dreamtime , a tribute to the great Jaki Byard, is a free form improvisation, a pastiche of styles and moods. "Choices for Orchestra and Improviser is a suite in three movements, ending with the hilarious "Drunken Waltz .

The title cut is a tribute to jazz trumpet pioneer Buddy Bolden. A series of sound effects, such as stentorian breathing or an old telegraph machine transmitting code, play over a distant orchestral murmur as the trumpets bicker among themselves and with the other horns. "Spirals is a showcase for trumpeter Raj Mehta and his "hybrid trumpet , with which he mimics sounds from a growling Tibetan monk chant to radio interference. The disc ends with "Voices Like Trumpets , where Aardvark skirts the border separating polyphony from cacophony.


Present TNT: A Tommy Newsom Tribute

Tracks: Titter Pipes; Pensativa; Three Shades Of Blue; Moonlight; Nat Cole Medley: Mona Lisa; Nature Boy; Straighten Up And Fly Right; Route 66; Too Late Now; Trail Mix; Remember Medley: Remember, I Remember You; Come Sunday; The Red Door.

Personnel: Sherrie Maricle: drums; Karolina Strassmayer: alto saxophone, flute; Leigh Pilzer: alto saxophone; Anat Cohen: tenor saxophone; Scheila Gonzalez: tenor saxophone; Lisa Parrott: baritone sax; Liesl Whitaker: lead trumpet; Tanya Darby: lead, 3rd trumpets; Barbara Laronga: 2nd trumpet; Cindy Bradley: 3rd trumpet; Jami Dauber: 4th trumpet; Deborah Weisz: lead trombone; Lori Stuntz: 2nd trombone; Leslie Havens: bass trombone; Chihiro Yamanaka: piano; Noriko Ueda: bass.
The Monk's Progress

Tracks: Modification; The monk's passion; El monasterio del sur; Die Lebenslange Sehnsucht....; Monksmountain; Dancing Monk; Everyone's garden; Peace of mind; The maze.

Personnel: Robert Freidl: alto & soprano saxophones; Wolfgang Pointner: guitar; Juraj Bartos: trumpet, flugelhorn; Burkhard Frauenlob: piano; Philipp Kopmajer: drums; Kurt Gersdorf: tenor saxophone; Robert Bachner: trombone; Dusan Kranjc: trombone; Gernot Strebl: baritone saxophone; Christian Maurer: tenor saxophone; Alexander Meik—bass; Hubert Pertl: flute; Herbert Hofer: flute; Horst Hofer: trumpet; Peter Stiegler: trumpet; Hans Santner: trumpet; Stefan Konzett: trombone; Erwin Wendl: trombone.
Trumpet Madness

Tracks: 1) Flexology; 2) JB's Dreamtime; 3) Choices for Orchestra and Improviser; 4) Morph; 5) Trumpet Madness; 6) Spirals; 7) Voices Like Trumpets.

Personnel: Mark Harvey: trumpet; Arni Cheatham: alto sax, tenor sax, soprano sax, flute; Peter Bloom: alto sax, flute, piccolo; Mark Messier: bassoon, clarinet; Chris Rakowski: tenor sax; Phil Scarff: tenor sax, soprano sax, clarinet; Will Swank: tenor sax; Eric Dahlman: trumpet; K.C. Dunbar: trumpet; Taylor Ho Bynum: trumpet; Greg Kelley: trumpet; Jimmy Leach: trumpet; Rajesh Mehta: trumpet; Jeanne Snodgrass: trumpet; Russell Jewell: trombone; Jay Keyser: trombone; Jeff Marsanskis: trombone; Bob Pilkington: trombone; Bill Lowe: bass trombone, tuba; Dan Shaud: French horn; Richard Nelson: guitar; John Funkhouser: string bass; John Voigt: string bass; Jesse Williams: string bass; Jerry Edwards: electric bass; Harry Wellott: drums; Craig Ellis: percussion; Paul Lovens: percussion
---