Rent Romus: PKD Vortex Project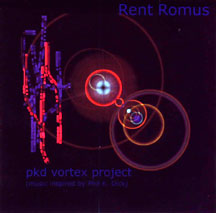 Always on the move, Rent Romus has gone after the "exploratory ethic of science fiction" with this quintet recording dedicated to author Philip K. Dick. The title track leads off with a swirling, mysterious darkness, proceeding gradually to a full-on dark nightmare assault. After the crescendo finally reaches its crest, the group turns on a dime to shifting polyrhythmic funk. The beauty of dedicating a recording to a writer with the imagination of Dick is that you earn the freedom to spin the music off in a hundred different directions, and that's what Romus and his quintet do on
PKD Vortex Project.
Adding to the mystery and energy of this recording are three electric instruments, with all the range and color that amplification makes possible: Doug Carroll's electric cello (a full-fledged voice with surprising warmth), Joel Harrison's electric guitar (which bears the brunt of the load in many of these tunes), and Tom Nunn's "electro-acoustic inventions" (some percussive, some metallic, all weirdly reverberant). Unfortunately, one of these three people has a very noisy amp; and while some folks may regard background amp hiss as a musical statement, it regularly clutters the music here and distracts from its flow.


Of course the prime mover in the PKD Vortex Project, Rent Romus, is also its most outspoken exponent. He renders a range of sound on the alto and soprano saxophones which bears striking resemblance to the span of the human voice. Equally comfortable singing or squawking, fluttering or testifying, Romus dominates this music with his versatility and outspokenly articulate playing. Listeners familiar with the NRG Ensemble (post-Russell) will note a number of striking resemblances between the PKD Vortex Project and the two NRG records led by Ken Vandermark and Mars Williams. Both groups display a welcome disrespect for stylistic boundaries, and both push the limits through restless sonic exploration.
The fourth track on this disc, which leaps forward through a humor-drenched shout of "funky-funky, funky- funky," offers particular resemblance to the raucous spirit of the NRG Ensemble. But the PKD Vortex Project remains its own distinct entity of imagination and bold determination. As a tribute to the imagination of the "dark master of pulp fiction," this disc does Dick justice.
Track Listing
Vortex PKD; Ape of God; Third Eye; Nobody likes the anti-septic lady; March of the 80 foot Phils; Return of the Wild Martian Fur; Quest for Reality part 1; Quest for Reality part 2.
Personnel
Doug Carroll: electric cello; Joel Harrison: electric guitar; Dave Mihaly: drums and percussion; Rent Romus: alto & soprano saxophones.
Album information
Title: PKD Vortex Project | Year Released: 2002 | Record Label: Edge Tone Records
Post a comment about this album