Wajdi Cherif: Phrygian Istikhbar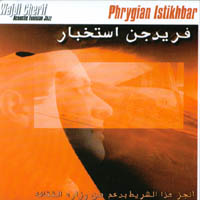 I approached
Phrygian Istikhbar
with a bit of trepidation, since the signposts of "world music as jazz were very strong. The first track, "Voyage, only reinforced my fears, since the usual elements of world music—scalar rather than melodic improvising, static or oscillating harmony, and strong, repetitive rhythmic patterns—were all present.
Cherif uses a little trill a lot, but that is probably part of the general Tunisian musical ethos. "El Gasba surprises by starting out like a straight folk tune, but then changing meters and really swinging, showing that American jazz is part of his musical thought—although we are still closer to Tunisia than Birdland. "Blurred Vision starts out sounding like it could be ballad, but it changes in midstream to a gentle but dark-colored dance.
The mix is shifted west on "Waiting for Paris, which is a very attractive, soft tune that could have come from Bill Evans. A real jazz trio (there are two percussionists) quality comes to the fore, and for this track, we could be on sitting in some club in New York City, listening to an unknown but fine piano trio.
The structure of the fusion becomes apparent. Cherif has his feet in both worlds, even if he is leaning towards his homeland, evident on "Phrygian Istikhbar, which is Middle Eastern folk music (and its trills) played on a Western piano, complete with an extensive percussion solo.
It will certainly be interesting to watch Cherif evolve as a player and composer.
Visit
Wajdi Cherif
on the web.
Track Listing
Voyage (6:26), El Gasha (4:31), Blurred Vision (5:04), Waiting For Paris (5:29), Phrygian Istikhbar (6:03), Tunis By Night (2:30)
Personnel
Wajdi Cherif - piano, Habib Samandi - derbouka, bendir, Jeff Boudreau - drums, Diego Imbert - bass
Album information
Title: Phrygian Istikhbar | Year Released: 2005 | Record Label: WECH Records
Post a comment about this album