Articles
Daily articles carefully curated by the All About Jazz staff. Read our popular and future articles.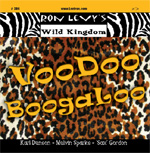 Ron Levy's Wild Kingdom VooDoo Boogaloo Levtronic 2005
Something doesn't seem fair. There's a lot of ideas at work, everyone plays their roles well and, yet the thought is "where is the excitement?
Maybe it's just too many people are doing modern organ jazz ensembles well these days. Or Ron Levy's been at it so long a solid performance merely meets expectations. Or a couple of songs from days past contributes to ...
read more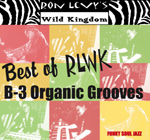 Here's a tip: When offering newbies something pretty good, don't mess things up by highlighting what they're missing. To a newcomer to longtime organist Ron Levy, his Wild Kingdom's Best Of B-3 Organic Grooves comes across as a quality collection of funk/blues from four previous releases. But I found this part of its promotional text at his web site :
Several songs have been re-mixed and edited down for more friendly radio play times and has also been ...
read more
---