Articles
Daily articles carefully curated by the All About Jazz staff. Read our popular and future articles.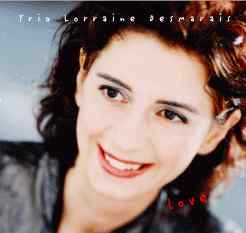 When I first received Lorraine Desmarais' new CD Love I was taken by the gorgeous picture of the pianist on the cover and the pretty artwork. Since the arrival of fellow Canadian Diana Krall good looks have been a strong marketing tool. But make no mistake, Lorraine Desmarais has been on the scene for a long time with a solid body of recordings and prizes under her belt. Currently she teaches jazz piano at the Saint-Laurent College in Québec, Canada. ...
read more
Bleu Silence is the third album of Montréal based pianist/composer/arranger Lorraine Desmarais on her own label "Les Disques Scherzo". Before founding the label in 1995 Ms. Desmarais recorded three CDs for Radio-Canada as a leader and others as a "side-woman". The material on this CD consists of six original compositions and two standards. Six tracks are arranged for piano trio and wind quartet, two tracks are trio only.
As a collector of jazz piano trio CDs the reviewer frowned when ...
read more
---