Articles
Daily articles carefully curated by the All About Jazz staff. Read our popular and future articles.
Words like "progress," "advancement" and "moving forward" are dangerous to use in describing art, yet they pop up all the time in that context. The idea that the history of jazz is one of progress or advancement rather than simply change is very popular, but unwarranted in my view. It would be easy to say that Wadji Cherif has progressed from his first album, Phrygian Istikhbar--a fusion of Arabic music and jazz that stayed more on the Arabic side--to this ...
read more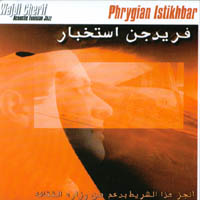 I approached Phrygian Istikhbar with a bit of trepidation, since the signposts of "world music as jazz were very strong. The first track, "Voyage, only reinforced my fears, since the usual elements of world music--scalar rather than melodic improvising, static or oscillating harmony, and strong, repetitive rhythmic patterns--were all present. Cherif uses a little trill a lot, but that is probably part of the general Tunisian musical ethos. "El Gasba surprises by starting out like a straight ...
read more
---