Articles
Daily articles carefully curated by the All About Jazz staff. Read our popular and future articles.
Album Review
by Jack Bowers

Phil Urso won't remember this, but many years ago—nearly half a century, in fact—I heard him playing in a small club in Washington, DC, and was so impressed that I approached him after the gig and said he sounded to me like Zoot Sims. I made his day then, and now I'd like to give it another try. Urso and trumpeter Carl Saunders have joined forces to sculpt this warmhearted tribute to the incomparable but self-impaled Chet Baker, and although ...
read more
Album Review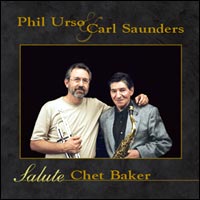 by C. Michael Bailey

The East and West Coast varieties of jazz in the '50s and '60s were as unique and identifiable as the same hip-hop genres they predated. The great purveyors of the West Coast Sound'Art Pepper, Bill Perkins, Hampton Hawes, Shorty Rogers, Bud Shank, Gerry Mulligan, Chet Baker, and Phil Urso'were all able shake over ice the hot bebop of the East Coast, producing a dry and complex brand of modern jazz. The latter two names of this group are forever linked ...
read more
---