Carl Rigoli Jazz Quartet: Pasquale Square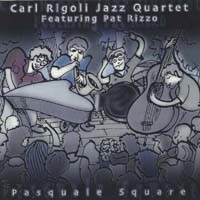 This West Coast quartet is another solid jazz combo that has garnered a local following and reputation. Drummer/Leader Carl Rigoli has contributed nine original compositions and their arrangements. Rigoli and saxophonist Rizzo were both New York City residents who attended the Manhattan School of Music in the early 1960s and gravitated west. All the members of this group have impressive studio credentials and have been together for some fifteen years. Carl Rigoli doubles on vibes and has extensive studio and composing credits.
Pat Rizzo carries the responsibility of showcasing these tunes, and he succeeds admirably on both melody and solo statements. The title tune, taken at mid-tempo, opens the session and Rizzo blows a nice relaxed but solid solo that won't disturb any of the dinner guests, followed by introductory solos from all hands. On "Augmented Blues," the same format follows with Rizzo strongly channelling Scott Hamilton, plays a solo on tenor with great gusto, followed by a concise reading by pianist John Rodby. "Spicy" is an attractive ballad opportunity while "Bach's Bag" is pretty similar to the title track.


The liner notes single out "Una Bella Donna" as Pat Rizzo's best expression of his lyrical ability to communicate and it is a lengthy occasion for both tenor sax and piano moments. The closing track, "Speed Tactics," is a flag-waver that allows Rigoli to shine. John Sawoski's string arrangements on some tracks is subtle enough not to distract from the jazz combo setting. On a few tracks, there is either a multi-tracking of the sax to make it appear that there is a second horn present, or it is Mr. Sawoski's clever insertion of a synthesizer feature.

Track Listing: Pasquale Square, Augmented Blues, Spicy, Bach's Bag, Una Bella Donna, Samba Di Bach, Speed Tactics.
Personnel: Carl Rigoli, drums; Pat Rizzo, sax; John Rodby,piano; Richard Maloof, bass; John Sawoski,string arrangements
---