Dave Rempis Quartet: Out Of Season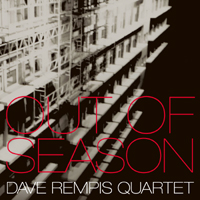 What is, and what may have been, define structure. There are four fine musicians here and they get off to a darn good start on the brawny tenor of Dave Rempis. There is depth and there is direction—but along the way, the players pull back and go into a maze they can't work out of. Microcosms seeking body flit in and out and never coalesce into one becoming, recognisable whole. Was that a mere aberration, thoughts in search of a common thread?
That happens briefly on "Part I" of the title track, and after an interlude which glad-hands melody, Jason Roebke stirs disparate lines on the bass with Jim Baker tinkering on the analog synthesizer. The fissiparous begins to take gradual shape, building strength through the saxophone and the piano. Here opposites provide the fulfillment as Rempis gets the alto to unleash long taut lines and then turns them into yowls as Baker comps and then complements him with a rush of notes. What was once a calm pool has now become an eddying whirl. Ideas have germinated marvellously! They end the first suite on a placid note, once again gaining an inviting presence when the band comes together and creates an imaginative palette of sound.


"Scuffle" is volatility in flow. Intense and coiled, the quartet meshes perfectly as sound is churned on the turnstiles of a whetted imagination. The pitch is fevered on "Part I" while on "Part II" the players envision space and fill it with edgy, percolating textures and ruminations. And the biggest surprise comes when they are "Never at a Loss"... and if this band gets mainstream, this is it! Lovely crisp piano from Baker, light rim shots and the traps from Tim Daisy, a floating melodic alto from Rempis and the bass laying down an easy rhythm.


The early aberration apart, this is an entertaining record.

Track Listing: Out of Season: 1. Part I; Interlude; Part II; Part III; Scuffle: Part I; Part II; Never at a Loss
Personnel: Dave Rempis?alto and tenor saxophone; Jim Baker?piano, analog synthesizer, violin; Jason Roebke?bass; Tim Daisy?drums
---