Mark Soskin: One Hopeful Day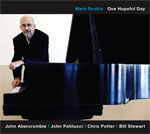 Pianist Mark Soskin has had a long and colorful career. Over the expanse of thirty-plus years he has been in varied settings. He was in the Latin music band Azteca before he went on to a fourteen-year association with Sonny Rollins. He has lived in New York City since 1981, where he continued to mark his presence with Sheila Jordan, Joe LaBarbera and Ravi Coltrane among others. He is at the helm here and with Chris Potter (saxophone), Bill Stewart (drums) and John Patitucci (bass), this comes off as a CD of abundant appeal.
Soskin's skills as an arranger let him explore the dimension of a tune and fill it with the voices of his band. Potter sets that in motion as he articulates "On the Street Where You Live, adding just a slight whorl to the melody with a single note. His musicality pulsates and creates a slow burn that etches itself into the senses as he rides out on his own trail, his phrasing adding to the adventure. Stewart is at the heart of the rhythm, his accents and crisp timing opening and pushing the beat. Soskin wraps it in nicely, playing with buoyancy that is erudite and rhythmic, his fleeting references to the melody a delight.
Innerspace primes the flow of ideas between the musicians. Potter jumps into bebop mode, laying a punchy groundwork that passes on to Soskin seamlessly. The pianist changes track for a more melodic persuasion. He sets it up in a ripple of notes emphasized with structured chord work. The final slam comes from Stewart who pulls back the tempo and shines with some intricate drumming.
John Abercrombie (guitar) makes an appearance on two Soskin originals. "Strive develops on Potter's saxophone. Abercrombie brings in wide timbrel variation, his notes judiciously sifting the melody and filling it with a pliant muscularity. Potter probes and reshapes the melodic heart with lean lines that go off at a tangent, yet don't distance themselves from logic. Soskin brings it all back home dipping into a cornucopia of notes, gradually upping the tempo, and once again bringing in that remarkable feel for dynamics and articulation.

Track Listing: On the Street Where You Live; Bemsha Swing; Innerspace; One Hopeful Day; Step Lively; Itís Easy to Remember; End of a Love Affair; Strive; Pensativa.
Personnel: Mark Soskin: piano; Chris Potter: saxophone; Bill Stewart: drums; John Patitucci: bass; John Abercrombie: guitar (5, 8).
---