Dennis González: Old Time Revival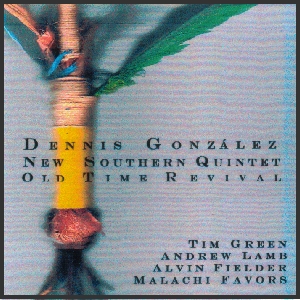 Dennis González consistently has shown the ability to brew a sorcerous concoction of gut-grabbing, throbbing music, and his latest effort with a star-studded lineup of musicians again works its magic. González presents a series of his compositions that demonstrates his unique methodology for combining infectious and rhythmic melody lines with wide open, unstructured improvisations, thus magnetically drawing and holding one inside the music.
Playing three variations of trumpet, including the tiny pocket trumpet, González spews out mesmerizing currents that swirl about and circulate in hypnotic fashion. His execution suggests a call to order where his exuberant voicing beckons the others to join in the communal celebration. González establishes a sonic framework around which each artist is able to contribute and build.
Joining González are saxophonists Andrew Lamb and Tim Green, who become spell-casters of their own as they wend their way through the intricacies of González's compositions. Green first appeared on record with González on the 1990
Hymn for the Perfect Heart of a Pearl
, and he has been a consistent associate since then. Green immediately sets the tone with eerie spirals of smoke from his saxello (semi-curved soprano saxophone), and he continues the process on both tenor and bass saxophone as he reaches to opposite ends of the sound spectrum with equal aplomb.
Lamb exudes a deep, richly textured tone on tenor. His blowing hits an entirely different auricular level compared to Green, causing the saxophones to bond rather than compete. Lamb constructs his solos with concentrated determination; he systematically devises rounds of freely spun ideas that rise in intensity and consistency. His ensemble and solo playing become highly satisfying complements to the group effort.
Rhythmically, the pulse setting reflects the skilled contributions of bassist Malachi Favors and drummer Alvin Fielder. Both men are long-time González associates, having first recorded with him in 1987 as members of the Charles Brackeen quartet on
Banner.
Droning bass lines become seductive and mesh wondrously with the percussive effects Fielder employs in sustaining the mood. Favors douses the scene with resonating improvisations that resemble knotted tentacles clawing out and encasing the entire soundstage.
Fielder is a marvel on drums. His strength, agility, and musical concepts seem to expand with each passing year. Fielder intersperses exotic flavors from his flexatone and Pakistani bells to augment his robust, fuel-burning drumming and becomes the backbone of the session. He authored "Four Moods for Carol," an enticing selection of alternating thought processes. Fielder gave each of the other players a different scale on which to improvise in duet with him while generating a plethora of diverse drum patterns around the contrasting but closely aligned progressions.
This recording offers the creativity of five veteran musicians, compositions of enduring substance, abundant room for expansion, and a spirited sense of discovery occurring with each succeeding listening. It may be titled
Old Time Revival,
but it is as new as this century.
Track Listing
The Matter at Hand; Document for Charles Brackeen; Hordes of the Morning Star; Hymn for Albert Ayler; Four Moods for Carol; Old Time Revival.
Personnel
Dennis González: trumpet; Alvin Fielder: drum, Malachi Favors: bass; Andrew Lamb: saxophone; Tim Green: saxophone.
Album information
Title: Old Time Revival | Year Released: 2003 | Record Label: Entropy Stereo