Mike Longo and the New York State of the Art Jazz Ensemble: Oasis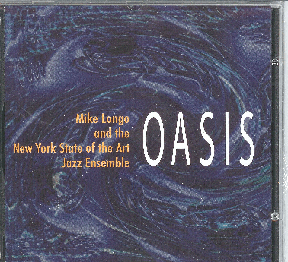 Having ignited an
Explosion
and braved the
Aftermath
on their first two albums, composer/arranger/pianist Mike Longo and the New York State of the Art Jazz Ensemble offer the listener an
Oasis
on the third, a sanctuary that is perhaps a touch more temperate and peaceful but nevertheless houses an ample reserve of pugnacity and power.
Longo, who learned as Dizzy Gillespie's longtime music director to swing first and ask questions later, makes sure the momentum never slackens on his seven impassioned compositions, four spellbinding standards, Antonio Carlos Jobim's breezy "No More Blues" and the lissome finale, tenor saxophonist Frank Perowsky's soulful "Song of my Dream," which contains one of three vocals by talented newcomer Hilary Gardner, who is also heard on George and Ira Gershwin's "Love Walked In" and Matt Dennis' "The Night We Called It a Day." No personal information about Ms. Gardner is given, but I've a feeling she has done this sort of thing before. As Longo writes, and I would agree, we'll surely be hearing more from her later.
The ensemble opens smartly with a trio of Longo's enchanting tunes—"Bag of Bones," written for the great vibraphonist Milt "Bags" Jackson; "Chanson," a lyrical homage to France; and "Mike's Lament," a slow blues in the manner of Count Basie, one of the bands Longo most admired while growing up. "Love Walked In" is followed by a salsafied version of the standard "Alone Together," Longo's boppish "Infusion" and "The Godfather" (inspired not by Vito Corleone but by the godfather of soul, James Brown). Two more Longo themes, "Covenant City," written in honor of New York, and "Nocturnal Sea Voyage," are preceded by one of Broadway's loveliest and most overlooked ballads, "Lazy Afternoon," from The Golden Apple. "The Night We Called It a Day," "No More Blues" and "Song of My Dream" wrap up the session.
The ensemble truly is state of the art, as are the various soloists. Trumpeter Joe Magnarelli is showcased on "Alone Together" and "Lazy Afternoon," bassist Santi Debriano on "Chanson," Perowsky on "Mike's Lament," and there are persuasive statements at other points on the compass by pianist Longo; trumpeters Nabate Isles, Waldron Ricks, Gary Guzio and Freddie Hendrix; altos Lee Greene and Bob Magnuson, tenor Gerry Niewood, trombonists Sam Burtis and Eric Goletz, bass clarinetist Matt Snyder, guitarist Adam Rafferty and drummer Daryl Pellegrini.
In sum, almost seventy-five minutes of exhilarating big band jazz that never fails to please—an Oasis that is well worth visiting time and again for inspiration as well as comfort.

Track Listing: Bag of Bones; Chanson; Mike's Lament; Love Walked In; Alone Together; Infusion; The Godfather; Lazy Afternoon; Covenant City; Nocturnal Sea Voyage; The Night We Called It a Day; No More Blues; Song of My Dream (for Duke). (74:52)
Personnel: Mike Longo, leader, piano; Joe Magnarelli, Gary Guzio, Freddie Hendricks, Waldron Ricks, Nabate Isles, Seneca Black, trumpet; Bob Magnuson, Lee Greene, Gerry Niewood, Frank Perowsky, Matt Snyder, Claire Daly, reeds; Sam Burtis, Bob Suttman, Eric Goletz, Curtis Fowlkes, Jonathan Greenberg, Don Mikkelsen, trombone; Adam Rafferty, guitar; Santi Debriano, bass; Daryl Pellegrini, drums; Hilary Gardner, vocals.
---