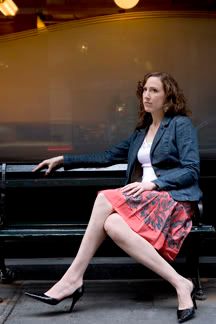 "On her new album, "The Wish" (World Culture Music), Ms. Hardy burnishes her growing reputation as a musically astute and thoughtfully modern jazz singer." --Nate Chinen, The New York Times

"Hardy lives, like [Kurt] Elling and [Bobby] McFerrin, in a musical world of her own, and it is a marvelously dynamic place." --Christopher Loudon, JazzTimes

Kendrick Scott's World Culture Music Proudly Presents
Vocalist/Composer JULIE HARDY
Live at The Jazz Standard

CD RELEASE Celebration for "The Wish"
In stores and available now!

Featuring World Culture Music artists, guitarist Mike Moreno and label founder /drummer Kendrick Scott -- plus John Ellis on soprano + tenor saxophones, Randy Ingram on piano + Matt Clohesy on bass

ONE NIGHT ONLY - October 16 sets at 7:30 + 9:30PM

Located at 116 East 27th St. For more information and reservations call 212 576 2232

For Those Up North - BOSTON, MA CD release party/performance: TUESDAY, DECEMBER 11 at RYLES!

MORE ON JULIE HARDY:

Julie Hardy's new record "The Wish" (follow up to "A Moment's Glance") is on Kendrick Scott's new World Culture Music label. Hardy will be launching this release with a full on celebration and performannce at the Jazz Standard on October 16, featuring John Ellis, Mike Moreno, Randy Ingram, Matt Clohesy and Kendrick Scott. It features Ben Monder, Jaleel Shaw, Kendrick Scott Randy Ingram, Sam Sidursky

Hardy is a recent winner of the ASCAP Young Composer award, and the new record features a three part original suite, "On the Verge," "Patience" and "Soaring", depicting the artist's personal journey as a jazz musician living and working in New York City.

In July of 2002, Julie was one of two vocalists in the nation selected to attend the prestigious Jazz Academy Snowmass in Aspen, Co. directed by Christian McBride. That following March of 2003, Hardy attended the Betty Carter Jazz Ahead, held at the Kennedy Center in Washington, D.C. She was one of four vocalists chosen internationally to attend and have her composition performed at the Kennedy Center and broadcasted live on-line across the world.

In June of 2003, four days after moving to New York City, Julie recorded her debut CD, "A Moment's Glance". This record was released on the Fresh Sound New Talent label out of Barcelona, Spain in April 2005 making Hardy the only American vocalist on its roster at that time. Hardy is currently the only vocalist on the World Culture Music label.

For the recording of The Wish Hardy brought together an amazing lineup of musicians who are causing a major creative impact on today's jazz scene, including Ben Monder (guitar), Jaleel Shaw (alto saxophone), Sam Sadigursky (saxophones, clarinet), Randy Ingram (piano), Matt Clohesy (bass), and Kendrick Scott (drums).

With the release of "The Wish", Julie Hardy joins a roster of some of the world's premier talents, including drummer Kendrick Scott, guitarist Mike Moreno, and trombonist Nick Vayenas on the New York based label, World Culture Music.
This story appears courtesy of Jason Byrne, Red Cat Publicity.
Copyright © 2021. All rights reserved.
For interview requests or more information contact Jason Byrne, Red Cat Publicity.