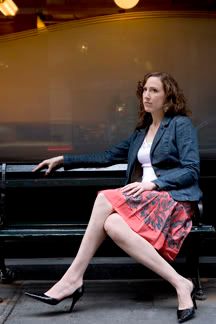 Friday, June 27th: 9 & 10:30 p.m. ($15) at the Jazz Gallery



Mike Moreno & Julie Hardy Group featuring Mike Moreno - guitar, Julie Hardy - vocals, Aaron Goldberg - piano, Doug Weiss - bass, Jochen Rueckert - drums

Guitarist Mike Moreno and vocalist Julie Hardy are two of World Culture Music's signature artists, each with an album to their credit on the World Music imprint. Tonight they'll be pooling their considerable talents and making music together in the company of an exceptional rhythm section.


In a March 2005 cover story in Jazz Times, Pat Metheny singled out Mike Moreno as a guitarist worth watching. In the July/August 2007 issue of that magazine, Nate Chinen devoted an entire column to Mike, praising his "expansive yet well-defined musical personality." Mike has been a fixture at the Gallery for some time, as a sideman and leader, and he's appeared on a raft of fine recent recordings by Kendrick Scott (The Source, on World Culture), Robert Glasper, Jeremy Pelt, Yosvany Terry, John Ellis, Eldar, Myron Walden and more. In addition, Mike's 2007 debut album, Between the Lines (World Culture), a feast of bold, evocative composition and fluid improvisation, landed on a number of critics' top-ten lists for the year. Mike followed up this year with Third Wish, a hardbop-oriented date for the Criss Cross label, featuring original music and classics by Joe Henderson, Billy Strayhorn and more.


Julie Hardy, a New Hampshire native and New England Conservatory alum, debuted in 2003 with A Moment's Glance on the Fresh Sound label. Her follow-up - and her debut on the World Culture label - is called The Wish, and it has met with wide critical praise. "Hardy emits bell-like clarity, cool precision and glowing warmth," writes Ken Micallef in Downbeat. "Hers is a serious art, based in songs of longing and reflection with arrangements that challenge anyone's notions of what constitutes forward-thinking music." Inspired by the wordless vocalizing of Dominique Eade and the evocative harmony of Wayne Shorter, Julie has arrived at her own take on the jazz vocal tradition, in all its panorama.
For more information contact All About Jazz.